Winter is not a nice time for farmers across most of North America, but greenhouse growers are prepared for this period. Greenhouses make it possible to grow out-of-season tomatoes, veggies, and herbs that set high prices in some markets. However, not every greenhouse is suited for severe winters. The Riga line from Hoklartherm is made for cold temperatures, but is it really the best winter greenhouse? Here is a Riga greenhouse review to give you a better insight and to help you pick the right greenhouse for the cold season.
Riga Greenhouse Reviews from our customers
We asked our customers what they think about their Riga model. Some of them were kind enough to give us a more detailed insight into what they liked and disliked.
Here's what Lisa from Montana said about her Riga S Greenhouse:
"I am so happy to have my Riga Greenhouse a few months before the winter season kicked in last year. I trusted that it is remarkably strong and well-constructed. And I was right. Now I've got an abundant harvest and thought of extending the greenhouse, but unfortunately, an extension is not possible for Riga. Aside from it, everything is perfect. I am so happy and excited for another exciting winter growing."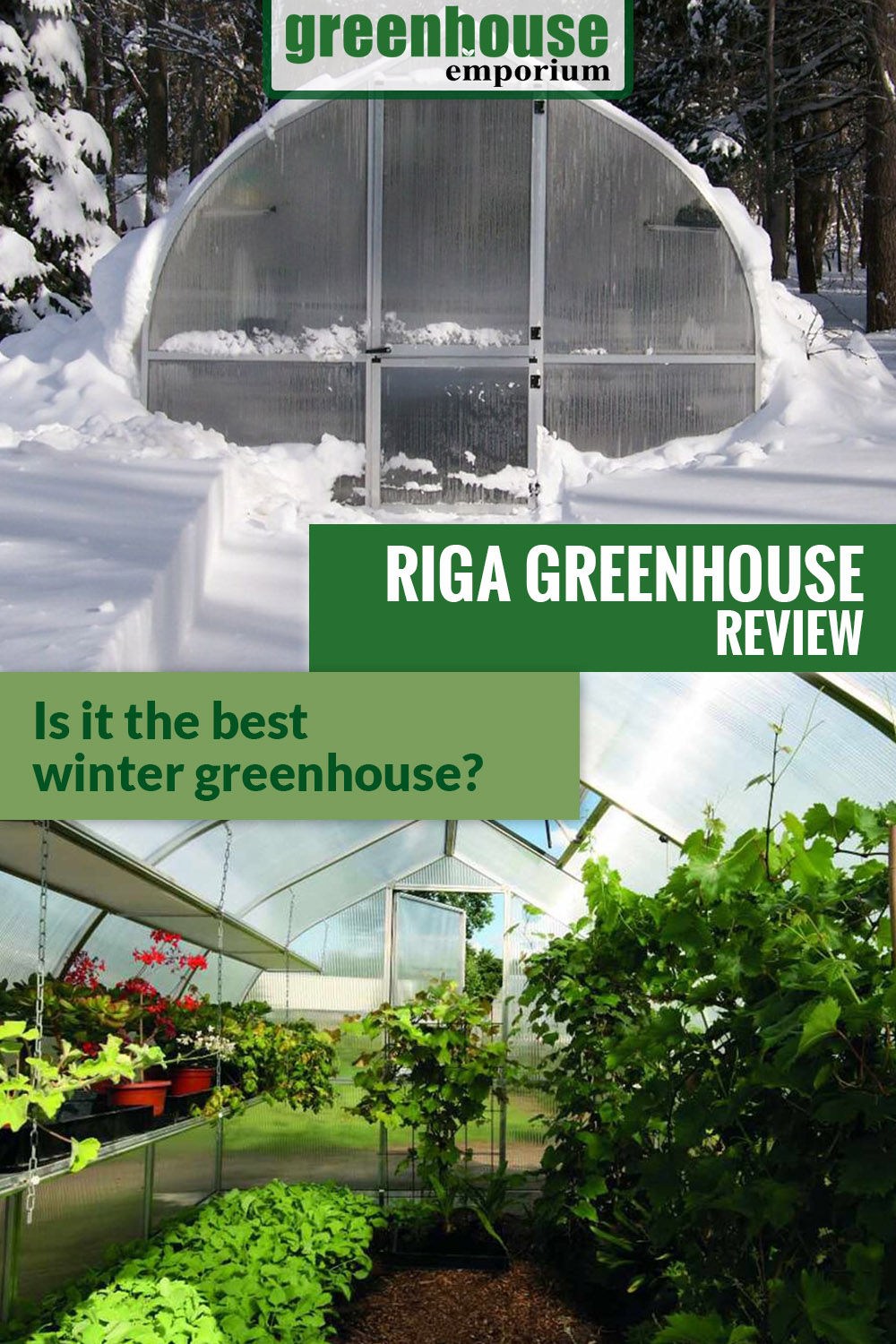 Here's what Steven from Massachusetts said about his Riga L Greenhouse:
"Winter shouldn't be a nightmare and since I own a Riga it is more like a wonderful dream. My additional heater and grow lights that come with the Pro-Kit make my job easier. My tomatoes will surely increase its yield now they enjoy extended daylight. It's like going back to a nice springtime when I am inside my greenhouse in the colder season. Now, I don't have to worry about my salad or my favorite recipe in the depths of winter. I can simply reach in and take a handful without the hassles of going to the market."
Here's what Michael from Upstate New York said about his Riga XL Greenhouse:
"Gardening doesn't have to be seasonal anymore. No one can stop me now. Not even the annoyances of snow build up here. Thanks to my Riga XL. I am so thrilled that my plants withstood the intense weather. At first, I had difficulties with its assembly because of its size but I felt really happy after I saw the finished product. I am extremely satisfied with my Riga."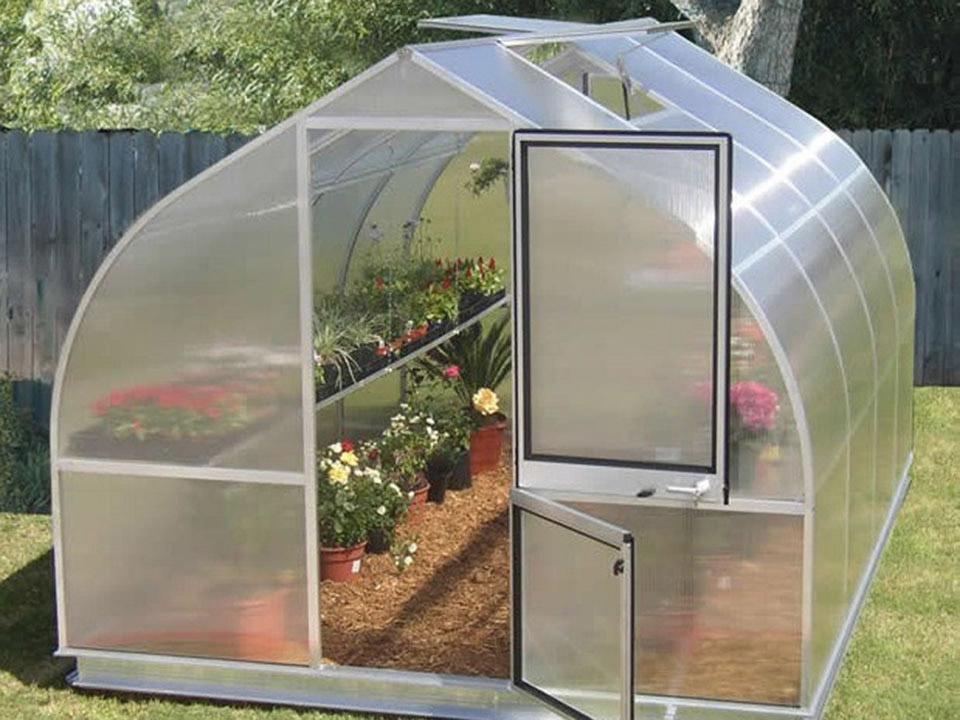 Differences of the Riga Greenhouse models at one glance
Let us show you the differences between the 3 Riga models:
| Specifications | Riga S | Riga L | Riga XL |
| --- | --- | --- | --- |
| Width | 7'8″ | 9'8″ | 14' |
| Center Height | 6'11" | 7'7" | 9'10" |
| First-class insulation | R or K-value 1.6 | R-value 1.8 | R-value 2.0-2.3 |
| Polycarbonate thickness on gables | 10mm twin-wall | 10mm twin-wall | 16mm triple-wall |
| Polycarbonate thickness on sides | 8mm twin-wall | 8mm twin-wall | 16mm triple-wall |
| Rear Window | 1x 30" x 42" | 1x 30" x 49" | None (but 2nd door) |
| Heavy-duty Dutch barn style door | 1x 30″ x 72″ | 1x 30″ x 79″ | 2x 37.5" x 74" |
| Roof Windows with auto openers | 1-2x 40″ x 24″ | 1x, 2x, or 4x 40″ x 24″ | 4x or 6x 37.5″ x 39.5″ |
| Foundation Frame/Base included in base model | No | No | Yes |
| Pro Kit | Foundation frame, top shelf (attached to greenhouse side), regular shelf (hanging from the roof to provide more stability & space) | Foundation frame, top shelf (attached to greenhouse side), regular shelf (hanging from the roof to provide more stability & space) | Top & Table Shelf, professional LED Grow Lights, 24″ intake shutter vent, 20″ exhaust fan, Thermostat to control vent & fan, 17,500 BTU 220 V heater, heavy-duty seed trays, stainless steel hooks & heavy-duty plastic "hooks" |
| Go to the Product | Riga S | Riga L | Riga XL |
Why is the Riga greenhouse the best winter greenhouse?
Let us dive into the details and show you the pros and cons of the Riga greenhouse.
What are the advantages of the Riga?
The Riga greenhouse line is a remarkably long-lasting and well-constructed greenhouse. The long warranty displays that Hoklartherm believes in the longevity of their product.
Compared to other greenhouses in this price range, you will get superior insulation due to its twin- or triple-wall polycarbonate panels and heavy-duty rubber seals. This comes in handy in any season because it helps in maintaining a constant temperature in your greenhouse. If you need the extra boost of heat or cooling, we would recommend the Pro Kit or purchasing an extra ventilator/heater.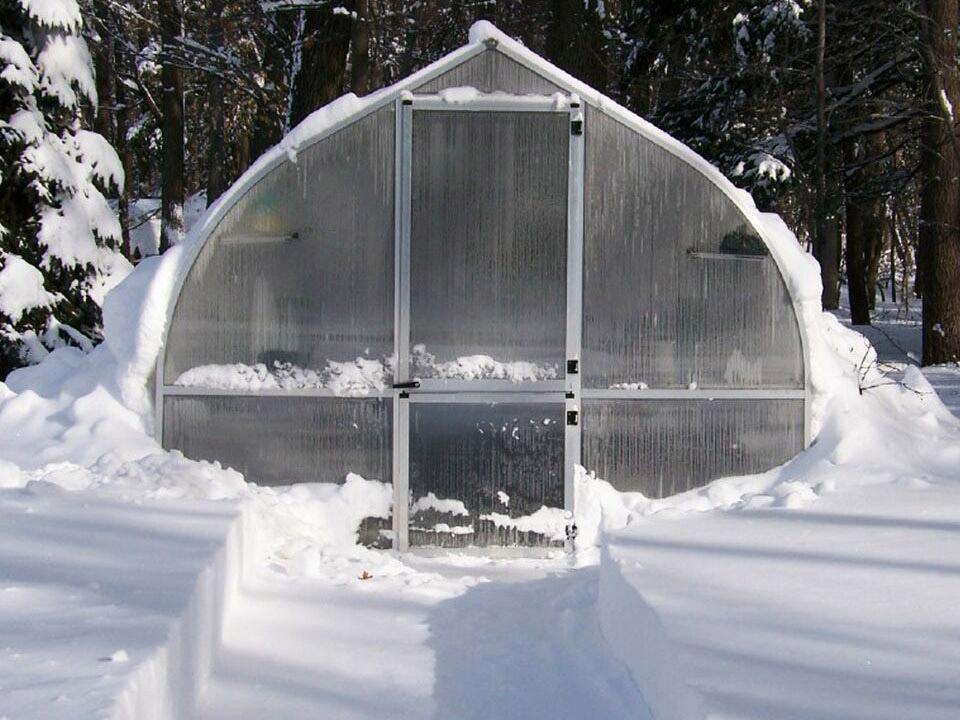 The German-engineered polycarbonate protects your plants from UV rays.
It has more window and door ventilation than other greenhouses. You can open the upper part of the door and/or the rear window to provide more airflow, which is important for the health and pollination of your plants.
The frame profiles are permanently connected to each other, and won't detach over time due to wind strengths. It has been tested facing winds up to 100 mph and has never been swept away.
It is easy to assemble with a DVD and printed instructions.
There are some accessories available that leave options for customization. You can install the Riga on a stem wall and use the door extension to adjust the height accordingly. You can add grow lights, a misting system, seed trays, and so on.
All in all, the Riga Greenhouse will provide you peace of mind and superior growing conditions for year-round gardening joy.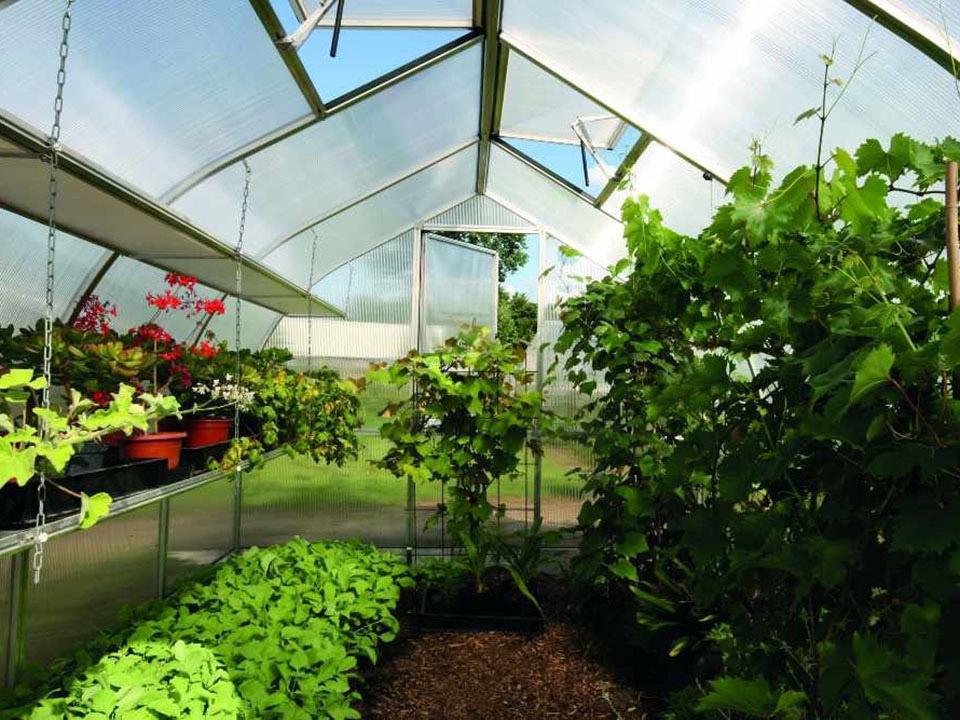 What are the downsides of this greenhouse?
High quality comes with a price tag. There are definitely cheaper greenhouse kits on the market but the Riga provides high quality and superior insulation for its price. So see it as the best investment for you and your family to live a healthy life.
Not all people like the onion shape design. It is nice when you are standing in the center of the greenhouse, but you have to do more stooping on the sides because the roof slopes more severely from tip to bottoms. This, however, might be only a problem for the smaller sizes or if you are a very tall person.
The Riga is not extendable. So we advise you to buy one size bigger than you intended to. Most people regret their "money-saving method" and enjoy the gardening in the greenhouse kit so much that they would love a bigger size in the end.
Summary of the pros and cons:
| Pros | Cons |
| --- | --- |
| ✔ Extremely high wind and snow resistance | ✘ It requires a few tools to install. |
| ✔ Has a beautiful "onion-shaped" design | ✘ Nice if you are standing in the center, but had to do more stooping inside (especially Riga S) |
| ✔ Easy to assemble: It comes with DVD and printed instructions | ✘ There is no extension so you might want to buy the bigger size |
| ✔ It comes in a variety of sizes & heights | ✘ Foundation not included in the base model (except for Riga XL) |
| ✔ The absolute sturdiest hobby greenhouse available under $5,000 | ✘ Can be considered pricey but you buy quality |
| ✔ Riga has an optional premium kit and accessories | |
| ✔ No other hobby greenhouse kit comes with this type of insulation | |
| ✔ The door frame is more than wide enough to push a regular wheelbarrow inside | |
| ✔ No eaves or shoulder | |
| ✔ The structures are permanently connected to each other | |
| ✔ It has more window and door ventilation | |
| ✔ Minimum heating required to produce plant all year round | |