The MONT Growers Edition Greenhouse is the ideal greenhouse designed for crops that require a lot of light in a private and secure setting. Proudly MADE IN THE USA.
Designed with Cannabis growers in mind, this is the perfect marijuana greenhouse system.
The commercial electric exhaust fan system with built-in louvers and commercial thermostat are all Made in the USA and help control the temperature inside of your MONT Greenhouse.
Most commercial greenhouses for cannabis are typically for large-scale operations, but what about the new startup or the personal grower? Well, let us cover exactly what comes with the best small greenhouse for cannabis growing.
The MONT – GROWERS Edition is the ideal greenhouse designed for crops that require a lot of light in a private and secure setting.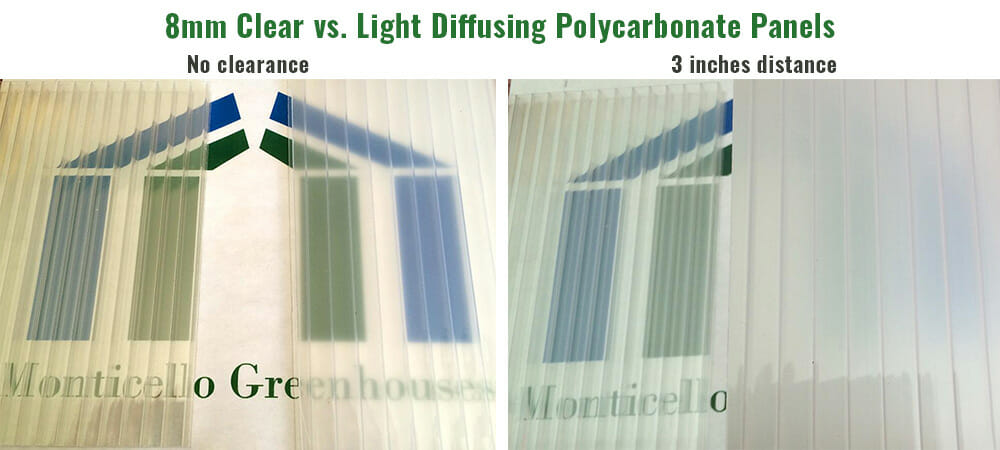 The Growers Edition Greenhouse comes standard with the light-diffusing 8mm twin-wall roof and wall panels…
These panels create a more even light flow into the greenhouse creating a glow instead of a light beam effect for a more even light distribution for a longer period of time.
The light-diffusing panels also offer a higher level of privacy, just eight inches away and you cannot see into the greenhouse.
The twin-wall Polycarbonate acts as a double-pane window keeping the cooler air in during warm months and insulating the greenhouse from cold air in the wintertime.
Features & Benefits of the MONT Greenhouse 8×8 Growers Edition (101in x 101in)
Heavy-duty frame construction that can withstand high wind and snow loads
Uses 40 lbs more aluminum than the average imported greenhouse, which makes it sturdier
Frame material: Extruded aluminum (US grade, stronger, thicker)
High-impact, UV-stable, light-diffusing Polycarbonate panels for a maximum of privacy
Glazing material: Light-diffusing 8 mm twin-wall Polycarbonate on roof and walls
Faster and easier assembly: Patent-pending Twist & Lock construction, as well as rigid "ribbed" design for interlocking the pieces
2x roof vents (2ft x 2 ft) with automatic openers for great air circulation without the need of electricity
Expandable: No
Large double door (4 ft x 6 ft) for easy access with garden equipment
Door is hinged and lockable (not with key)
Foundation frame: Integrated flush base design for direct anchoring to the ground or deck
Integrated dual gutter system for easy rainwater collection
Stem wall: Not supported by manufacturer
Included in the MONT 8×8 Greenhouse – Growers Package:

Greenhouse kit: All aluminum framework and light-diffusing Polycarbonate panels, 1x set of hinged double doors (assembled), and 2x roof vents with auto openers
Electric ventilation system: Hard-wired exhaust fan with shutter vent and thermostat
1x Workbench: foldable full-length shelf for one side (2ft deep x 30in high)
Programmable drip irrigation system
1x Commercial heater (17,000 BTU)
Hardware

Optional flooring:

Flexible and adaptable to different surfaces such as lawn, sand, ground, and concrete
Interlocking tile modules
Fits the footprint of this greenhouse
Material: 100% regenerated Polypropylene (HDPE)
For more information, have a look here

Frame Color: Black

(electrostatically painted)

Sidewall height: 58 in (4.8 ft)
Peak height (interior): 7.5 ft
Exact dimensions: 101in wide x 101in long x 90in high
Floor space: 71 sq. ft.
Warranty: 15 years on frame and Polycarbonate (strongest in the industry)
Made in the USA
You get what you pay for and with the MONT, this rings true. The MONT has the strongest warranty in the industry (15 yrs.) on the frame and Polycarbonate. For the gardener that is looking for a quality greenhouse system that will supply years of hassle-free indoor gardening this is the greenhouse for you. Enjoy growing!
Please Note – Allow for a FULL weekend to fully assemble (ground prep NOT included). A minimum of 2 people for assembly, but 3-4 is recommended. Actual time to construct will depend on size of the greenhouse and skill levels. ** Also, note that Cannabis growing is still considered illegal in most of the United States and by the Federal Government. It is up to you the consumer to ensure you are in compliance with the law.