A greenhouse is an invaluable thing to have for your tender plants during the winter. The best time to prepare your greenhouse for the coming winter months is to install a greenhouse heating system during fall. Heating a greenhouse is imperative when you want to maximize the potential of your plants during the cold winter season. We will show you the best greenhouse heaters in this article so that you can grow your favorite plants year-round!
You might be thinking that installing a heater in your greenhouse could be expensive. On the contrary, choosing the right heating design and equipment is affordable. For growers, the right heating equipment quickly gives them an ROI.
It goes without saying that adding heating to the design of the greenhouse is smart. However, an existing greenhouse can still be refurbished with a heater that does not have to rob the bank. As mentioned, the right heating product goes a long way in providing a comfortable greenhouse environment for you and your plants during winter.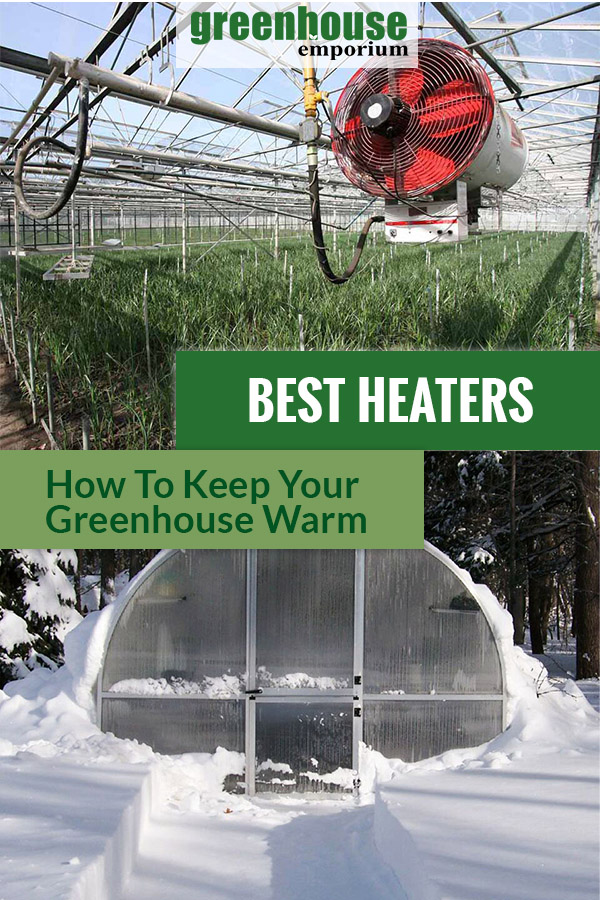 How to pick the right greenhouse heater?
There are a few factors that play a role in deciding for the right greenhouse heating system:
What size is your greenhouse?
How cold does it get in your location?
What resource is the cheapest/most affordable option in your area?
How well is your greenhouse insulated?
How many plants do you want to grow?
What type of plants are you going to grow?
Different plants need different temperatures to survive. Some love the warm weather and some are cool-weather crops. So, deciding on the heater has a lot to do with how you want to use your greenhouse. Plants actually create heat as well. Is your greenhouse going to be filled with plants or are you going to utilize only a fraction of the growing space?
With this being said, you have to think about how you are going to manage your greenhouse in winter. Otherwise, you cannot make the right choice for heating your greenhouse.
Let's say, you are growing only hardy plants and you are using most of your greenhouse. Then either a DIY heating system (thermal mass) or a small space heater may be sufficient. If you have a larger greenhouse, you are not fully using it during the cold season and the temperatures get very rough in your area, you might need a greenhouse heater that can keep up with these conditions.
The size of your greenhouse also plays an important role in choosing the best type of heater. Make sure that the greenhouse is properly insulated so that the heat won't escape.
You don't necessarily need a heater if:
Insulation is top-notch
Mostly (cold-)hardy plants (no cold-sensitive plants) and you're using your space well
Used some DIY heating ideas (e.g. thermal mass, heat-absorbing rocks, greenhouse installed under frost line)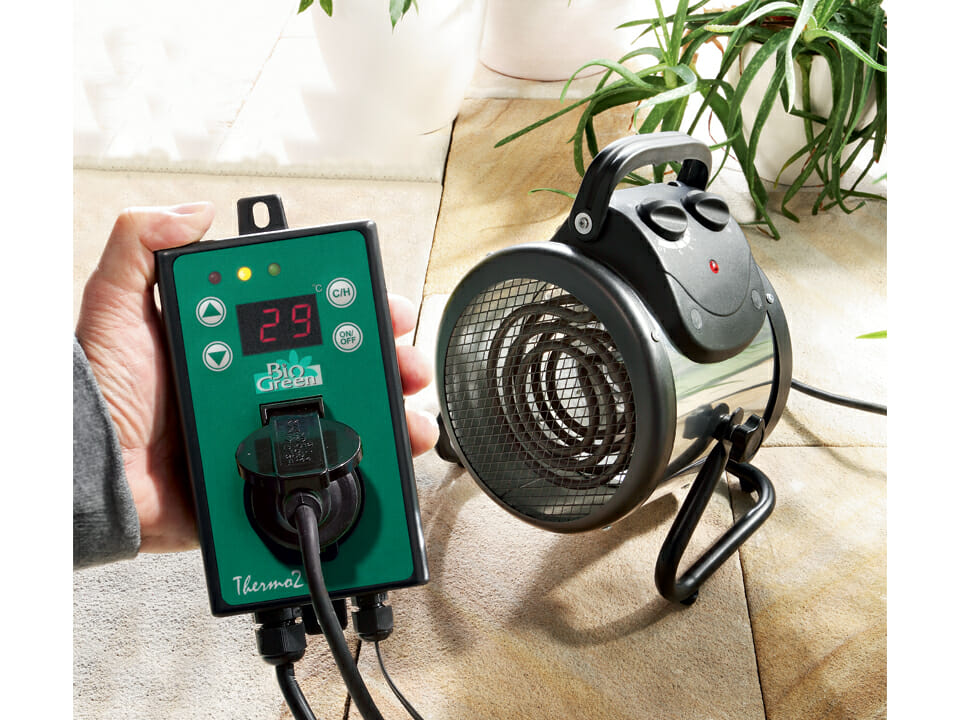 Which type of greenhouse heater should you pick?
The most common heater types are electric and gas. Most gardeners prefer gas heaters because they are affordable, especially in their local area. It uses natural or bottled gas. Gas heaters have the same effects as electric heaters. You simply need to install sufficient ventilation in your greenhouse because it may emit a significant amount of fumes. Confined fumes can be bad for you and your plants' health.
The electric heater is so popular because of its efficiency in keeping warmth at a consistent level. It does not release any dangerous fumes. This is best for those greenhouses with insufficient ventilation. It might be best, but it is also the most expensive of the three.
Paraffin is the cheapest manual heater that anyone can buy from a local market. The fuel used is also affordable although it is a bit hard to find these days. It also gives off carbon dioxide which is needed by your plants.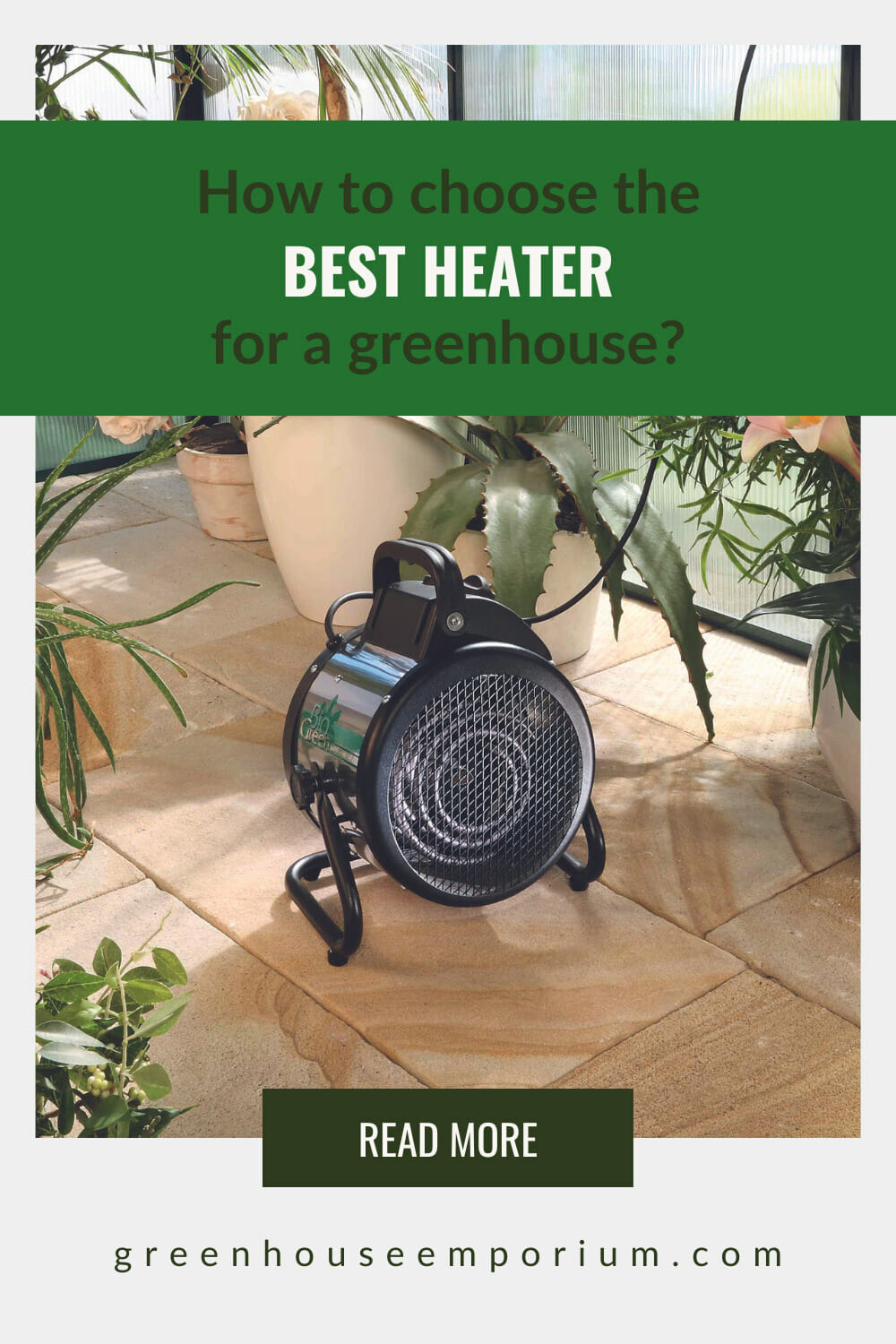 How many BTUs do you need?
Ok, so this is a tricky question because – again – this depends on the greenhouse size (including height), insulation and greenhouse usage.
Theoretically speaking, 10,000 BTU is supposed to cover 400 – 450 sq.ft and 20,000 BTU around 1,000 sq.ft. However, this is for houses with insulated walls. A greenhouse does not have that much insulation. The R- or K-Value of your greenhouse model will give you an idea of how well insulated it is (not every model mentions this in the description). If you want to read more about greenhouse insulation, check out this article!
Then you also have to keep in mind the lowest temperatures in winter and what climate you want to create in your greenhouse.
Let us give you the extreme: Our biggest greenhouse is 16ft x 30ft and comes with a 30,000 BTU commercial gas heater. It is well insulated but not as good as the RIGA XL greenhouses. However, it's enough to heat the space up in winter. This example may give you an idea of what you need for your situation.
Electric greenhouse heaters
There are several upsides to electric heaters, foremost of which is to provide a steady temperature to your greenhouse. They come in different types. Tubular electric greenhouse heaters use a heating element to distribute warmth to the entire area. The lower electric consumption by omitting the need for fans. Fan-assisted models have a fan that radiates heat to specified areas
Pros:
Effortless to use
Electricity is readily available (for most people)
Doesn't need to be refilled
Thermostat for easy control over temperature (no overheating or freezing)
Provide a tightly controlled temperature to a specific area
No toxic fumes
Cons:
Heat may not be distributed evenly in some cases (some plants may get too much heat and others may freeze)
Setting up electrical wires (if not there yet)
Top electric heaters for your greenhouse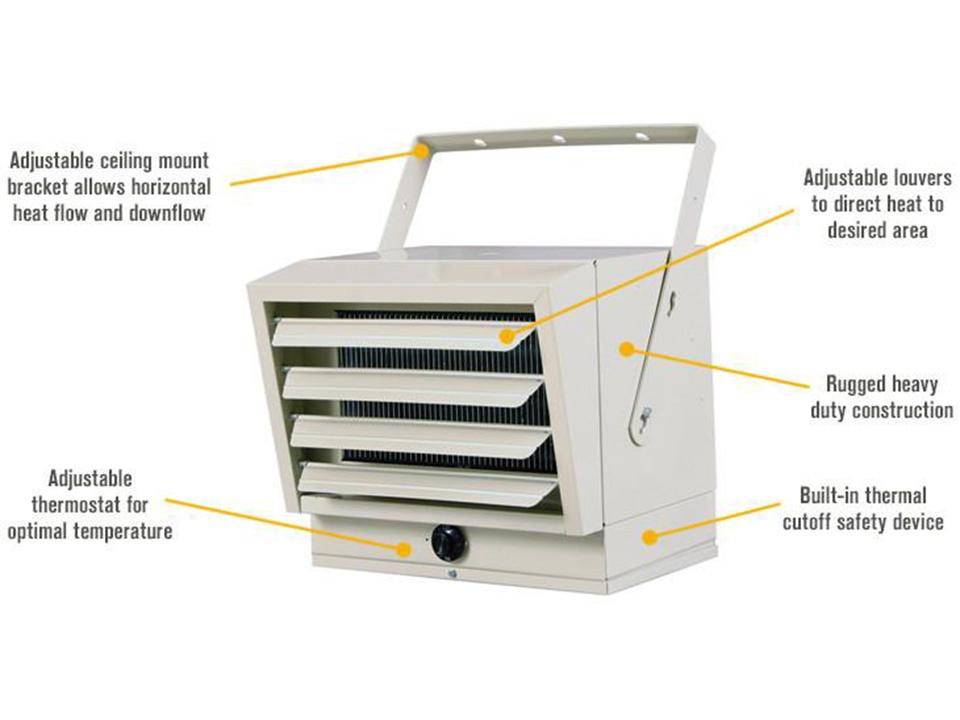 For medium to large greenhouses: RSI Greenhouse Heating System
17,000 BTU
Includes two heat settings
Frost watch function is one of its best features
Guarantees the right temperature with the built-in thermostat feature
Switches off if overheating
Doesn't take up surface space: Easily hangs from rafters or ceiling
Includes installation hardware and mounting bracket
For small to large greenhouses: AirNmore Infrared Space Heater
1500W
Uses Copper PTC as the heating element
Touch safe: Shell doesn't heat up
Tip-Over Sensor
Two heat settings (1000W and 1500W)
Fast heating
On castors
Up to approx. 800 sq.ft. (if insulated well)
Heavy-duty particle filter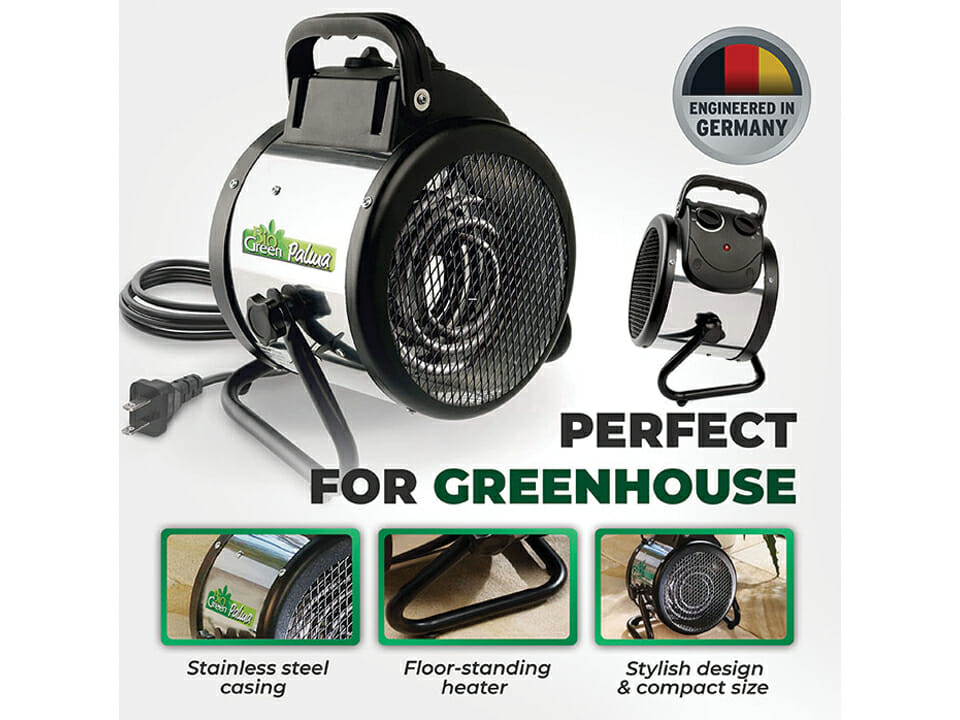 For small to medium greenhouses: BioGreen Palma Greenhouse Heater with Adjustable Thermostat
Up to 120 sq.ft.
1500W
Fast heating
Adjustable, built-in bimetal thermostat with 9.1ft sensor range
Quiet and easy to use
Splash waterproof, slip-resistant rubber feet
Safe for use in damp areas
Gas greenhouse heaters
Using gas to heat your greenhouse can be practical because it doesn't require a power source. So, you don't need to lay a cable. The problem with using gas, propane, and butane are the toxic fumes it emits. However, the requirement of high temperatures can be quickly accessed because of their built-in thermostat control.
Pros:
Effortless to use
A thermostat easily controls the temperature of the greenhouse
High temperatures are easily accessed
No power connection needed
The traditional way of heating
Cons:
Condensation problems are expected
The fumes emitted may be toxic
Needs a spare cylinder on hand at all times
Needs refills of gas bottle
For medium to large greenhouses: Mr. Heater Corporation
20,000 BTU
Up to 500 sq. ft.
Blue flame
With thermostat
Battery-powered electronic ignition
Automatic low oxygen shut-off system (ODS)
Can stand on legs or be mounted on the wall
For medium to large greenhouses: Dyna-Glo 18,000 BTU Cabinet Heater
Heats up to 450 sq. ft.
8,000-18,000 BTU
Heats up to 64 hours using a 20 lb. propane tank
Oxygen depletion sensor
Tip-over protection
Portable: Locking castors
Small greenhouses: Dyna-Glo Natural Gas
5,000-10,000 BTU
Propane only
Blue flame convection technology
Heats up to up to 300 sq. ft.
Customizable heat settings
Solar-powered greenhouse heaters
Greenhouse heating can cost a lot of energy consumption with the use of pumps and devices as well as maintaining the right temperature. Solar panels seem to hold the correct answer for serious gardeners who want to keep optimum plant growth and development. The use of solar panels to maintain a steady temperature throughout the year makes both plants and environment healthy and happy.
While any type of solar panels can be used for your greenhouse, the more efficient ones are the monocrystalline solar cells and the polycrystalline solar cells.
Polycrystalline solar cells
Pros:
Silicon waste is avoided
Effects on efficiency are not negatively affected by hotter temperatures
More affordable option than the monocrystalline cells
Cons:
The low purity levels of silicon do not make them an efficient solar panel option
They are less space-efficient because of their lower output rates. Installing them means more roof space
Monocrystalline solar cells
Pros:
High-efficiency rate of 15-20% that requires less space
The usual warranty is for 25 years because manufacturers believe in the long lifespan of the solar cells
Works efficiently even on cloudy days because they have always shown peak performance even on low sunlight levels
Cons:
Very expensive, in fact, the most costly solar cell available on the market
A rise in temperature can sometimes affect the levels of their performance
Manufacturing them leads to a lot of silicon waste
Do you have any other questions about heating your greenhouse? Let us know in the comments!