Description
Juliana's Premium line has been around for years, and it is renowned for its unrivaled quality compared to other hobby greenhouses. This elegant model has been enhanced and furnished with plenty of features, which will give you the peace of mind that you need in a greenhouse. The Juliana Premium 10ft x 14ft will give you enough space to grow plants while having an eye-catching place to unwind.
The secret of the Juliana greenhouses' strength is the aluminum frame, and they cut no corners in this respect because they make sure that their greenhouses have all the extra strength you need. They provide a protected environment for your plants and you don't have to worry about emergency preparations for blizzards, heavy rains, etc. It also isolates your precious plants from pests, rodents, and other animals.
You have two elegant colors to choose from. The Juliana Premium 10ft x 14ft comes with an aluminum/black or anthracite grey/black frame. In addition, you can choose from two different types of glazing: 3mm full-length toughened glass and 10mm Polycarbonate glazing. The doors, windows and assembly fittings of both models are powder-coated black.
Juliana knows that some people prefer glass over Polycarbonate because it looks clearer and more elegant. This gives the greenhouse a distinctive character a and beautiful overall impression. Some people are more concerned about the light diffusion and year-round gardening in colder climate zones so that they want a thick Polycarbonate. Therefore, Juliana offers both options for their greenhouses.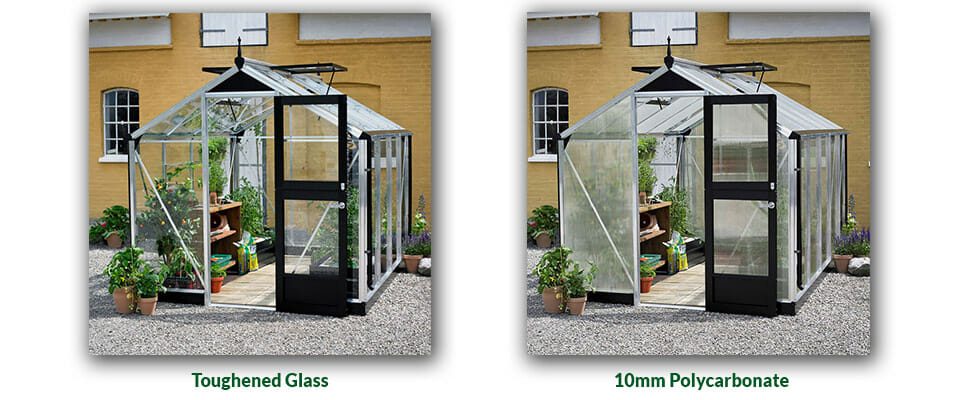 Features & Benefits of Juliana Premium Greenhouse
Built to the highest quality standards
Able to withstand the prevailing wind velocities and volumes of snow
The door can be kept open or securely closed
Hinged double stable door with handle and lock
Door size: 54in wide x 72in high
Gutter with tilt function and 4 downspouts
Roof prepared for decorations
Low doorstep for easy access
Four roof windows
Glazing material: 3mm full-length toughened glass or 10mm Polycarbonate glazing
Color: Anthracite/Black or Aluminum/Black
Sidewalls are 5.6 ft high
Base Frame (included): 4.7 inches
Dimensions: 9ft 9in width x 14ft 5in length x 8ft 9in high (center)
Floor space: 139 sq.ft.
Warranty: 12 years for replacements or repair of faulty parts & 2 years on painted parts, where fitted
Made in Denmark with 50 years of experience

Juliana is producing greenhouses for 50 years now. Their trademark is great quality with beautiful designs. These greenhouses are made for hobby gardeners that like to use their greenhouse for leisure time and social gatherings as well. Juliana is one of the biggest manufacturers of home greenhouses in Europe and now they are also taking over the market in the USA.
Please note that the glass greenhouse adds more weight to the greenhouse. When you receive your glass greenhouse on the crates, they are impossible to move without a pallet jack. You need to open the crates and carry the glass panels individually.