Description
Juliana Junior is constructed of narrow, strong profiles that give the greenhouse light and airy feel. This greenhouse is designed with a tall sidewall height to enable excellent utilization of the greenhouse area. It provides space for climbing plants such as cucumbers and tomatoes all the way out along the sides of the greenhouse, and this makes it easier for greenhouse users to move unimpeded throughout the greenhouse.
Like the vast majority of Juliana greenhouses, Junior comes with a hinged stable door. The stable door enables the release of warm air without bothersome draughts along the floor of the greenhouse, which can damage delicate plants. The stable door comes with a lock and key, which enables the greenhouse to be used for storing garden furniture, a lawnmower and similar.
Juliana Junior also comes with ordinary aluminum profiles and in a powder-coated version for an elegant greenhouse that adds style to your garden.
The secret of the Juliana greenhouses' strength is the aluminum frame, and they cut no corners in this respect because they make sure that their greenhouses have all the extra strength you need. They provide a protected environment for your plants and you don't have to worry about emergency preparations for blizzards, heavy rains, etc. It also isolates your precious plants from pests, rodents, and other animals.
The Juliana Junior comes with an aluminum/black or anthracite/black frame. You can also choose from 3mm toughened glass, 3mm horticultural glass, or 6mm Polycarbonate. Juliana knows that some people prefer glass over Polycarbonate because it looks clearer and more elegant. Some are more concerned about the light diffusion so that they want Polycarbonate. Therefore, Juliana offers both options for their greenhouses. For the Juliana Junior, they even offer two different glass materials. Toughened or tempered glass is also known as safety glass. When toughened glass shatters it poses a reduced danger because it breaks into small pieces. Horticultural glass, on the other hand, breaks into bigger pieces, but it is more budget-friendly.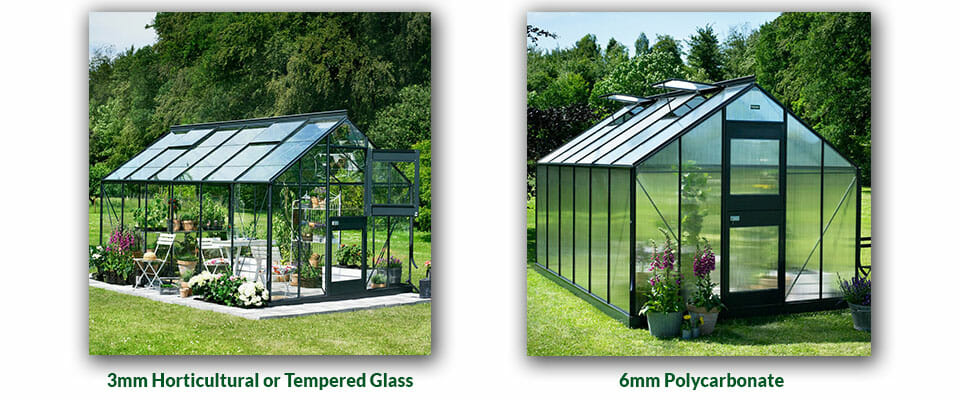 Features & Benefits of Juliana Junior 9ft x 12ft
Built to the highest quality standards
Able to withstand the prevailing wind velocities and volumes of snow
Double hinged stable door with handle and lock (27.8in wide x 75.7in high)
Gutter with two downspouts
Roof prepared for decorations
Four roof windows (no automatic openers)
Glazing material: 3mm tempered glass, 3mm horticultural glass, or 6mm Polycarbonate
Insulation between walls and frame: Silicone and wire clips
Color: Anthracite or Aluminum
Sidewalls are 5.2 ft high
Dimensions: 8ft 11in width x 12ft 1in length x 8ft 5in high (center)
Floor space: 107 sq.ft.
Warranty: 12 years for replacements or repair of faulty parts & 2 years on painted parts, where fitted
Made in Denmark with 50 years of experience

Juliana is producing greenhouses for 50 years now. Their trademark is great quality with beautiful designs. These greenhouses are made for hobby gardeners that like to use their greenhouse for leisure time and social gatherings as well. Juliana is one of the biggest manufacturers of home greenhouses in Europe and now they are also taking over the market in the USA.
Please note that the glass greenhouse adds more weight to the greenhouse. When you receive your glass greenhouse on the crates, they are impossible to move without a pallet jack. You need to open the crates and carry the glass panels individually.