Growing plants in a greenhouse will teach students responsibility. It gives a chance to learn most school subjects to come to life through hands-on training. Understanding the wonders and law of nature is the focus of this environmental study. Greenhouses for schools and projects can be a simple facility in which students or members of the group can explore with handling crop variations and cross-pollination, cooling and heating, etc.
These greenhouses improve the physical, mental, and personal well-being, of students and or members of the group. Being inside the garden provides satisfaction and a better quality of life.
The relevance of the school greenhouse
You might as well ask how students can learn from having a greenhouse project in school.
Having a greenhouse project in the school is one of the best ways to kindle their curiosity, imagination, and creativity as well as integrating lessons. Showing them the mechanics and advantages of the greenhouse and making them take over the maintenance encompasses a broader scope of learning skills to include:
Science lessons
Students will be made aware of the things happening in the world today like climate changes, global warming, and the way it affects plants. Learning about plants' reactions to light, heat, and cold and the measures to counter them with the use of the greenhouse are invaluable lessons for all students.
With a greenhouse at the school, kids get to learn biology in reality by investigating different plant types, the anatomy of plants, photosynthesis, soil, and watering needs.
The advantage of having a greenhouse to have a garden for all seasons will put across the message of planting and producing food. Often, students are only involved in the seeding stage. They never get to the harvesting part when plants die off during the winter. The greenhouse will effectively include them in the process of planting and growing.
Read how this school teaches STEM through their greenhouse!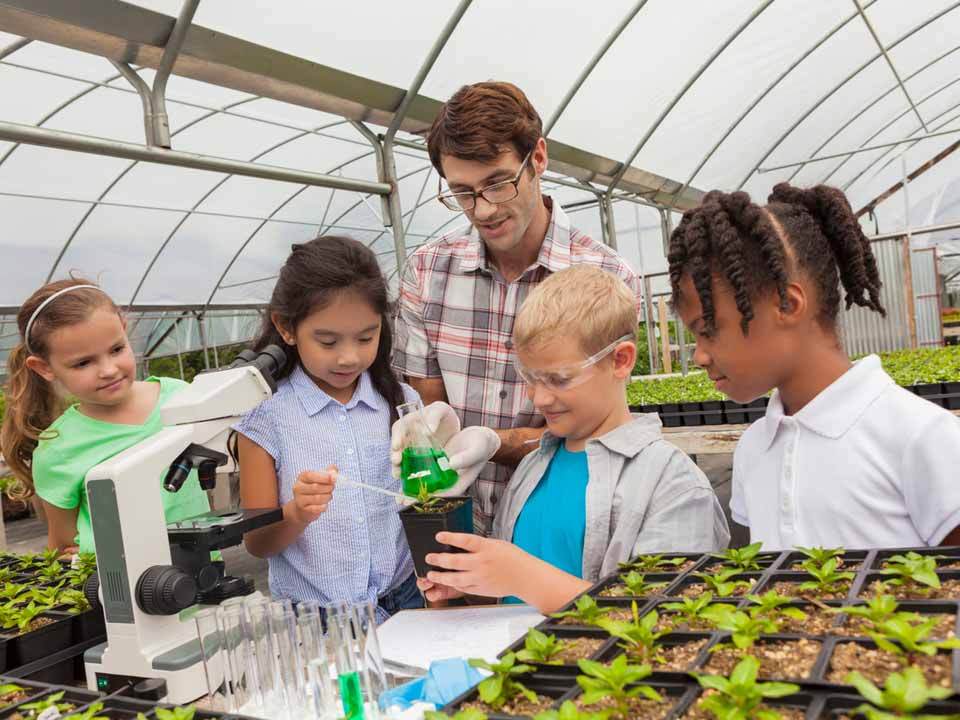 Math lessons
What better way to teach math than doing them in a greenhouse classroom setting. Graphing, temperature setting, data collection, width and height measurements are part and parcel of a functioning greenhouse. Math becomes an easier subject when it is taught in a greenhouse setting. Selling off their produce also teaches them important lessons about cost management as well as marketing skills as they learn to promote their products as well.
Art lessons
The varied colors given by the various plants and flowers is a lesson in creativity especially when they are encouraged to draw them. This also stimulates students to appreciate nature's natural beauty. Landscape and greenhouse design and architecture are some of the excellent art lessons students will be able to learn from a greenhouse project.
Language arts lessons
Learning new words can often be tough for students. However, it becomes more interesting when these new words are used to describe and explain the various ways to grow and nurture plants. Encouraging students to express how they feel about the greenhouse project by way of writing teaches them valuable language arts skills.
Home Ec Class
The produce coming from your school greenhouse can be used in Home Ec classes. The students will also see the critical impact plants have on everyday living and taught healthier dishes. This will make them see the big difference between fresh produce from the garden against the products sold in groceries and supermarkets. Additionally, the inclusion of ideas involving off-grid food production will emphasize the importance of climate change prevention.
On top of that, this can also teach them better ways of home management, maintenance work on the greenhouse, composting and so on.
Like it? Pin it!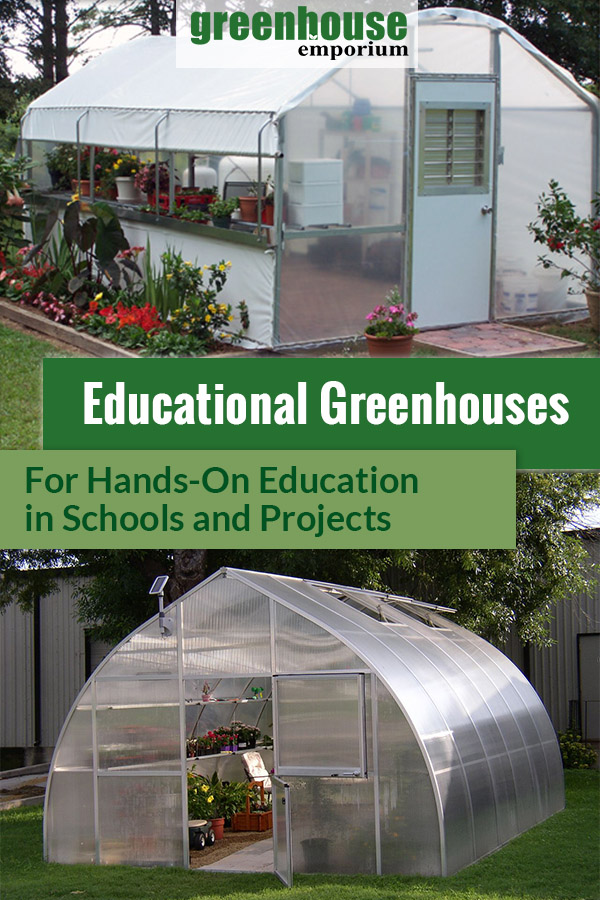 Benefits of having greenhouses for projects and NGOs
Exposure to gardens and further active interactions and participation with nature provide mental and physiological advantages that improve healing and therapy.
Greenhouses in health care facilities
Environmental psychologists showed that surgery patients healed faster and were given less strong pain meds when their bedroom windows are overlooking greenery and colorful landscape than the traditional brick wall. Most cases had a one-day less hospitalization and fewer struggles from the nursing team.
This would mean that a rehab or health care facility would benefit from installing a greenhouse if it is in an area with four seasons. Patients could still enjoy the greenery in the middle of winter.
PTSD in military personnel
Most nature treatment arrangements for veterans are carried in areas outside the cities. Nearby landscape with greenhouse equipment will also present the same benefit. An examination of veterans engaging in a neighborhood gardening program revealed that they realized a sense of direction because they had something to look forward to. They feel comfortable, confident and secure by caring for plants and watching them grow. They have discovered new talents and were ready to share further awareness and experiences with others.
Greenhouses in prisons and jails
The perks of these arrangements may continue to personality growth after discharge. Studies show that these programs can be a tool to enhance social connection and be productive in making character developments and improving understandings of self-image, self-esteem, and ability to succeed in the future.
Public parks
Regular activities of outdoor exercises in natural environments are confirmed to promote mental health. Visits to parks appear to enhance peace and tranquillity, joy, intensity and the feeling of confidence and reduce feelings of depression. Engaging in greenhouse projects in public parks gets the feeling of achievement and significance of oneself to nature.
Neighborhood gardens & community projects
A neighborhood garden can alleviate difficulties that torment in some urban districts. It can be a profitable extension to several cities by expanding the possibility of harvesting nutritious fruits and vegetables, strengthening neighborhood love, decreasing environmental risks, lessening food distances, and building a further sustainable operation. Community greenhouse gardens can further defeat adverse environmental consequences by decreasing food shipping expenses and lessening water runoff. Everyone can avail from urban agriculture because it creates habitats and promotes the ecology of the region.
Best greenhouses for schools and projects
The greenhouse has become an invaluable teaching tool used by more and more schools. Educators have seen the positive impact greenhouses have on the learning skills of students, regardless of age and gender.
Greenhouse classroom setting has become the popular choice for imparting important life lessons about planting and growing your own products. This makes it doubly important to choose the best greenhouse design conducive to learning.
This article recommends several greenhouse kits that are seen as the best in the market today, to include:
Riverstone Industries Carver Educational Greenhouse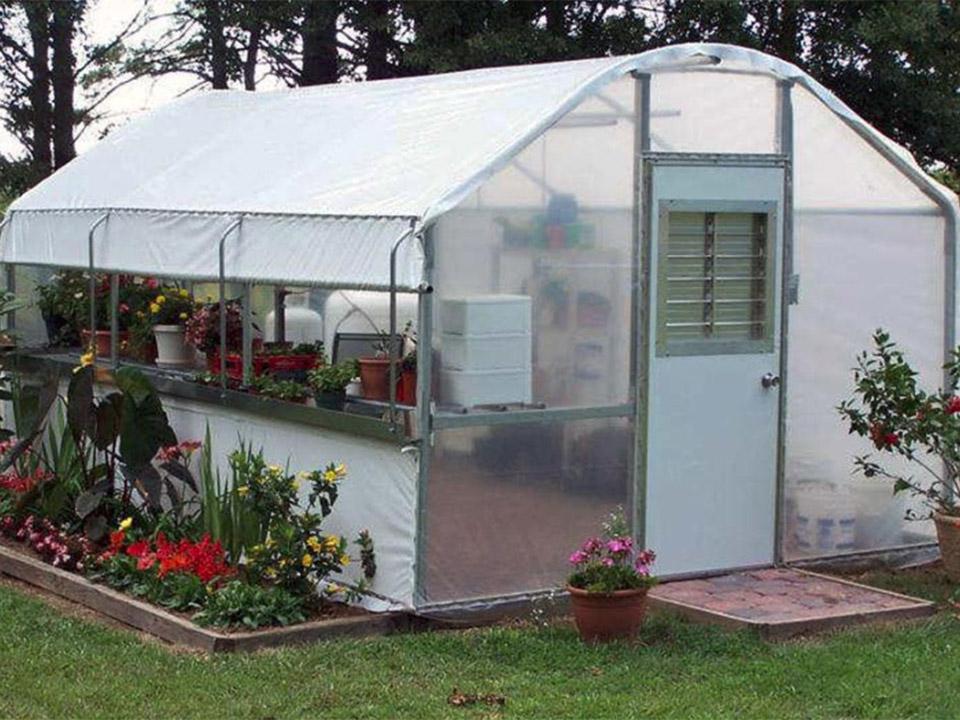 The Carver Educational Greenhouses are specially designed for institutions with horticulture programs and of course for serious gardeners. This is helpful for both growing and healing purposes. The Carver is the most cost-effective approach to start or extend an agricultural program.
6mm Poly film walls, roof, and end walls
1.7in galvanized steel base rail and framing system
36in wide x 6.8 ft tall insulated metal security door with built-in shutter, lock, and key
One 16ft roll-up curtain system for greenhouse ventilation
One 18-inch Quietaire industrial exhaust fan
Two 2ft deep 16ft long commercial workbenches
One 240 volts electric heater
One 15ft x 18ft (63%) shade cloth with tie-down rope
One automatic and programmable watering system with timer
1in x 3in Poly repair tape
10 Year Warranty
Riga XL Greenhouse Kits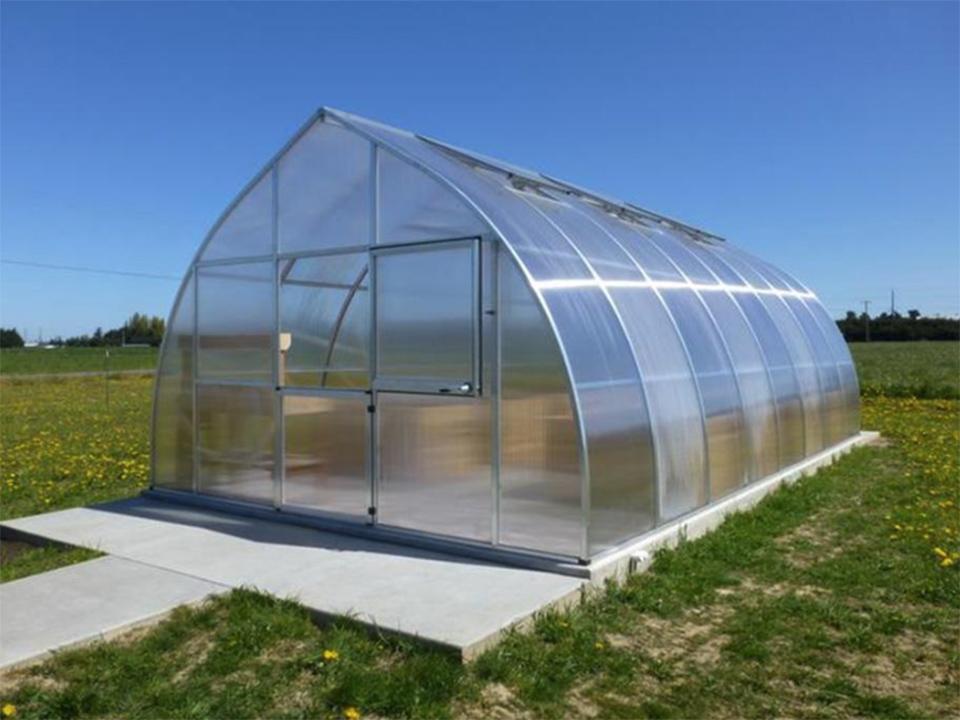 The Riga is an innovative, excellently created, and elegantly designed greenhouse manufactured by Hoklartherm, one of the best companies in the greenhouse industry. The high-quality materials ensure longevity while providing more savings on energy conservation. Additionally, it is perfect for self-sustaining growth and everything from basic to advanced produce production. The features that guarantee the Riga to be the perfect choice for a school greenhouse include:
Optimized light transmittance with the 16mm triple-wall Polycarbonate panels that are glazed on all four sides as well as UV-coated
Comes in 5 varied sizes that are all suited for a greenhouse classroom setting:

14ft x 16ft
14ft x 19ft
14ft x 23ft
14ft x 26ft
14ft x 30ft

Doors are wide-barn style complete with lock and key which can be installed in front and the back of the greenhouse
The silicone caulk and heavy-duty rubber seals around the windows ensures optimum insulation
Enhanced air circulation with the large roof windows
Includes optimum headroom and outstanding stability and durability against snow and wind
Considered as the strongest greenhouse design compared to other greenhouse models of the same size
The frame and structure of the greenhouse is connected permanently to each other to ensure stability and durability against wind and other inclement weather conditions
10 Years warranty and prorated after five years for the triple wall Polycarbonate
15 years warranty for the frame
Solexx Conservatories
A conservatory was traditionally constructed by wealthy landowners. The architecture can be truly elegant with arched glass roofs and wide-open windows which were intended to intensify the overall layout of the house and give a spot of recreation for homeowners.
Solexx Conservatory Greenhouses are the biggest and most spacious greenhouse kits. This is popular with commercial nurseries and schools. You can even grow trees inside because of its 9ft 6in tall height. The front and back doors provide easy access to the entire area.
Two single-tier, side benches run the length of the outer walls and a large 5ft wide, double-tiered, bench frame sits in the center of the greenhouse structure with ample growing area.
Available in three sizes:

16ft x 18ft
16ft x 16ft
16ft x 20ft

Heavy-duty composite frame – rust, corrosion and mildew free
Twin-wall 3.5mm Solexx greenhouse panels (upgrade to 5mm panels for high altitude or heavy snow areas)
New stronger and lockable doors
Two side bench frames, full length, 29in deep, hold 500 lbs (optional shelving available)
Two-tiered 58in x 94in bench frame(s) in the center of the greenhouse (accessible from both sides)
Four full-length hanging rods hold 200 lbs each
Sturdy, built-in base, requires no foundation
Two large Easy Flow Louver air vents (optional solar-powered openers)
Two doors in the G-308A Conservatory greenhouse kit and four doors in all larger units
Easy-to-assemble steel fittings
10-year limited warranty
Riverstone Industries Wallace Educational Greenhouse
The Wallace Educational Greenhouse Package is designed for schools with horticulture programs, correctional institutions, and serious gardeners for both growing and therapeutic reasons.
Some government institutions provide greenhouses for sustainable agriculture. Organic gardens care for our environment and help people reduce stress. As much as possible gardeners don't use synthetic pesticides.
The 2in x 2in galvanized steel frame with pre-welded stanchions and Commercial graded 8mm twin wall corrugated covering (walls and roof) are the same specifications used in commercial products in the market today. It has an 8ft tall wall with a core peak of 11.5 ft for excellent airflow.
16ft x 24ft (384 sq. ft.)
Two 24-inch motorized shutters for air circulation
One 18-inch Quietaire industrial exhaust fan
Two 3ft deep 24ft long commercial workbenches
One two-stage commercial thermostat to control fan & shutters
One FSA-30: 30,000 BTU LP high-efficiency gas heater
One 3in vent pipe kit for LP gas heater
One single stage thermostat for the heater
One 26ft x 26ft (63%) shade cloth with tie-down rope
One automatic and programmable watering system with time
We are always happy to work with schools and projects, as well as NGOs. Please contact us if you have any questions or need a customized package! We accept POs. Just give us a call at (307) 429-0674 – We are happy to help you to get the best product and pricing!