By purchasing one of the best Polycarbonate greenhouse kits, you choose to grow your plants in an environment that can face all sorts of temperature and climate. It is quite effective and stronger. There is no need for special care compared to glass. You may need to hire a contractor for a glass replacement but in the case of Polycarbonate, it can be simply replaced by a traditional gardener. It is also a perfect solution when it comes to winter gardening.
Other than protecting your plants from the weather elements, the best Polycarbonate greenhouse kits are designed to provide hobbyists and avid gardeners alike the opportunity for endless gardening in all seasons.
The greenhouse kits available on the market have different materials. Of all these materials, the most durable is Polycarbonate. For example, glass is likely to break and crack. Additionally, unlike other materials, Polycarbonate sheets retain defused light in the exact spectrum that the plants need, letting sunlight feed the chloroplast even outside the growing season.
Setting up a Polycarbonate greenhouse is way easier than glass which suits any passionate DIY warrior. Other benefits gained from Polycarbonate greenhouse designs include:
Protects plants and you from the direct sunlight
Provides a bright atmosphere for plants
Provides a stable and steady temperature for plants in cold winter season because of the heat-retention feature
Better light dispersing qualities than glass or plastic
Versatile which could even surpass glass
The thick plastic material of the Polycarbonate is an overall cheaper option than glass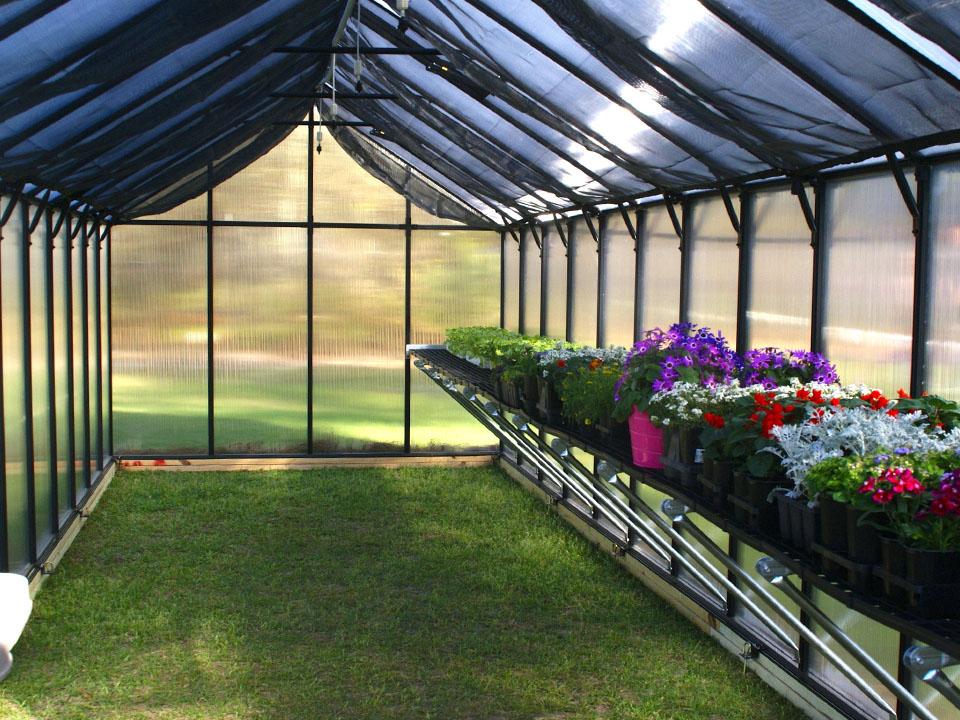 Features to look into for Polycarbonate greenhouse kits
There are two types of panels used in Polycarbonate greenhouse kits. Knowing more about them can make you choose the design that will work in your location and with your gardening plans.
Single wall Polycarbonate design
The recent panel designs for the greenhouse have become more sophisticated. Gone were the days when greenhouse panels only consist of either glass or clear plastic.
The thick plastic material of Polycarbonate makes the single Polycarbonate wall unbelievably strong despite its being lightweight. The clear feature of the panels mimics glass in some ways, making them doubly attractive with none of the issues usually confronting glass panels.
Frosty weather is kept at bay by the single panels making them ideal for winter gardening. They are usually included in greenhouse kits and not sold for single custom projects.
Extending the planting season can become possible when the chosen greenhouse model is one that has single Polycarbonate panels.
Multi-wall Polycarbonate panels
The double or triple-wall often referred to as the multi-wall Polycarbonate panel, is the most common type used in greenhouse kits. The kit includes perpendicular support where the two or double layers of Polycarbonate sheeting are attached. This creates flutes or hollow spaces that provide insulation through their action of holding in the air. Choosing between small or large flutes makes no difference because there is only a small margin in their performance of holding in the air.
The air can only begin to circulate if there is a large air space. Air movement inside the flutes can affect the insulation. However, triple or quadruple panels provide the flutes with additional layers which result in enhanced insulation.
An 8mm thick double wall will obviously offer less insulation than a thicker triple wall of the same circumference. Just remember to go for quality Polycarbonate greenhouse kits if you want one that is extremely strong and durable. High-quality Polycarbonate greenhouse designs usually offer ten years warranty periods.
Like it? Pin it!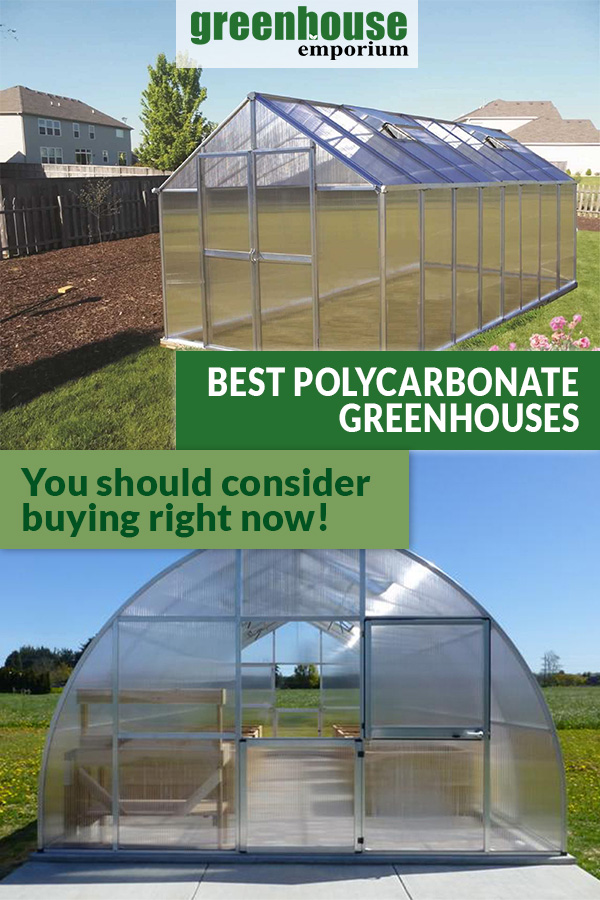 Three top-quality Polycarbonate greenhouse kits that you should consider buying
Riverstone MONT Greenhouse 8×16 – Special Edition
Probably the best-value Polycarbonate greenhouse on the market. Aside from being very durable, it is also easy to assemble and is a type of greenhouse where you can install proper ventilation tools easily. Additionally, the heat retention from the Polycarbonate covering is more than exemplary. While designed and manufactured in the USA, you are getting a top-notch greenhouse. Riverstone has many years of experience in the greenhouse industry and offers a lot more sizes and packages. You can check these out here!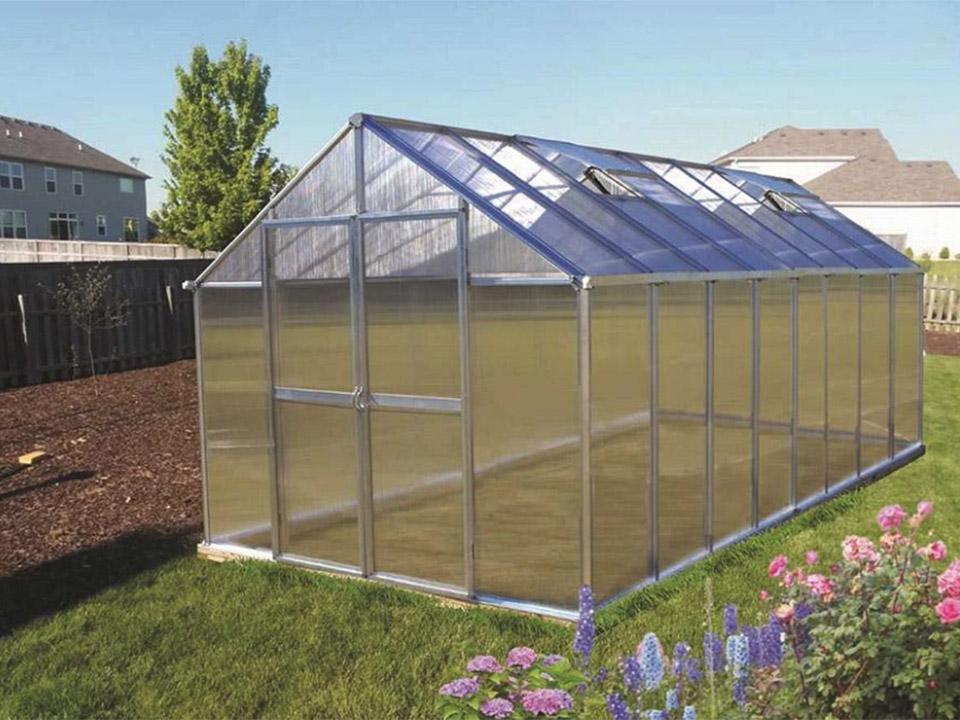 The MONT Greenhouse Special Edition can only be purchased on Greenhouse Emporium. The package design is based on the most popular greenhouse size with some customized features. It includes:
The 7'6" height that veers from the normal height of most greenhouse models. This unique feature allows tall gardeners to stand comfortably in their greenhouse.
The unusual height feature also means natural cooling and ventilation that eliminates the problem of overheating.
Durable and long-lasting design that includes an integrated rainwater gutter system, two 6ft x 4.4ft double doors with double hinges, and automated roof vent openers.
Ten years warranty period for frames and Polycarbonate roof and sidewalls
Average aluminum content for the framework is 40 lbs more than other greenhouse models, making it one of the most durable, if not the most durable frame.
Includes 8mm Polycarbonate twin-wall that provides warmth during winter and coolness in summer.
Top-quality features and materials that conserve energy consumption while providing the ultimate growing environment for your crops.
Hoklartherm Riga XL Greenhouse
The design of the Riga is European-inspired which means that it is capable of growing plants such as flowers, fresh vegetables, and herbs even in dead winter. With one of the best insulation and the onion-shaped design, it can withstand even the hardest winter.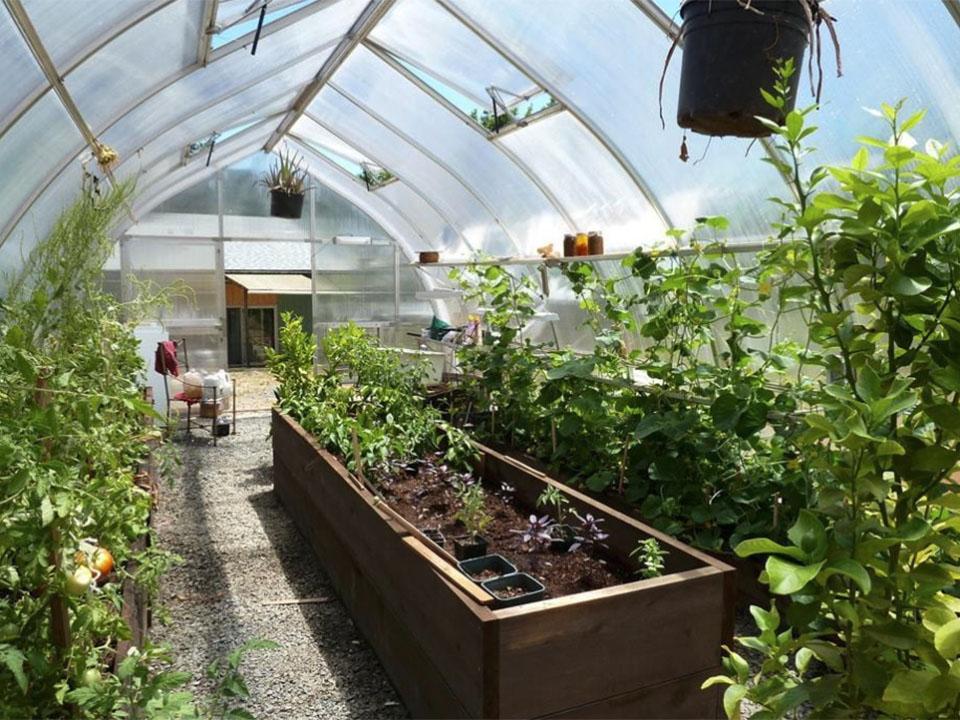 Some of the finest features gained from this greenhouse design include:
Affordable price for a durable and strong greenhouse model
Includes two Horse Barn style 38" wide x 72" tall doors that are installed in the front and back of the greenhouse
Designed and manufactured by Hoklartherm, one of the leading manufacturers in Germany for hobby and commercial greenhouses
All four sides of the greenhouse have 16mm Triple-wall Polycarbonate glazing that is also UV coated
Onion shape withstands extreme winds and snow loads
Warranty is 15 years for the frame, and 10 years prorated after five years for the triple Polycarbonate walls
Automated openers for the 37.5" wide x 39.5" length roof windows
Includes 4 "L-shaped" anchor bars that can be attached to a wood or concrete frame
Solexx Garden Master Greenhouse
The main reason why Solexx offers one of the best Polycarbonate greenhouse kits is actually the glazing. Solexx manufactures its very own panels that offer some different features. Although the thickness of the panels is not as high as MONT or Riga models, it still provides better insulation than 8mm triple-wall Polycarbonate. The signature Polyethylene glazing is white for a reason. It diffuses light with perfection so that every inch of the greenhouse receives evenly light. It has provenly increased plant growth by 25%. Although it is technically not a Polycarbonate greenhouse, it shares all the characteristics of one.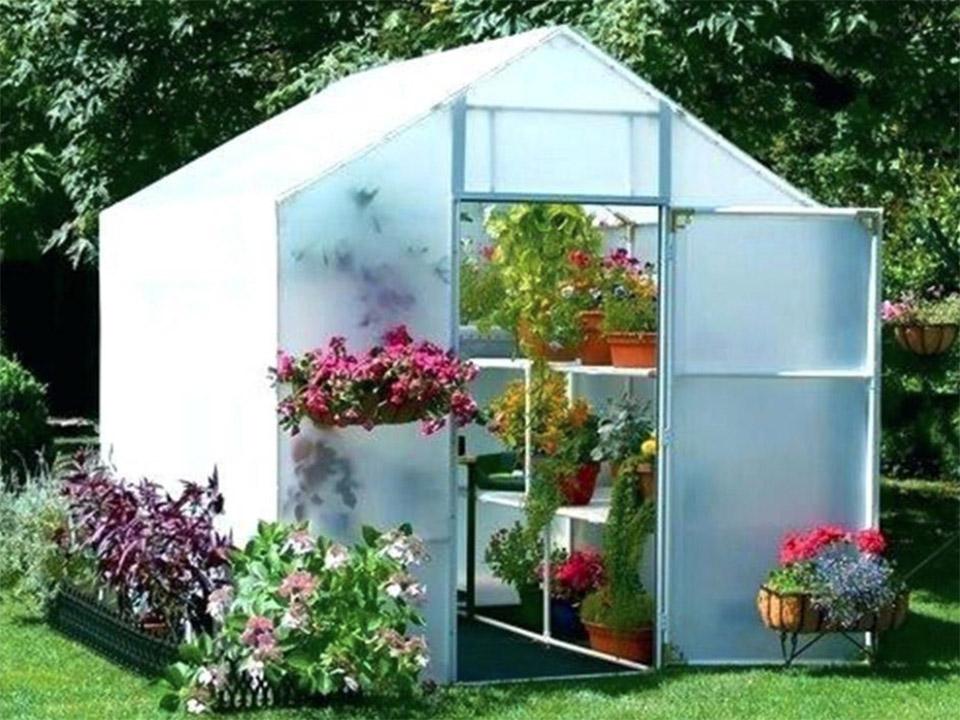 All Solexx models come with the same entrance design and are 8 feet wide, offering enough space for any type of plant short of a tree. It requires no foundation or complex site preparation, needing only a level garden.
Depending on your gardening needs, you can opt for models between 8 and 24 feet long, adaptable for almost any type of garden.
A competitive price for all models
A strong door with a lock
Two double-tiered bench frames that can hold up to five hundred pounds
Includes a solar louver opener and base vents
High-quality 1/8th-inch (3.5mm) Solexx Greenhouse Panels that can be upgraded to 1/5th-inch (5mm) panels that are appropriate for high altitudes or heavy snowfall
Warranty is 10 years
Which one will you pick for your garden?