We know it is hard to pick the right greenhouse for your needs. That's why you should always read reviews before purchasing. To provide you with an easier overview, we collected the reviews from previous customers and give you thorough details about the product. So, this MONT Premium Edition Greenhouse review will show you all the pros and cons so that you can make your own decision.
Let's dive right into what other people think about the MONT Premium Edition
"Premium is correctly used in this case. Best quality for the price. Looks good in our garden AND it wasn't difficult to put together. Took a little longer than indicated in the manual. Really love it! "
"Durable, great construction and high quality. It kept our plants cool in the summer. Now we are looking forward to the winter to see how it performs there. Totally recommend it to other green thumbs."
"So far the unit has exceeded expectations."
"The MONT Premium isn't the least expensive greenhouse kit on the market but I decided to go with this one because of the reviews. Engineering and manufacturing are great. I had no missing parts and no problem with assembly."
"If I could give six stars I would. It's an extraordinary value for the price. Totally recommend it to everyone I talk to about greenhouses."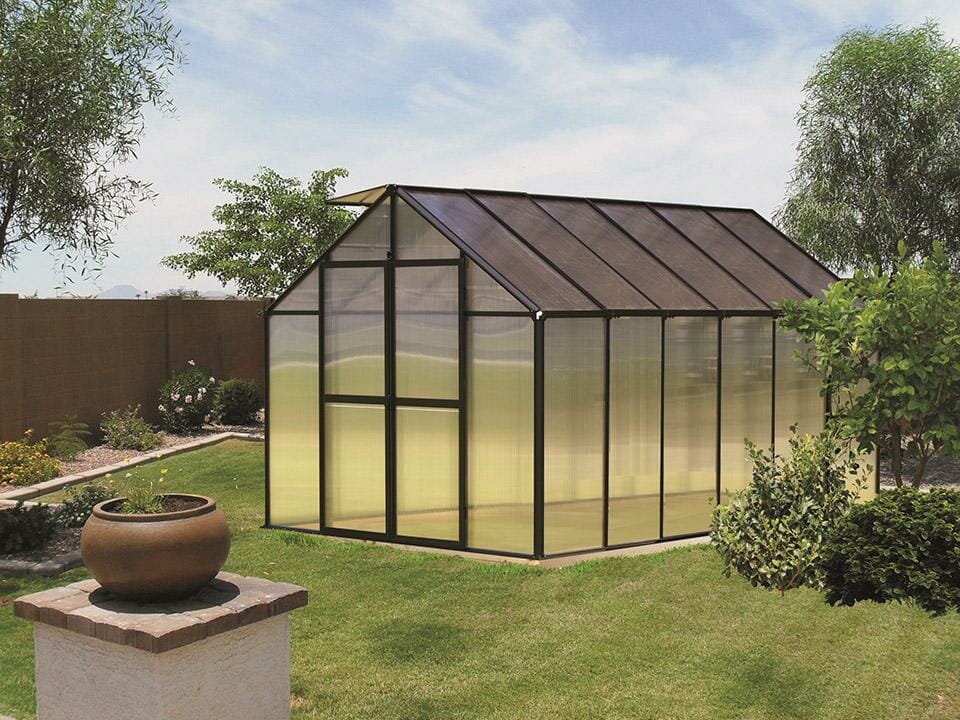 Why the MONT Premium is the best choice
MONT is one of our best-selling products for very good reasons: It's high quality, made in the USA, and it's still affordable. The premium kit adds a lot of extra accessories that will give you a great start with greenhouse gardening.
The MONT Premium Edition Greenhouse stands out because its frame contains 0% lead and instead it only uses extruded aluminum of the highest quality. On average, the MONT is built with 40lbs more aluminum than the average imported greenhouse. That's especially important if you are looking for a sturdy greenhouse that doesn't collapse at the slightest snow load or wind. It is made for 24 lbs/sq. ft. of snow and up to 65 mph wind gusts. You can pick one of the two colors (black or silver). While black looks more elegant, the aluminum silver frame provides around 6-7°F lower temperatures in summer.
Let's read more of our MONT Premium Greenhouse reviews to see what other customers like about the greenhouse.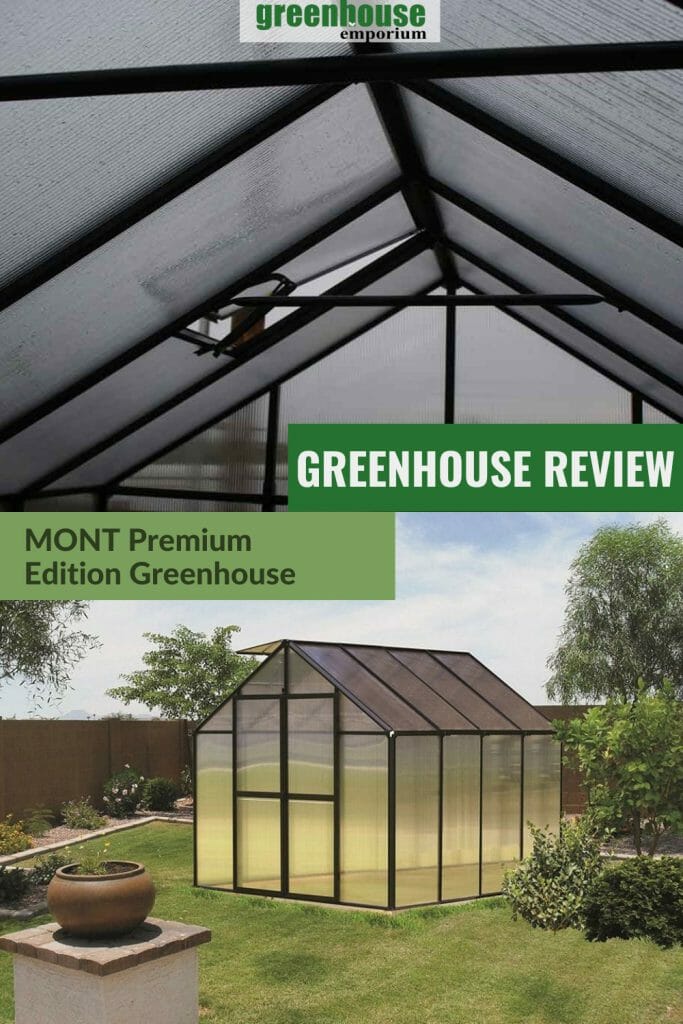 Karen says:
In addition to the heavy-duty frame, the greenhouse is the first we have seen that offers 8mm twin-wall Polycarbonate on roof and walls for this price range. My husband and I like this feature because it ensures that the greenhouse is insulated during the cold months and cooler during the warm months. We can now grow our favorite plants for longer periods of the year and way more efficiently.
As we purchased the 8×24, there are 5 roof vents that provide good airflow and the shade cloths help to keep the temperature down in summer as well. We are living in Missouri, so we also purchased an exhaust fan to keep temperature and humidity at a better level. The customer support helped us a lot with figuring out what our best options are.
The greenhouse's peak is 7.5ft which is great for tall gardeners like my husband. I think the height does facilitate heat displacement because our plants look far healthier and better compared to the lot we had in greenhouses we owned in the past.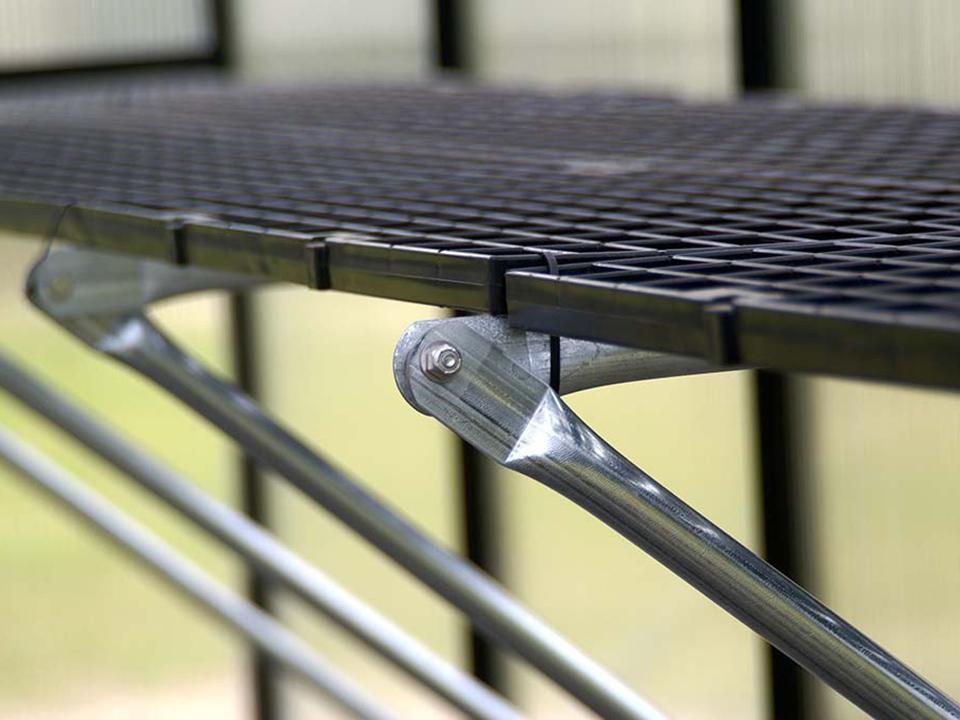 Oliver had some missing parts, but everything worked out perfectly in the end:
The greenhouse arrived very quickly within 3 days. The inventory check took a while because we also had some missing pieces. This wasn't a problem at all. I called the customer service and sent out the pieces immediately. Happily, I didn't plan to assemble it right away because I had to build the foundation first. So it wasn't a big deal for me. Now it is standing for 2 weeks and I couldn't be happier. I am really looking forward to the next years of gardening in my greenhouse.
Christi is totally in love with her purchase and gardening became her favorite hobby year-round:
Before I purchased the MONT Premium 8×12, I could only grow plants between April and September (living in Oregon). Now I can do my favorite hobby all year long. This greenhouse provides great insulation for winter and keeps the temperature down during summer, especially the automatic roof vents are very helpful. When we are out of town or during the really hot weeks in summer, we use the watering system. I usually like to have control over watering my plants but it helped me a lot already. It withstood all kinds of weather conditions so far so I am very happy with this greenhouse.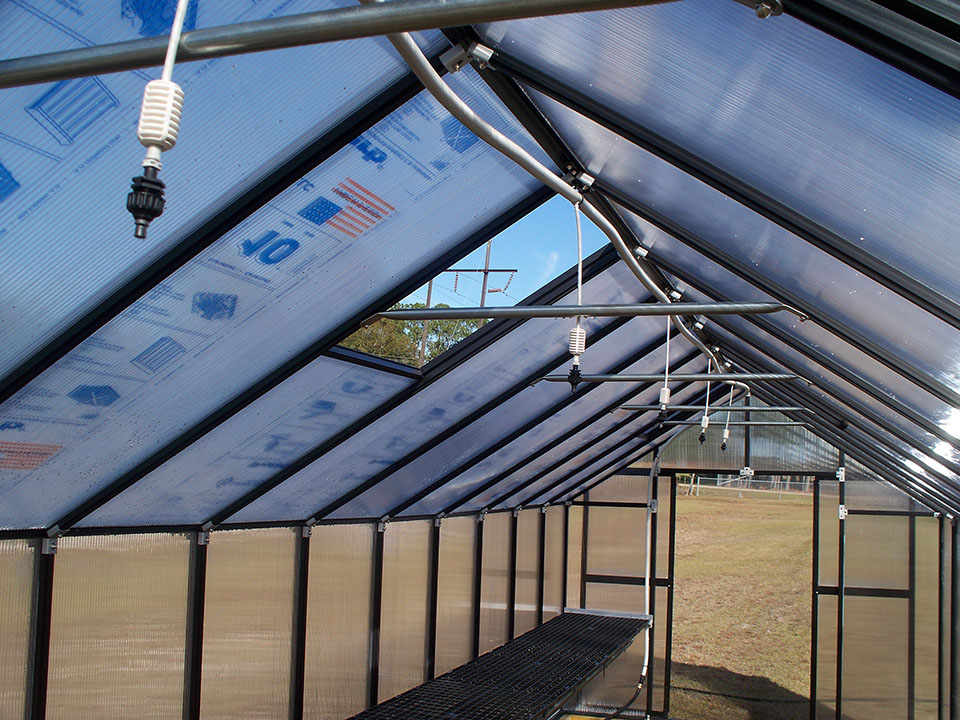 Summary of the MONT Premium Edition Greenhouse review
Pros
High-quality manufacturing from the USA
Full 10-year Warranty on frame and Polycarbonate
Extruded aluminum construction: Corrosion-resistant & heavy-duty
Commercial grade greenhouse for hobby gardeners
2 frame colors available
5 sizes available (dimensions in ft): 8×8, 8×12, 8×16, 8×20, 8×24
Expandable in 4ft increments in case you need more space after you got into the greenhouse gardening
8mm twin-wall Polycarbonate glazing for year-round gardening (UV stable)
Clear Polycarbonate panels block UV-rays and provide a good light diffusion to your plants
Hinged lockable doors
1-5 2ft x 2ft roof vents with automatic openers (amount depends on greenhouse size)
Interior height above average for ample headroom
Integrated flush base system
Integrated rain gutter for collecting water
Extensive accessory kit: Workbench system, programmable watering system, sink system, interior shade system
Easy assembly (patented T-bolts) with detailed instructions and videos
Extremely helpful customer service (from both us and Riverstone Industries)
Fast & free shipping (mostly within 3-4 days)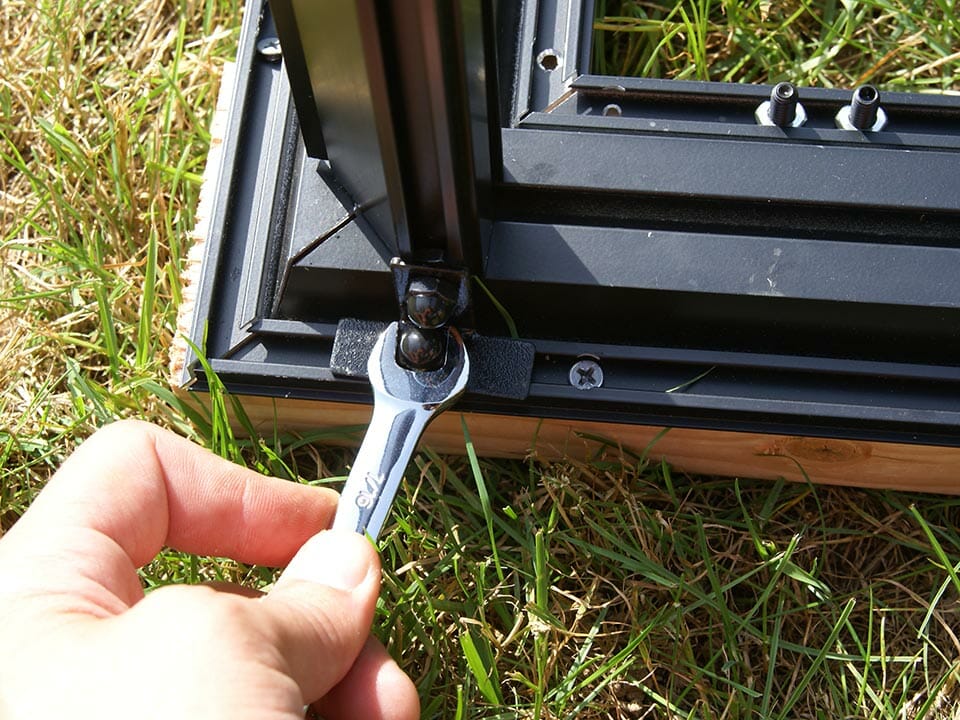 Cons
Not good if you are living in an area that exceeds the snow loads and wind rating (24 lbs/sq.ft. of snow, 65 mph winds)
You may need more time to assemble according to your skills and amount of helpers
Not the cheapest price (BUT high value for the price)
You may need a contractor for leveling the ground, building a stem wall, or for assembly
Overall, we are not just recommending MONT Greenhouses because we are selling them. We recommend them because we know that MONT is a great product line that makes our customers happy. And we want YOU to be happy as well – for many years to come! That's what the MONT Premium Edition will ensure.