Shelving is generally something that you attach to the interior of your greenhouse walls or lay on top of the built-in framing.
Whether you have a full-size outdoor greenhouse or a small indoor greenhouse, shelves and potting benches are necessary in order to make the best use of your greenhouse space. Shelving creates a useful storage space for seeds, tools, and pots, giving extra growing space. On the other hand, benches are freestanding and can be moved throughout the greenhouse.
Making good decisions concerning the use of these greenhouse accessories will allow you to function efficiently while you are gardening. Shelving and benches are used in combination to give the gardener choices as far as working, storing things, and providing areas for the plants. You can use shelves and benches for growing plants, flowers, and vegetables and use the undersides of the benches for storing your pots and tools. You can also use this area for additional room for your plants.
In the next paragraphs, we'll talk about some brilliant shelving ideas that will help you optimize your greenhouse space.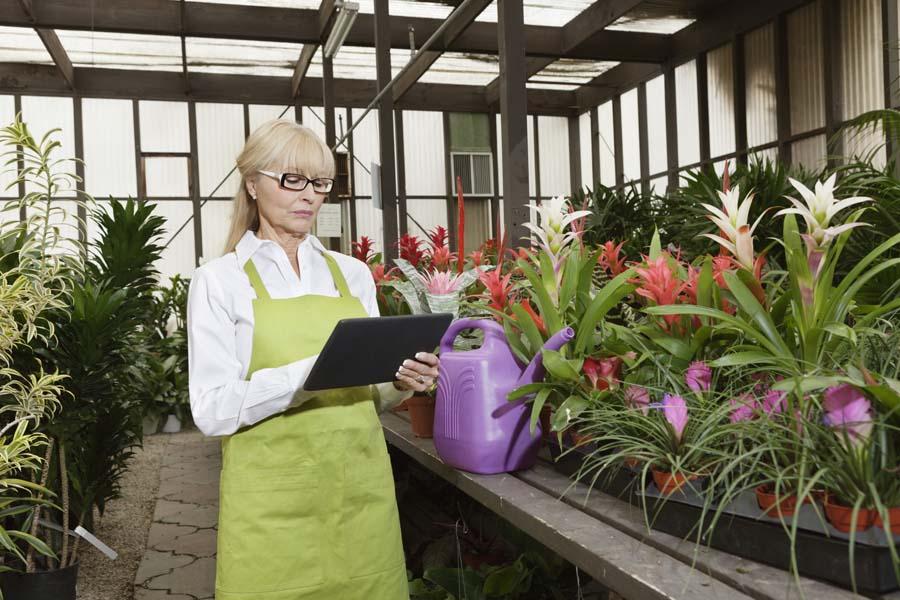 Use aluminum shelves to place your flowerpots on
If you keep flowers in your greenhouse, aluminum shelves are ideal to place your pots on. Keeping the flowerpots on the ground takes a lot of space, so using this kind of shelves will help you get rid of this problem.
Moreover, flowers get significantly more sunlight when they are placed at a higher level. When you're just starting out, we recommend you to grab two pieces of aluminum shelving and install them where your flowers will get plenty of light. This way, you'll free up some space and your flowers will thank you.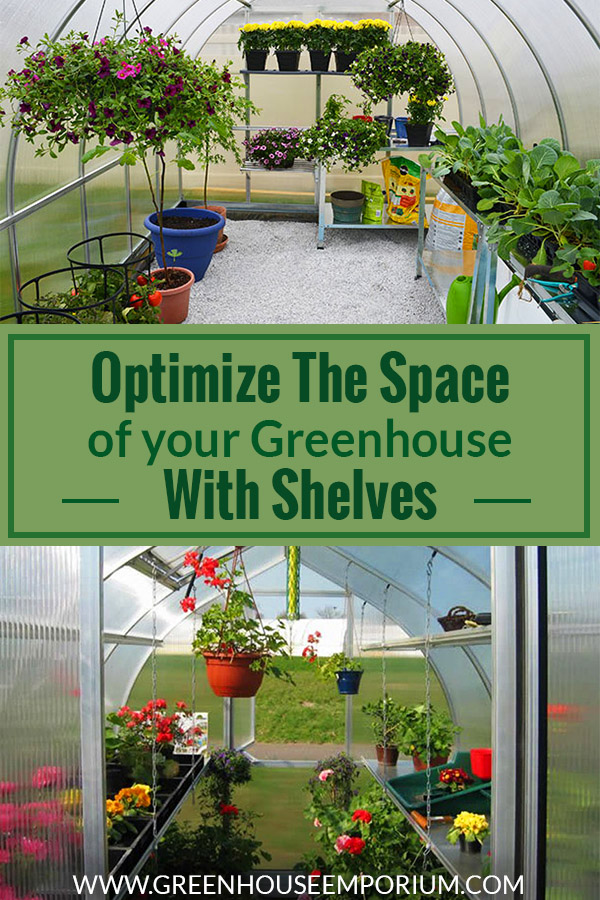 Install a shelf kit to make the most of your greenhouse space
The great thing about shelve kits is that they're really easy to install. Well, there are a couple of aspects to keep in mind and we'll talk about them one by one. First, when choosing such a product, make sure you go for a durable, heavy-duty, and lightweight one.
Most of these packages include everything you might need (supports, grommets, etc.), so you won't have to purchase anything extra. Next, if your needs are continuously changing, opt for a kit that is easy to reposition.
When it comes to installing, all you need to do is some measurements. After that, quickly attach each shelf to the greenhouse's inside frame. In order to create even more workspace, mount several shelves side by side.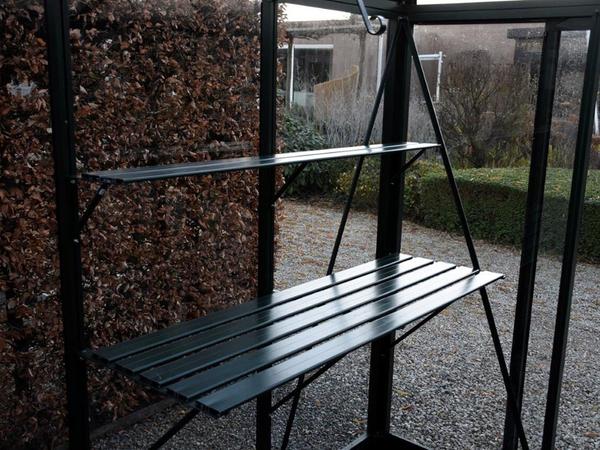 Add at least one potting shelf or bench to your greenhouse
If you want to have everything neat and tidy, you definitely need a dedicated area for potting. Therefore, potting shelves or benches are essential to any greenhouse.
Choose a heavy-duty, easy-to-assemble one with smooth surfaces that make cleaning a breeze. Put your shelf or bench in the designed potting area and enjoy an organized space for potting, preparing your seed flats, and transplanting.
Most of our greenhouse kits already include at least one shelf for this reason. An example for this is the Riga Greenhouse.
Use staging shelves or benches
These items are specially designed to give your plants and flowers all the space they need in order to grow while keeping everything tidy. With one of these in your greenhouse, you'll have a reliable, long-lasting storage solution.
As for the other products, it's highly recommended to choose a lightweight shelf or bench that is easy to clean and maintain. Also, perforated shelves are perfect for enhanced drainage and air circulation.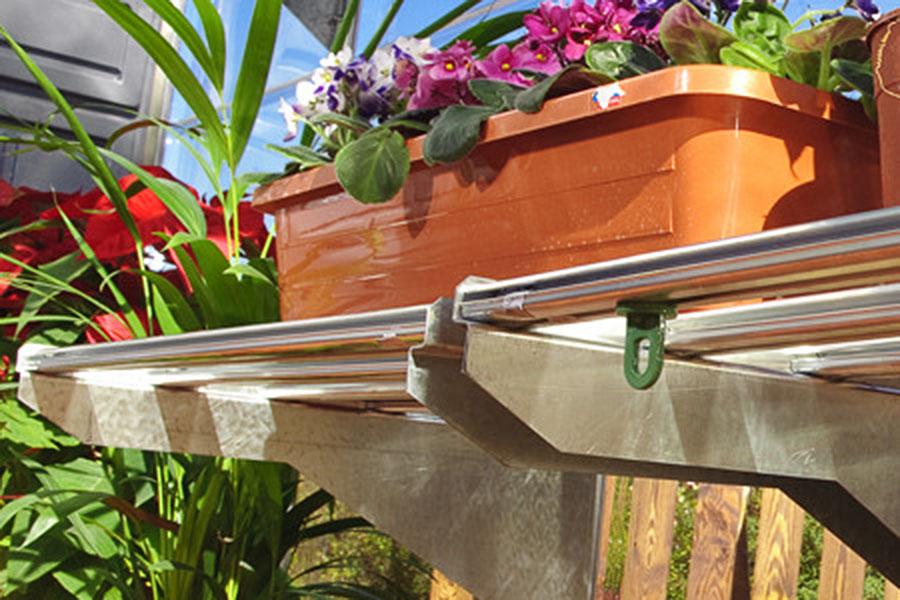 Add some seed trays on your shelves
Seed trays will help you to easily grow your plants on the shelves. Just place them and arrange everything according to your needs. These products will maximize your harvest and help you keep your space very well organized.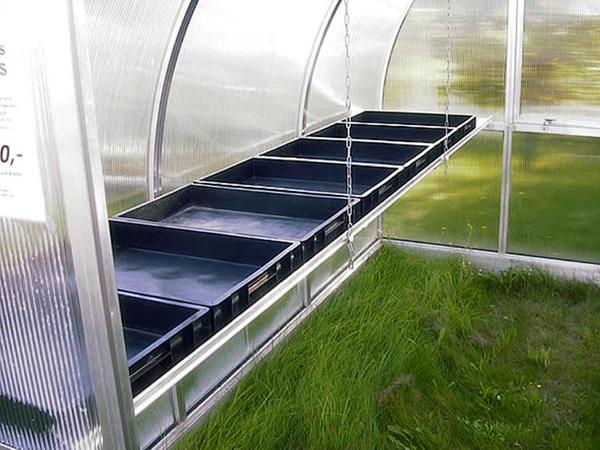 Create organizational areas for your shelves and benches
Splitting your greenhouse into a few areas will help you keep the space functional and practical. Start drawing it out as a diagram. Think about the zones where you want to place your shelves and your benches in.
Then assign each of them a purpose: plant holding, tool storage, worktop area, plant feed and watering gear storage. Find shelves and benches suitable for each purpose and arrange them in the assigned areas.
Tips and tricks:
Before purchasing shelves and benches for your greenhouse, you will need to take some measurements and do some careful planning. Whether you have a very small greenhouse or one that has lots of room, you will want to take some time to figure out the best use of the space and coordinate the placement of the shelves and benches.
If you have a greenhouse with a clear covering, be aware that when you use shelving and want to have plants on the lower shelves, you will have to take shadows into consideration. Shadows caused by lower shelving can delay plant growth because the plants will not receive as much light when they are on the upper shelves. If you have a greenhouse with a translucent covering that provides diffused light, then you won't have to worry about shadows. Therefore, you will have much more room to spread out your plants.
Look for shelves and benches that are well made and are built to last.
Find shelving and benches that are easy to clean and have holes for drainage and air circulation. Without drainage, your plants will sit in pools of water which can be a breeding ground for disease.
Use the spaces under your workbenches to store the tools that you use most frequently together with small soil and fertilizer quantities and some pots. This way, you will have the things that you use often at hand without creating a mess.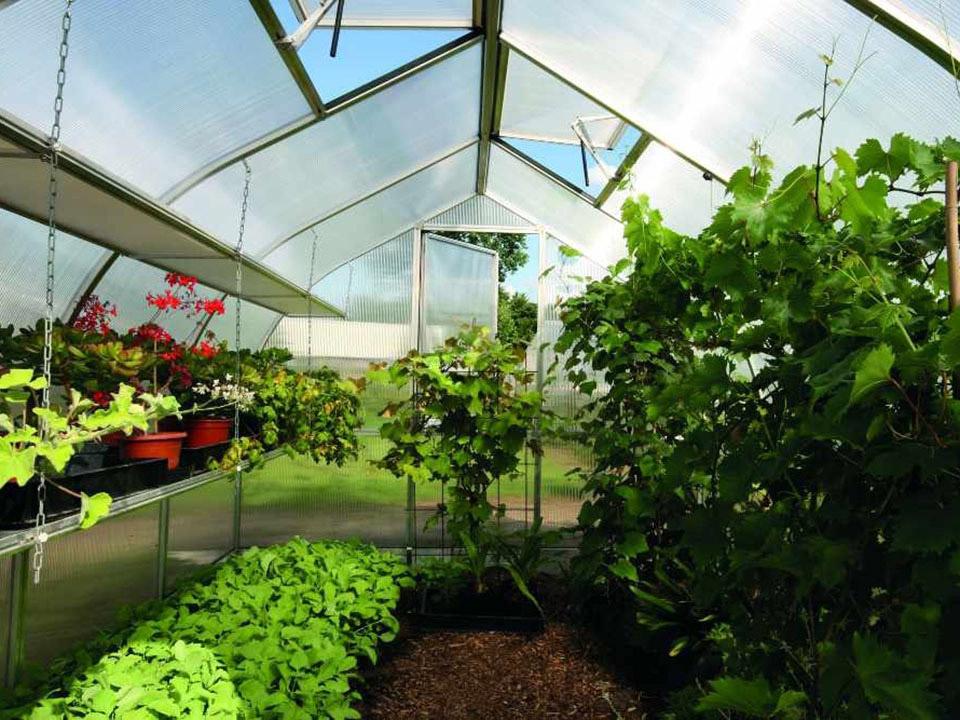 With so many options on the market, choosing the right shelves might seem a bit challenging. However, there are some options in our accessories collection that you cannot go wrong with.
You can use them to put any organization idea into practice and, thanks to their heavy-duty build, you can count on them for a long, long time. They are easy to install and you can even chain them with additional units to a longer shelf.