Okra is a native southern U.S. plant that grows in a warm environment. Greenhouse gardeners in colder places are already recording progress in container growing okra by utilizing black pots or plastic to maintain warmth encompassing the root of the plant. So how do you grow okra in a greenhouse?
More About Okra
Before we dive into the growing topic, let's take a closer look at the plant itself. This pod-like fruit is an enjoyable enhancement to soups and casseroles. This is a must for your gumbos. Try it deep-fried and serve it with steak fingers or other dishes. You'll love it, or maybe you're already loving it.
Okra is easy to plant and it looks attractive during the growing period because of its pretty flowers. It is also loaded with Vitamin A and low in calories, which offers a significant enhancement to your diet. Are you ready to know now how to grow okra in your greenhouse? Then let's get started!
Quick overview of growing okra in a greenhouse
Type: Warm-season crop
Time from seed to harvest: 50-65 days
Germination temp: 60°F
Time until first emergence: 7-12 days, requires pre-soak of 12-18 hours
Best temp to grow: 75-90°F
Height: 3-6 ft
Spread: 12-15 in
Grow from seed: 1 in deep, 4-6 in apart; rows 3 ft apart
Companions: Chamomile, wormwood, chives, summer savory, coriander, tansy, yarrow, dill, mint, thyme, hyssop, chervil, geranium, rue, sage, and oregano
Keep away from: Cabbage, cauliflower, broccoli, kale, tomatoes, peppers, eggplants, pole beans, carrots, beets, radishes, onions and garlic
Planting Okra
Start okra seeds directly in the patch you have prepared in your greenhouse about three to four weeks ahead of the last frost date for your region. If you can't wait, make sure to plant them in black containers on shelves and keep the temperature high inside your greenhouse.
Drench the seeds for 12 to 18 hours to soften its firm seed cover or overnight to promote germination
Put the pre-soaked seeds into the grooves, aligning them 6 inches individually.
The soil must be well-drained with temperatures varying from 65 to 70 degrees Fahrenheit. It thrives well in very rich soil that is stuffed with nutrients. You can enrich your soil using organic compost or fertilizers. Ignoring to supplement nutrients may result in less yield. Make sure soil is loosened to hold large roots.
Pick a spot where the shade will not disturb other sun-loving plants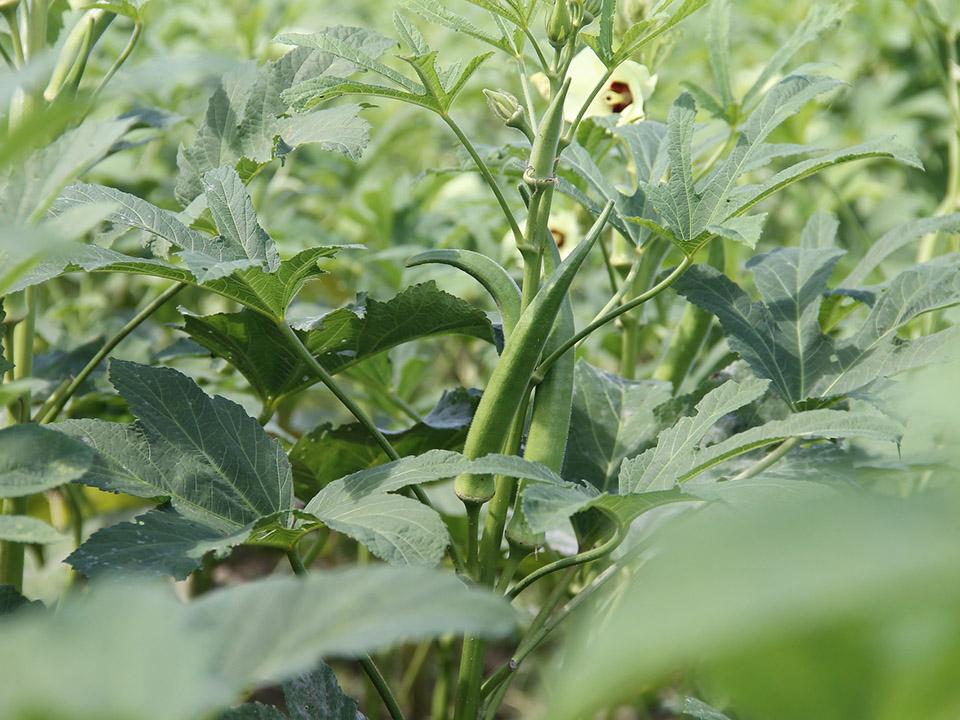 Tips and Tricks to Grow Okra
Some people may see that their skins are so delicate to the pods' pointed spines, make sure to use gloves and long sleeves while harvesting.
Weed when the plants are immature and use between 4 and 8 inches of mulch to suppress the appearance of weeds.
You can improve pod production by removing the lower leaves shortly after the first harvest
Make sure your greenhouse is clean and free of trash. Remove any infected plants.
Crop rotation is advised to stop the development of soil-borne diseases.
Common Problems
Okra hates the cold weather so make sure to maintain the temperature
Pests grow in warm and dry environments, so always mist plants. Practice biological control in your greenhouse.
If the pests cause some leaves to become yellowish and wilt remove the affected plants.
If you notice that your plants are undersized or displaying a lack of strength, remove one and check its roots for the specific clusters or nodes left by the small worms.
Okra is susceptible to attacks by brown stinkbugs, corn earworms, and aphids.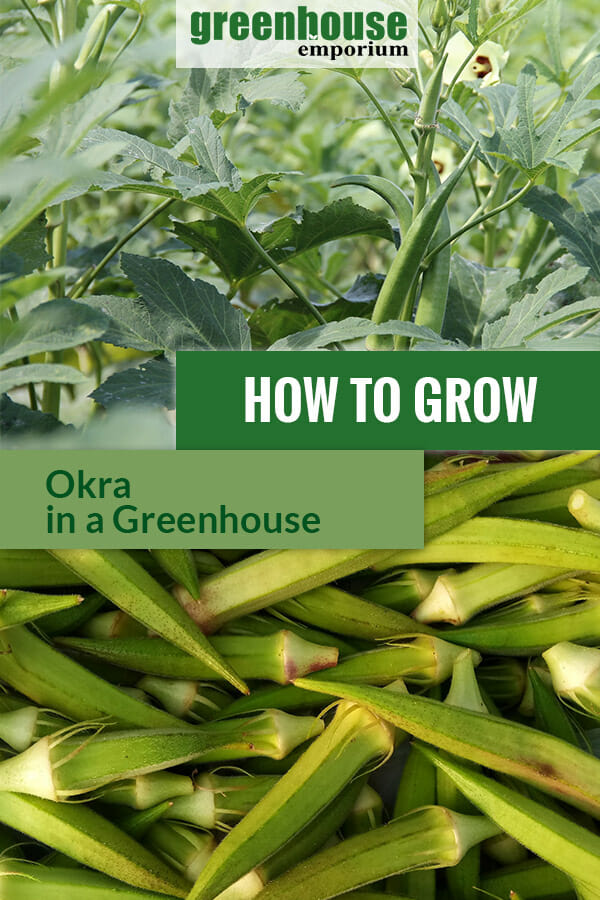 How to Grow Okra – The Requirements
Watering
Okra requires sufficient water especially during the warm months of summer. Okra does only requires about an inch of water weekly. You can water it at the same time as other plants. Simply concentrate at the base and water gently so as not to wash the soil off. Do not water the leaves of the plants because it can be a breeding spot for fungi. It is an excellent plan to water in early in the morning, that way the afternoon sunlight will dry any leftover water that was not absorbed.
Soil
Ideal soil requirements are fertile and well-drained with near-neutral pH. The soil pH should range between 6.5 and 7.0, though, the plant can tolerate soils with a pH of 7.6. The soil should be warmed between 65° to 70°F. It must be in rich, well-drained soil with sufficient light.
Lighting
Okra thrives in full sunshine or partial shade so they are ideal for growing in greenhouse kits. It simply won't bear plentiful seed pods without abundant sunlight. It weakens and becomes exposed to bugs and diseases if it is too cold or s, even for a quick period of time.
Harvesting
Okra matures about two months after planting. Harvest the pods when they are about 3 inches long by cutting their stems just above the cap. If the stalk is so difficult to cut, the pod is presumably too old and should be thrown away. You can pick it every other day. Be sure to wear gloves or long sleeves because the tiny spines may irritate your skin. You can have as much as you want because when you harvest a pod, another one sprouts in its place.
Storage
To store okra, blanch it for three minutes, soak it into an ice bath to prevent it from overcooking, then slice it into bite-sized portions. Place the uncut and raw pods inside freezer bags and put them in the freezer. Try canning or you can then prepare it in any way you want.
A little bit of okra can go a long way. You can also check out more plants on our 'How to Grow' Collection.