Show Filters
A lean-to greenhouse lets you have your own greenhouse even with a shortage of area. This surprisingly feels like an extension of your house. This is where your home and your garden are literally connected. Your plants will be easily accessible even in winter or cold rainy days. Scroll down for more benefits of having your own lean-to greenhouse.
Benefits of having a Juliana Veranda Lean-to greenhouse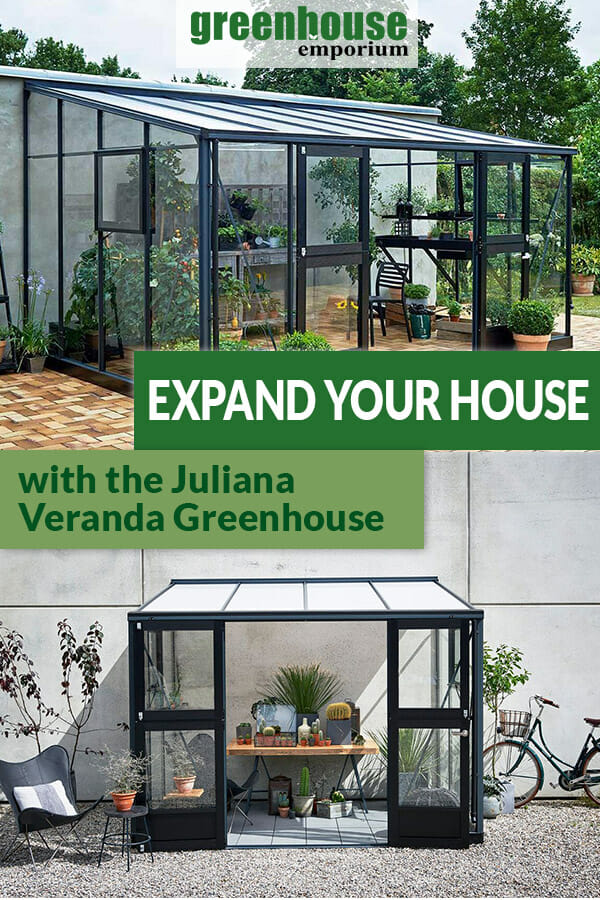 This kind of greenhouse feels warmer and more practical because it will benefit from the warmth of your house. No need to dine out in a fancy restaurant. You can definitely set up an amazing ambiance for a hearty meal. Save money and grow your own crops. You will not hesitate to revisit your plants from time to time in the winter. No need to go outside in freezing cold weather and snowfall.
It works aesthetically with the rest of your home. Just set up utilities from your house and you are good to go. It becomes challenging to grow tomatoes in some parts of the states as the wintertime moves in, however, something like this would be achievable in your greenhouse environment.
This indicates big savings because there is no need to buy and install power heating devices. The double doors give a spacious characteristic feature. It also provides an unrestrained entrance for your equipment while maximizing the ventilation in summer. It also comes with a side window that gives the needed ventilation. There is sufficient glazing with 3mm side safety glass and 10mm roof pearl-white Polycarbonate glazing. This greenhouse has a large gutter with turning flap for simple removal of leaves and dirt. It has a 40mm downpipe with its high-volume space.
Everything is readily accessible like water and electricity. This can be especially beneficial if you have a very narrow backyard or a lack of space. With the Juliana Lean-To you can, therefore, build your own green oasis in an urban area. This greenhouse offers a considerable growing area and a gracious relaxation space to unwind.
Eat organic. Be healthy. You are assured that there are no harmful chemicals hiding in your salad. No need to be reliant on going to the supermarket.