Plenty of snow might be nice for skiing and snowboarding. For year-round gardening, it's not so ideal. Unless you have a greenhouse that can handle this kind of weather.
If you are amidst your research, you may have found out that a gothic-arched greenhouse is one of your best bets for snow-heavy climates. The most popular manufacturers for these greenhouse structures are Climapod and Hoklartherm with their Riga line.
Now, the real question is which one will be better for you. We have thoroughly compared Climapod with Riga to see which one is the better greenhouse. Overall, we can say that Riga is the better quality product but there is still a chance that Climapod is the wiser choice for you. It all depends on your needs, expectations, and budget.
Having said that, let's take a look at both brands.
A quick introduction to Climapod and Riga
Climapod Greenhouse
Climapod builds very versatile greenhouses for every type of gardener. Providing different glazings and accessory kits, they address a wide range of needs.
One of the biggest benefits of a Climapod is the ability to expand the greenhouse later on. This is especially great for greenhouse beginners who don't know yet if this new hobby will take root.
Climapod greenhouses are manufactured in China and the manufacturer promises a 10-year warranty on this product.
Riga Greenhouse
Riga greenhouses are designed, engineered, and manufactured in Germany by Hoklartherm. They are a notable manufacturer of both hobby and commercial greenhouses. With over 30 years of experience, Hoklartherm has been involved in realizing garden ideas from practical greenhouses to other garden structures. They are a leading brand in the industry.
Riga is one of the sturdiest greenhouses on the market and it offers superb quality. You'll enjoy increased insulation and ventilation, as well as long-lasting materials.
These greenhouses actually look quite similar because of the shape, framing, and the fact that they use Polycarbonate as a glazing.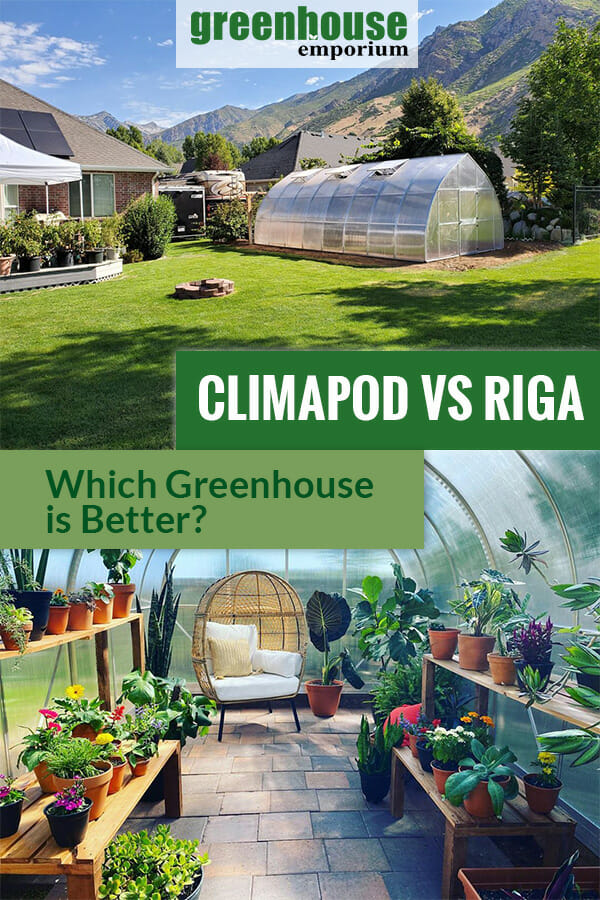 What's the benefit of a gothic-arch greenhouse?
Climapod and Riga have both a similar shape. They have a sharp-ish center ridge and from there the sidewalls have a steep slope. It looks a bit like the tip of a teardrop or like an onion.
Compared to traditional greenhouses, this shape doesn't leave room for snow to pile up. The angle is so steep that anything will slide off. So, a snow mass doesn't accumulate like on regular buildings. This significantly decreases the chance of structural collapse and increases the sunlight for your plants. Riga, for example, can deal with 30 psf ground-snow load.
In addition, a gothic-arched greenhouse can also handle wind better. Gusts can flow over the greenhouse instead of putting pressure on the whole construction. For example, Riga was tested with up to 120 mph (3-second gusts).
Both brands use aluminum framing and Polycarbonate glazing
Aluminum is a popular framing material. So, it's no surprise that both manufacturers use it. Aluminum is a light, sturdy, and rust-resistant material. This is important for the high humidity in a greenhouse.
Both greenhouses are adapted for usage during winter. The shape as well as the Polycarbonate panels help them stand the harsh winter weather. We will compare the chosen Polycarbonate below (Insulation).
What are the differences between Climapod and Riga?
It's always nice to see the main features side-by-side. It help to compare the both product brands.
Features
Climapod
Riga
Polycarbonate
4-6 mm UV-coated twin-wall Polycarbonate
Riga S & L: 8 mm UV-coated twin-wall Polycarbonate sidewalls and 10 mm translucent twin-wall Polycarbonate on front and back
Riga XL: 16 mm UV-coated triple-wall Polycarbonate on all sides
Available Sizes
Various available:
Widths: 6'9" to 8'11"
Lengths: 12' to 42'6"+ (expandable)
Heights: 7'2″ or 7'11"
Various available:
Widths: 7'8″ to 14'
Lengths: 7' to 29'6"
Heights: 7'2″ or 9'10" (+ 20" if installed on stem wall)
Doors
Single or double sliding door with a magnetic lock
Barn-style door with two sections that can be opened individually (38in x 72/79in), Riga XLs have 2x doors
Vents
Roof vents with manual openers (can be upgraded to auto openers)
Roof vents with automatic openers, large rear wall window for Riga S & Riga L
Expandable?
Yes, in length
No
Base Frame/ Foundation Frame
5″ aluminum base included with greenhouse starter kit.
Recommended: Use this base on treated wood beams or even concrete footer for securing corners and sides of your greenhouse
Optional 6" base frame for extra charge. It provides a strong foundation without the need of a concrete footer.
Included in Base Model
– Framing, glazing, hardware
– Roof vents + manual openers
– Door
– 5" aluminum base
– Framing, glazing, hardware
– Roof vents with auto openers
– Door
– Large rear wall window or 2nd door
Included in Premium Kit
Upgraded Kit: Base model/starter kit (above) + Auto openers for vents, louver windows
Complete Kit: Base model/starter kit(above), Upgraded Kit (above), solar-powered thermostatic fans, full-size 2-tier shelving (or one side only)
Riga S & L: Base model + base frame, top & bottom shelves (one side)

Riga XL: Base model + top & bottom shelves (one side), 17,500 BTU electric heater,
exhaust fan with thermostat, shutter intake vent, LED grow lights, seed trays, plant hooks, Assembly Facilitation Kit
Additional Accessories
– Solar thermostatic fan
– Louver
– Storm kit
– Auto window opener
– Shelving
– Foundation frame
– Door extension to increase height by putting it on a stem wall
– Misting system
– Grow lights
– Heater
– Shelving
– Metal and plastic plant hooks
– Roof vent wind restraint system
– Seed trays
Rubber Seals
No rubber seals but recommended to seal with caulking
Comes with heavy-duty rubber seals between framing and panels, as well as silicone caulk to seal around the windows
Insulation Value (higher is better)
R-1.43 – R -1.54
Riga S & L: R-3.0
Riga XL: R-2.0
Snow Load Capacity
12-15″ of snow – not verified/ officially tested
Officially tested for 30 psf ground-snow load.
Wind Tolerance
50-60 mph (when assembled properly) – not verified/ officially tested
Officially tested for 120 mph 3-second gusts
Warranty
10 years
10 years panels / 15 years frame
Price tag (range)
$1450 – $ 6,999
$3,000 to $21,000
Features & benefits: Climapod greenhouse review
These greenhouses are made with a sturdy and durable frame, as well as glazing. The starter kit (which is the base model) is loaded with accessories. You can still upgrade the package to your needs. To create easy ventilation, you can choose solar-powered fans and louver windows.
The diverse sizes will give you great options and if these aren't enough you can extend them.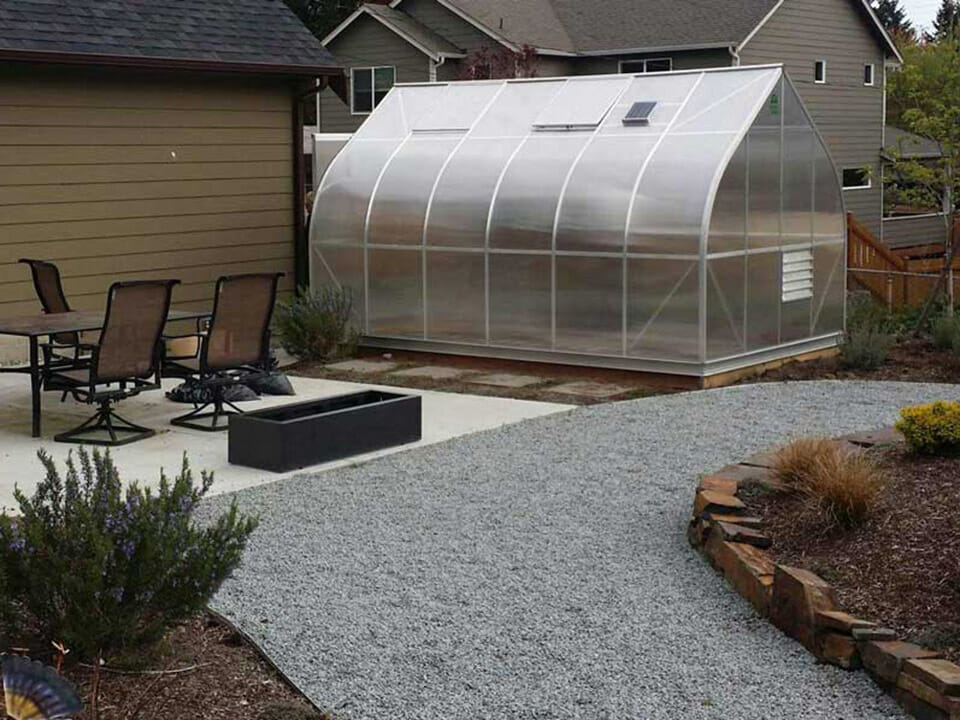 According to reviews, the assembly procedure can be hard. You should always have helpers with you or consider hiring a professional to take care of it.
Covering material: Strong and durable 4 mm OR 6 mm UV-coated twin-walled Polycarbonate
Framing: Five-inch aluminum
Additional modular system: This greenhouse has a unique modular system that helps you to increase the length. It is a great option for people looking to extend their greenhouse as their love for gardening grows.
Plenty of accessory upgrades available that'll help you with gardening tasks and provide the best growing environment
Example: Climapod 9×12 Complete Kit
This model has 4mm Polycarbonate glazings but it comes with the whole accessory kit.
Features & benefits: Riga greenhouse review
Riga stands for quality build. Being engineered in Germany, you know that you'll get a superb product that can withstand harsh winters. Because that's what the German manufacturers build it for.
Additional accessories can help you customize the greenhouse to the most efficient year-round garden.
Covering material: Smaller sizes come with 8 mm twin-wall Polycarbonate on the sides and 10 mm on the gable ends for extra stability. XL sizes have 16 mm triple-wall Polycarbonate on all sides to increase efficiency in winter.
Framing: Sturdy profiles that are forever bound to each other. You don't need to worry that they'll detach over time.
Wind strengths: It has been tested facing wind gusts up to 120 mph
Heavy-duty rubber seals between framing and panels provide superior insulation because creates an airtight structure
Barn-style door with a keyed lock: Offers superior ventilation options because you can open each section individually. This can also prevent access to unwanted animals and pests. In addition, the door frame is more than wide enough to drive a standard wheelbarrow through.
Additional accessories are available
DVD and printed instructions for assembly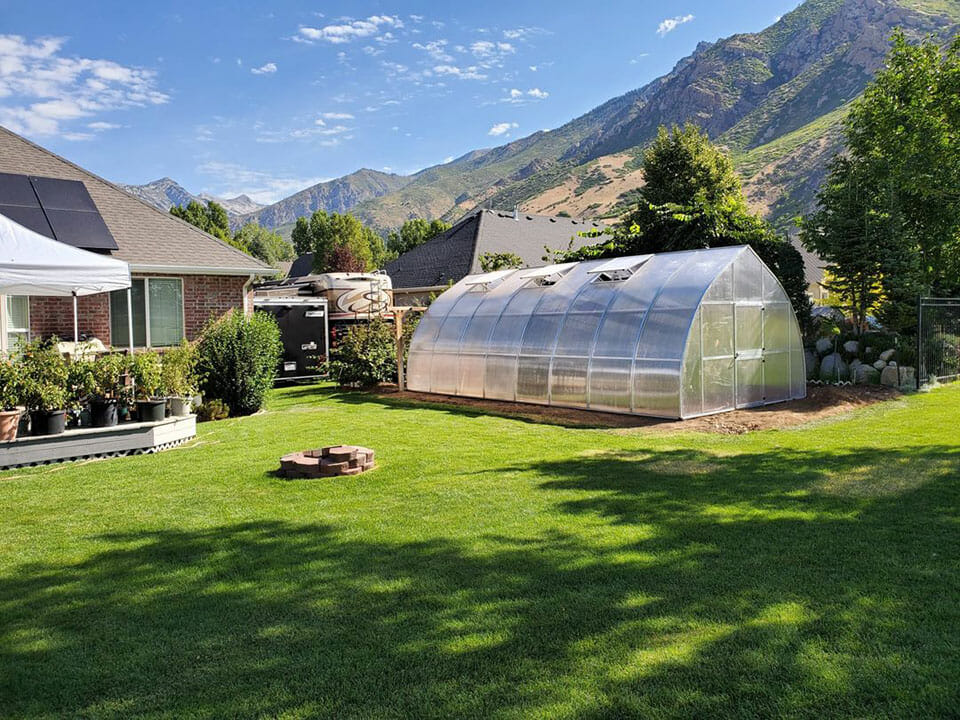 Comparing the key features of a greenhouse
While looking at the differences, you may have already picked your favorite. However, I want to go into more detail for certain key aspects. This way I can put it in perspective. Not everyone necessarily needs the best insulation or the ability to extend the greenhouse.
Insulation
A well-insulated greenhouse goes a long way. It'll save you heating costs and it'll make it easier to protect your plants from extreme temperatures.
To keep the growing environment steady and affordable, you should choose a greenhouse with quality insulation. It'll also give you peace of mind.
In this regard, Riga surpasses Climapod by providing first-class insulation with its structural design. You see, the thickness of the Polycarbonate panels are one thing. Another important factor is the insulation between frames and panels. If the build is tight and sturdy, you won't be annoyed by cold or hot air blowing through gaps. Learn more about greenhouse insulation here!
Climapod, on the other hand, only provides 4-6mm polycarbonate panels and no sealing. This will cost you more to heat but it's still a good winter greenhouse if you don't want a hot greenhouse. Some people might be ok to grow kale and other winter crops.
Riga greenhouses are more suitable for people who are looking out for a better-insulated greenhouse that is more energy-efficient. Maybe you want to grow tropical plants, then you should go for Riga.
Ventilation
To improve the plant's health, adequate ventilation is needed. It'll also help with pollination. Both Riga and Climapod provide adequate ventilation to plants.
Riga comes with automated roof vents (non-electrical) and an oversized gable end window (or another barn door) that'll create a natural breeze. You can open the top part of the barn door and the rear window/barn door to have a nice crossflow.
On top of this, you can install an additional exhaust fan in any Riga greenhouse if you want more cooling wind for the hot summer.
Climapod's Complete kit provides both natural and artificial ventilation. Some Climapod greenhouses have both louvers, windows, and solar fans. Although, the starter kit only has manual window openers for ventilation. If you don't want to open vents by hand, you should opt for the Upgraded kit.
For both greenhouses, you should consider using wind restraint systems (check it out here) for the roof vents. This way, the wind won't break those auto openers.
Diffusion
Plants need light but excess could be scourging and harmful to your plants. Light-diffusing panels provide better growing conditions for your flowers and vegetables compared to a glass greenhouse.
Essentially, both Riga and Climapod are made with Polycarbonate. It slightly diffuses light by breaking the sunrays. However, none of them have real diffusing panels (such as Solexx).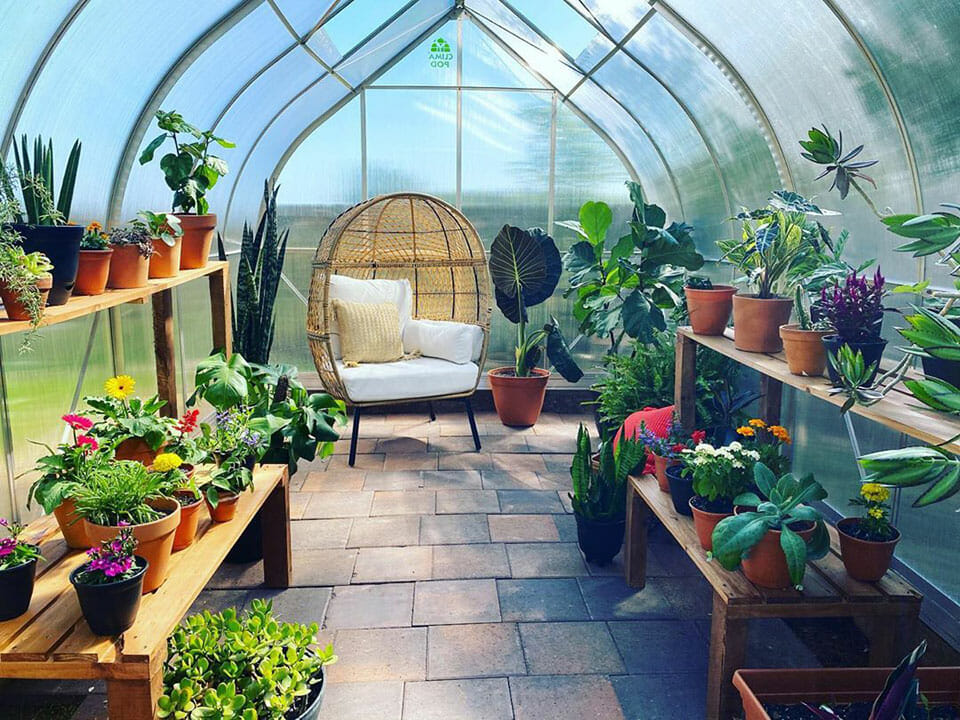 Door
Riga greenhouses are made of 30 in × 6 ft dutch doors which make use of a key lock. Climpod instead is made of single or double sliding doors with a magnetic lock.
The advantage of Riga over Climapod is that the door is easy to operate and maintain. There is a window lock as well to hold the open door section in place. The width is perfect for wheelbarrows.
The Climapod's two sliding doors create more space for entrance and you can decide how open or close you want it to be. It's firm and can't be affected by heavy wind of any form. And makes it easy for you when pushing a wheelbarrow into the greenhouse.
Additional accessories
There are several accessories you might need to start enjoying your greenhouse garden. Some will give you the opportunity to customize your greenhouse for your needs. For instance, you can install the Riga on a stem wall to increase the height. You could add a misting system, seed trays, and grow lights to create a better growing environment.
The Riga Premium Kit comes with a two-tier shelf for a better growing space. It also has a 6" high foundation frame to securely anchor the greenhouse without the need of a concrete foundation. The channels in the frame profiles allow for universal greenhouse accessories that are from other brands as well.
Climapod also comes with some interesting accessories. You can pick a kit as you wish. This way you can decide what you really need. From automatic window openers, solar fans, louvers, to a storm kit, they provide plenty of options.
Climapod vs Riga Review: So, which one is better?
Both greenhouses are designed to withstand the harshness of winter and provide suitable temperatures for growing plants. It's challenging to pick one overall winner in this review. Both greenhouses have upsides and downsides.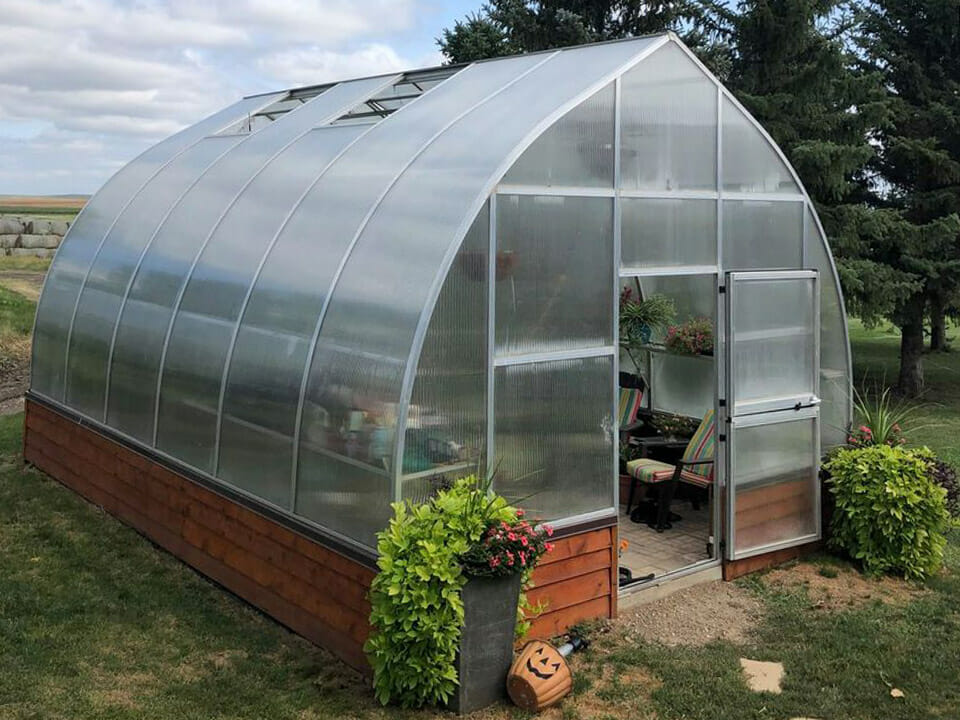 Carefully define what you want in a greenhouse. This will help you to make a choice that you won't regret. Every gardener's needs are different. It highly depends on the crops you want to grow and what your main goal is.
Are energy efficiency and product quality the most important factors? Do you want a deep winter greenhouse without spending huge amounts on heating? Then your decision should be: Riga.
If you are just starting out a new garden project and you don't intend to spend much in the beginning, or you are completely unsure of what size to go for, a Climapod greenhouse would be a great option for you.
You want to keep the option of expanding instead of picking a larger size right away. If any of these things describe you, then you should pick Climapod.
Reviews from users of both Climapod and Riga are from best to worst. Each user has a tale of either good or awful experiences.
The most common complaint is about the installation. Climapod is complex to assemble and the guide is poor. The same is said of Riga, with its DVD guide being outdated. Generally, if you can read an IKEA manual, you'll be able to install it. No wind (or a little) as well as a few helpers will greatly simplify the assembly.
The thing with the bad reviews is people either make a wrong decision according to their needs, have trouble with the shipment, or struggle with the assembly. Only if you get a broader view from reading all reviews you can make up your mind.
Do you have more questions? Let us know in the comments!