If you want a greenhouse for the optics, you will probably buy a glass greenhouse. It's traditional. It's elegant. The market is full of Polycarbonate greenhouses, nowadays, because it gives the peace of mind. However, if you are set on glass you should have a look at these best glass greenhouses!
The different types of materials come in their own set of durability, price, maintenance, aesthetic appeal, and strength. Some materials may not be suited for the greenhouse design while some may not work in all kinds of climate. One of the important materials a greenhouse needs to have is one that can transmit light to its walls and roofs.
Why glass is considered the best?
When it comes to greenhouse designs, the most expensive but the highest quality is one that is built of glass. Glass is heavy and could be the toughest material to install in a greenhouse. When it is fixed right and when protective measures are in place to protect them, they can give a lifetime service.
Size may matter but having a small glass greenhouse will still give the same enjoyment as a large glass greenhouse.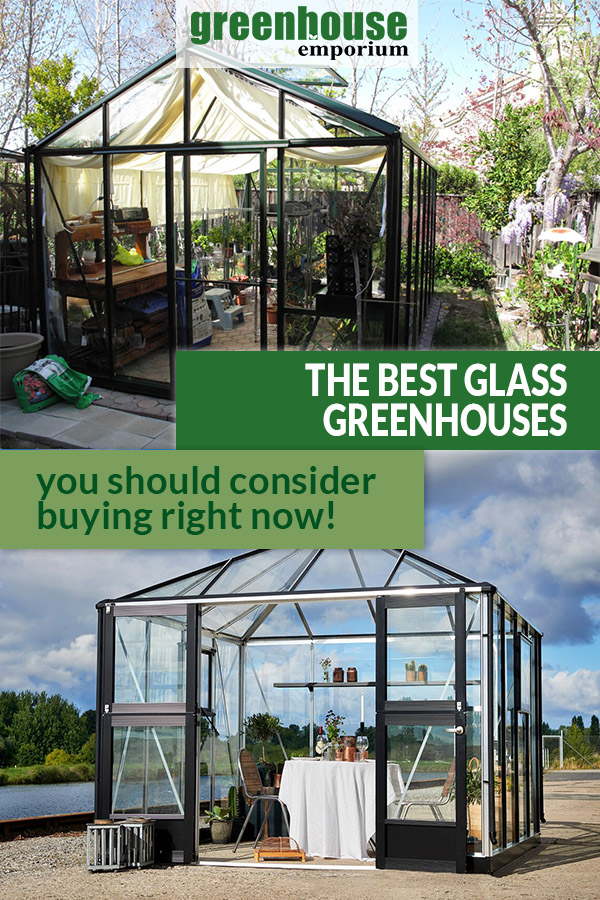 Why glass panels are the best options to have for the greenhouse?
A glass-paneled greenhouse can be a quite expensive investment, but its durability and aesthetic value are factors that make them the best option. If budget is not the issue and if your greenhouse design is appropriate for glass, the following evaluation should be considered:
Risks of shipping glass panels
Glasses need to be freighted firmly inside its case to stop any movement and sudden breakage. One more thing to worry about is moisture damage particularly if the shipping is scheduled during humid or rainy seasons. It is helpful to talk to your supplier, and ask for more advice and plan ahead.
There is a portion of uncertainty with glass greenhouses because even the most cautious gardeners may unintentionally crack a glass. Just make sure you get toughened safety glass or Polycarbonate to prevent any eventual mishaps and injuries.
Polycarbonate greenhouses are practically strong and indestructible. It properly distributes the light and is so easy to fit. Although, Polycarbonate sheets are not scratch resistant as opposed to glass.
The choice between tempered and annealed glass
An annealed glass should never be considered for any greenhouse design. It might be strong but once it is broken, it shatters into sharp shards that can prove dangerous to life and limb.
Tempered glass, on the other hand, is stronger and shatter-proof about four to six times compared to annealed glass. It can break, but when it does, it only shatters into small square parts that are not likely to put anyone in danger. This means that when it comes to greenhouse designs, tempered glass is a better option than annealed glass.
Tempered glass is available in several varieties including double-tempered, single-tempered, and more. There are varied tensile strengths to every kind of tempered glass.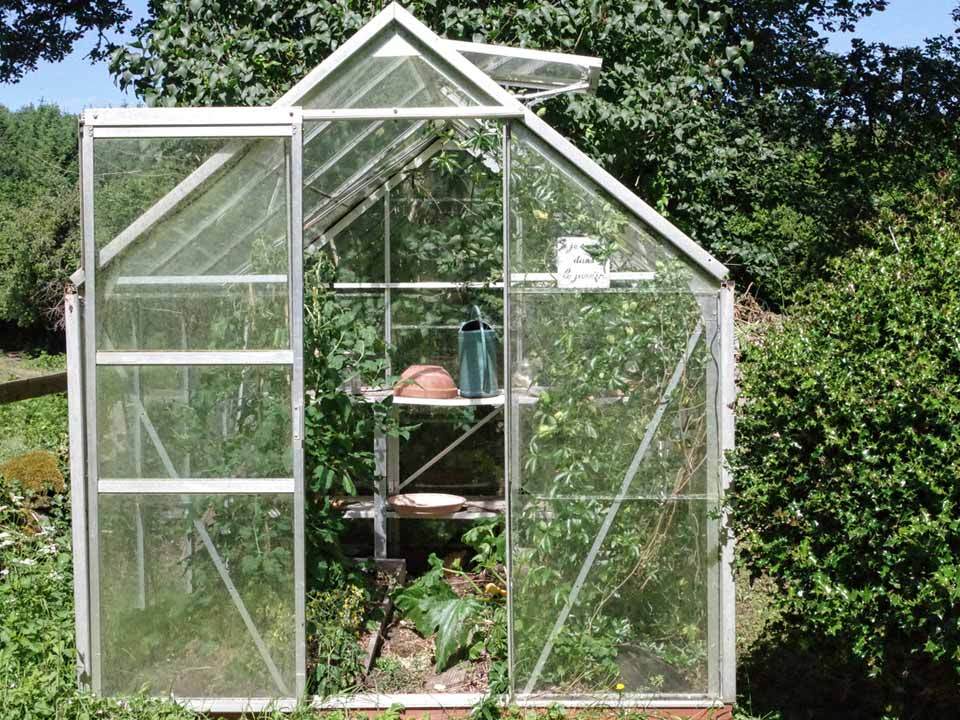 The choice between single-pane or double-pane glass
The factors to consider before deciding to use either single-pane or double-pane glass include:
Heating costs
Cooling costs
Budget
Single-pane tempered glass works for greenhouse designs located in places where there are no issues concerning the costs of cooling and heating. The double-pane glass should be considered when you live in areas that experience extremely cold climates.
Maintaining the glass panels
Condensation inside the glass panels can be prevented when they are properly sealed. This holds for both double-paned and triple-paned glass. Maintaining the glass becomes easier when they get glass coatings. For instance, the material coating, some self-cleaning glass brands have the ability to break down the accumulation of dirt on the panels simply by using sunlight. Water is also prevented from beading on them because of the coating that sheds off the water. These coatings can certainly add to the glass price, but they are practical options that save you the trouble of washing them often.
Best Glass Greenhouses – Our Top Picks
If you want to purchase a glass greenhouse, you should pick one with top-notch quality. You want something with good insulation because glass already provides less insulation than Polycarbonate. You also want a sturdy frame that will give you enough stability for the not-so-nice days of the year. So, let's have a look at our top picks:
Janssens Royal Victorian Greenhouse
If you want a greenhouse that is elegant, durable, and efficient, the Janssens Royal Victorian Greenhouse design is a perfect choice. It has a stronger aluminum frame and is better insulated because of rubber seals. You can add an accessory kit or reinforcement kit in order to make it the perfect greenhouse package.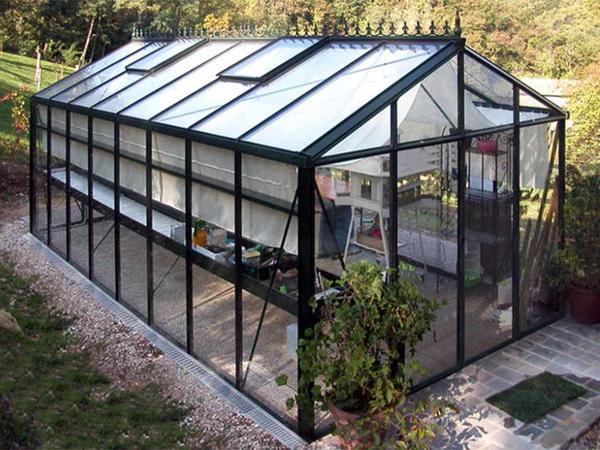 Choosing the Janssens Royal Victorian Greenhouse includes the following features:
4mm glass for glazing
The misting system is included where all it needs is to be attached to the faucet
Stronger, larger, and thicker aluminum frames compared to other brands
More headspace with the tall design
6in high foundation is included in the base model
A glass door that can be installed either at the sides, back or front of the greenhouse
A louver window and manual/automatic roof vents for continuous airflow
Available in varied sizes to match property area and budget
Optional with Premium Kit: Full-length narrow top shelf, inside shade cloths, full length with pull ribbons, long seed tray
Optional reinforcement kit to further increase stability for extreme winds and snow
Made in Belgium
15 years limited warranty
Juliana Junior Greenhouse 9ft x 12ft
All Juliana Junior Greenhouses feature a sturdy aluminum frame with 3mm glass panels. The hinged barn-style door provides better airflow to your plants without letting annoying rodents inside the greenhouse. The lock and key feature secure your important things inside.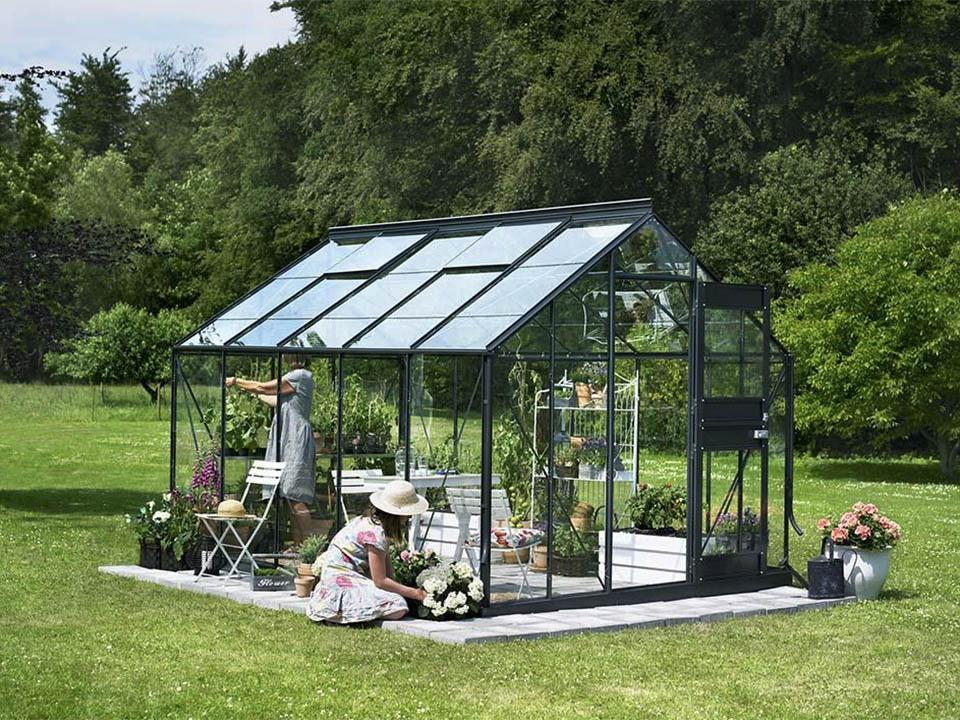 Electrostatically painted in dark grey with black doors and windows OR treated Aluminum frame in silver
Hinged barn-style door with lock and key
Silicone and wire clips for insulation
3mm glass panels
Sidewalls are 5.2 ft high
Roof windows
Gutter with two downspouts
Roof prepared for decorations
Constructed to the highest class standards
Can withstand prevailing wind speeds and volumes of snow
Made in Denmark
12 years for replacements or repair of faulty parts & 2 years on painted parts, where fitted
Juliana Oasis Greenhouse 10ft x 10ft
The unique feature of this particular greenhouse design from Juliana is its high ceiling. A higher ceiling gives hobbyists or serious gardeners the freedom to experiment with different plant and fruit varieties. It could work great as a greenhouse with a sitting area among lush green plants. Like other Juliana greenhouses, this one has long 3mm toughened glass panels that you can seal with silicone and wire clips along the frame.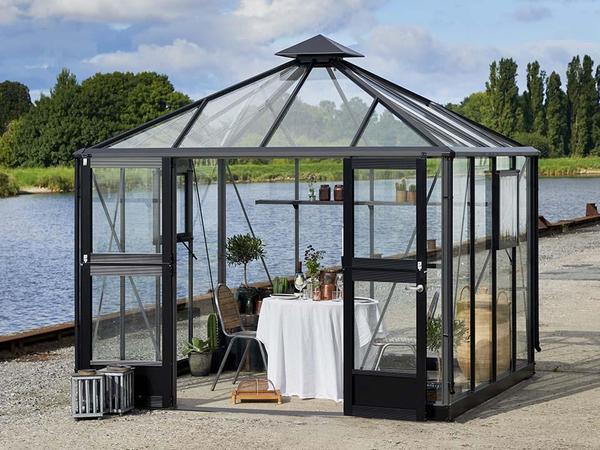 Included in the kit:
3mm toughened glass as the glazing material
Auto openers in the center of the roof along with roof vents
Made of the highest quality materials
The roof is designed to accommodate decorations
Available in aluminum black or anthracite black
The low doorstep and the double barn-style doors allow easy access to people and working tools
The height of 9ft 1in at the center enables more headspace
Roof opens automatically in the center
Two years warranty for the painted parts
12 years warranty on the repair of faulty parts or replacements
Made in Denmark
Want more information about our best glass greenhouses? Leave us a comment or call us!