There are many different types of greenhouse designs on the market, such as lean-to greenhouses, greenhouses made using PVC pipe, greenhouses made using twin-wall polycarbonate panels, and even homemade greenhouses. However, greenhouses built from a wooden frame make excellent, beautiful additions to any backyard. They are functional, traditional and are the ideal environment for growing plants and protecting your plants from the harsh elements of the outdoors. Whether you are looking for functionality, quality, value, price, size or aesthetic appeal, there are all sorts of wooden greenhouses you can choose from when making the decision to purchase one or to create your own with by following greenhouse plans. This in-depth guide will review 5 great wooden greenhouses to help you decide what type of wooden greenhouse is the best option for you.
1. Windsor Combi Wooden Greenhouse
The Windsor Combi greenhouse is traditional yet extremely versatile. It is a combination of a traditional garden shed with a greenhouse and is built with an apex shaped roof that carries rainwater away. This two-in-one building is perfect for someone who is a versatile gardener and wants to make the most out of their gardening experience.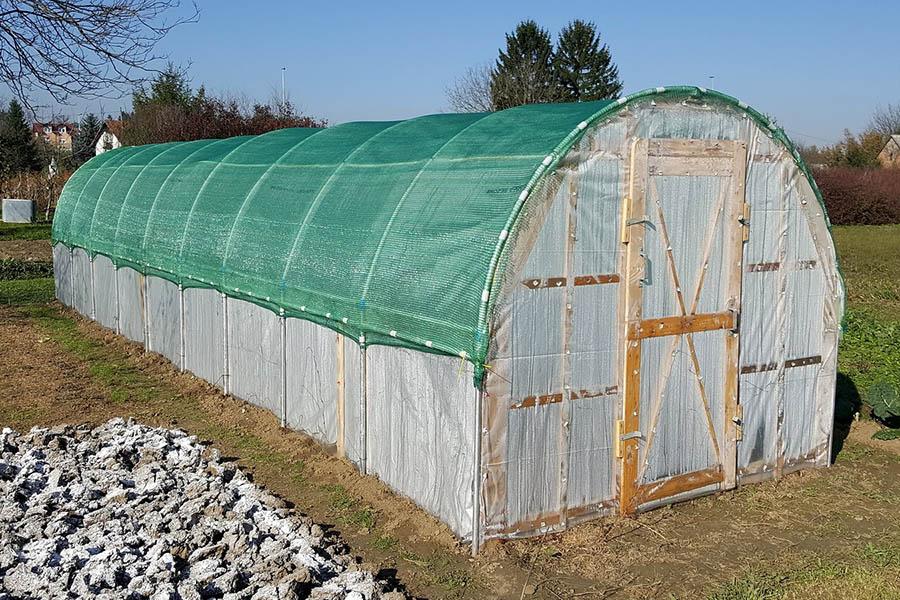 This greenhouse has two single doors: One which leads to the shed and one which leads to the greenhouse itself. What's more is that both doors come fully equipped with a lock, which is something you don't typically see on most wooden greenhouses. This versatile and unique wooden greenhouse and shed combination also come with a 10-year warranty. You will be impressed by this shed's aesthetic appearance, its functionality, and its overall versatility.
If you like this shed-greenhouse combination, then the Windsor Combi Wooden Greenhouse is a great option for you.
What you'll love about the Windsor Combi Wooden Greenhouse:
The two-in-one function
Pleasing aesthetic
Locks on both doors
Versatility
10-year warranty
2. Ultimate Glass-to-Ground Greenhouse
These spectacular-looking greenhouses have a softwood timber frame with ground-to-roof glass. The overall appearance of a glass-to-ground greenhouse is very pleasing to the eye and is the perfect choice for anyone who loves the appearance of sunlight in their greenhouse and how it shines on and through the glass.
One of the added benefits of a glass greenhouse is the fact that sunlight can reach every part of the structure, meaning that it can reach plants that are even on the ground. The design provides an extraordinary amount of space for sunlight to hit all the plants in your greenhouse and is also a marvel to look at.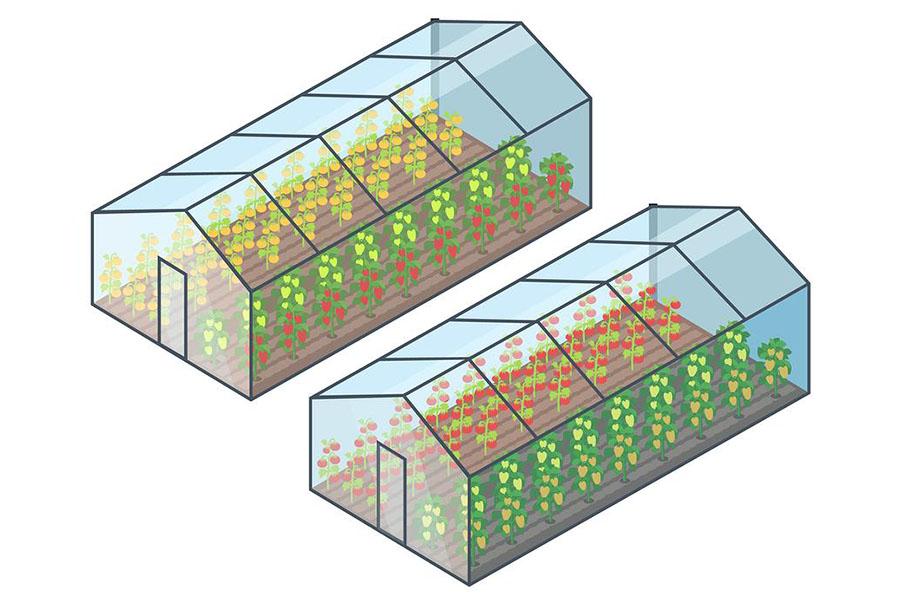 The doors on these types of glass-to-ground greenhouses are large, which means you won't have to struggle with moving a wheelbarrow in or out of the greenhouse. The wood is pressure treated and is equipped with safety glass. If you're in the market for a more aesthetic and attractive greenhouse, you will love this type of greenhouse. If you love the look and style of this greenhouse, you should also have a look at our Janssens Greenhouses, which looks similar in the design.
What you'll love about the Ultimate Glass-to-Ground Greenhouse:
Sunlight reaches all parts of the greenhouse
Large door
Pressure-treated wood
Safety glass
Height
Durability
3. Juliana Classic Greenhouse
Juliana Classic Greenhouse is absolutely organic. Gardening in greenhouses is becoming popular and trendy nowadays mainly for health-conscious personalities. Getting a reliable wooden greenhouse guarantees the trustworthy comfort of a fruitful harvest in unpredictable conditions.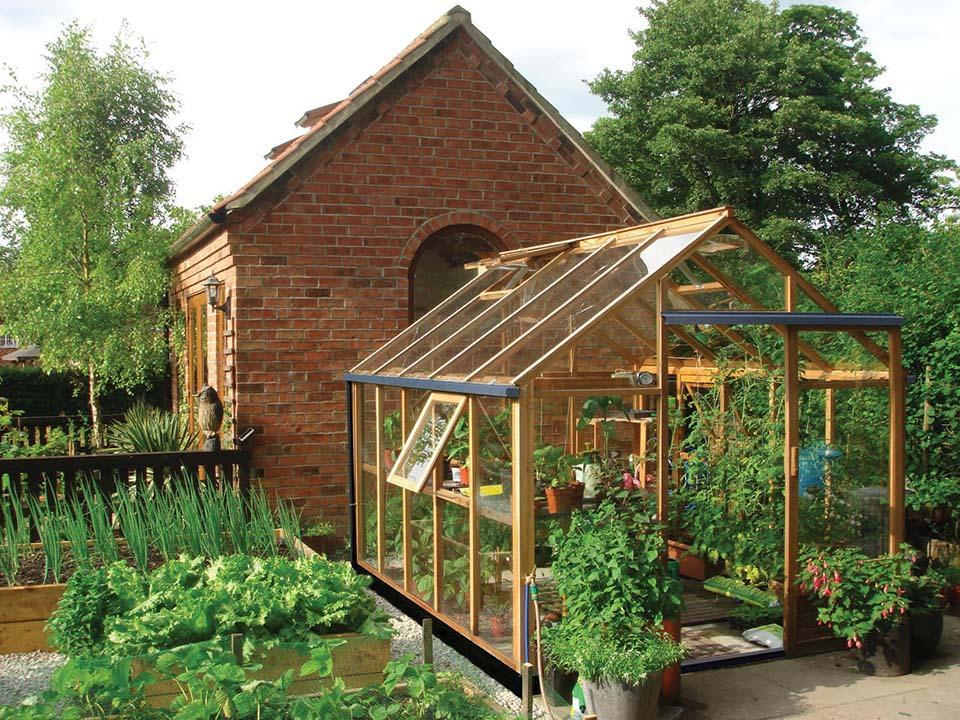 The principal advantages of Juliana Classic Greenhouse are that wood absorbs heat well and is a natural and stable insulator because it will never extract the warmth away. Wood is an amazingly strong and long-lasting material, particularly when it is treated properly and paired with other materials. It also offers a charming presentation that will blend in with your garden.
Juliana Classic Greenhouse is built of certified Canadian cedarwood and is designed and manufactured without the use of conventional window putty. The conventional glazing is long-pane single sheets of 3mm toughened glass. This is to avoid overlapping parts which increase the risk of algae formation. The mechanical parts of the sliding door are aluminum to provide frictionless functioning. Juliana Classic is prepared in two sizes, 6ft x 8ft, and 8ft x 10ft, with both roof and side windows as certified parts.
What you'll love about the Juliana Classic Wooden Greenhouse:
Built of certified Canadian cedarwood, which is a natural and stable insulator
Offers a charming presentation with long-pane single sheets of 3mm toughened glass
Able to withstand the prevailing wind velocities and volumes of snow
Sidewalls are 5ft high for more headroom
Comes with roof and side windows, as well as rain gutter with two downspouts
12-year warranty
4. Cygnet 6'8×11'5 Wooden Greenhouses with Porch
This unique, versatile, and simply beautiful greenhouse is something to look at. It is extremely functional, has a unique design and layout, and comes with its own extended porch area. The porch area gives you a space to relax and admire your greenhouse. Although this greenhouse is one of the more expensive ones on the list, it's functionally, versatility, and sheer beauty make up for it.
The Cygnet greenhouse is made of high-quality timber given a thermowood heat and steam treatment, providing it with lasting protection which protects against rot. One of the sides comes equipped with full-length staging, giving you a great deal of room to position your plants. If you have the budget for an over-the-top, unique, durable greenhouse that likely nobody else you know has, this greenhouse is the one for you.
What you'll love about the Cygnet 6'8×11'5 Wooden Greenhouses with Porch:
Versatility
Two-in-one porch and greenhouse area
Durable and unique
Made of high-quality timber
Lasting protection
Lots of room to position plants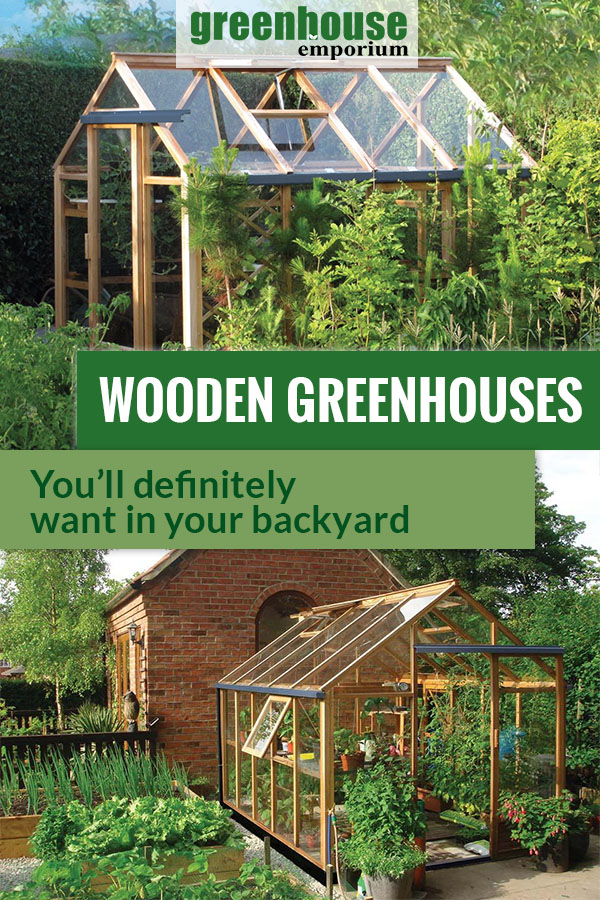 5. J-Class Large Victorian Wooden Greenhouses
If you're looking for beauty, style, and grace, this is the choice for you. This Victorian-style greenhouse holds a classic yet contemporary design with the added touches of modern technology. It is a beautiful and durable greenhouse that carries a hexagonal design, which is sure to be the center of conversation at your next family gathering.
This beautiful greenhouse also has double doors, which helps if you are carrying a big load in your hands. It also has two windows inside it to help with ventilation.
What you'll love about the J-Class Large Victorian Wooden Greenhouses:
It stands out
Has a classic but contemporary feel to it
Hexagonal design
Double doors
Two windows
Very visually appealing
Choose the right greenhouse for you
Buying a greenhouse depends on a lot of things including size, price, functionality, and versatility. If you're not too sure about wooden greenhouses and are interested in looking at other types of greenhouses visit our extensive collection of MONT greenhouses to see what other types of greenhouses are right for you!