Rhino greenhouses offer a flawless mix of safety, style, strength, and smart features. They create a perfect environment for gardeners to pursue their hobby backed by heavy-duty premium fabric and other materials. Each greenhouse is designed to highlight top quality and durability, engaging innovative glazing techniques and using modern ventilation standards.
The first thing that comes to one's mind about Rhino greenhouses is their sturdiness. Their glass is so thick that there is no way anything can get through it. They are held by a very smart strip system that wedges it in place. Also, the instructions they come with are really easy to follow: every step is clearly laid out and the brochure includes plenty of diagrams. The explanatory DVD is extremely handy, as well.
Overall particularities
With a strong aluminum frame, the Rhino Premium Range features the brand's renowned design. Sporting a 4 mm thick large-paned glass, this is definitely a high-quality greenhouse built following the highest manufacturing standards. Its characteristics meet the most demanding needs and requirements.
The strengthened safety glass comes with a lock-in beading system that offers flawless protection and reliability. The 4′ wide double doors with a no-trip threshold are ideal for effortless wheelchair and wheelbarrow access. The roof vents include two triple-size roof vents with automatic openers (12′ L model) and four double-size roof vents with automatic openers (16′ L model). Also, this greenhouse sports three 12′ L model louver vents and four 16′ L model louver vents. The integrated aluminum frame base can even sit right on the soil while the eave and ridge braces add even more strength. Other features of this greenhouse are two hanging basket rails and integrated gutters with downpipes.
Ventilation
Tip-top ventilation is essential to efficient growing and the luxury Rhino model doesn't disappoint. Its unmatched ventilation system features three louver vents together with 2 triple roof vents; each roof vent is 2ft x 6ft. Moreover, the four vent openers (that are solar powered) let cool air flow all over your plants and pushes hot air outside of the vents sporting a temperature-controlled system that opens and closes automatically.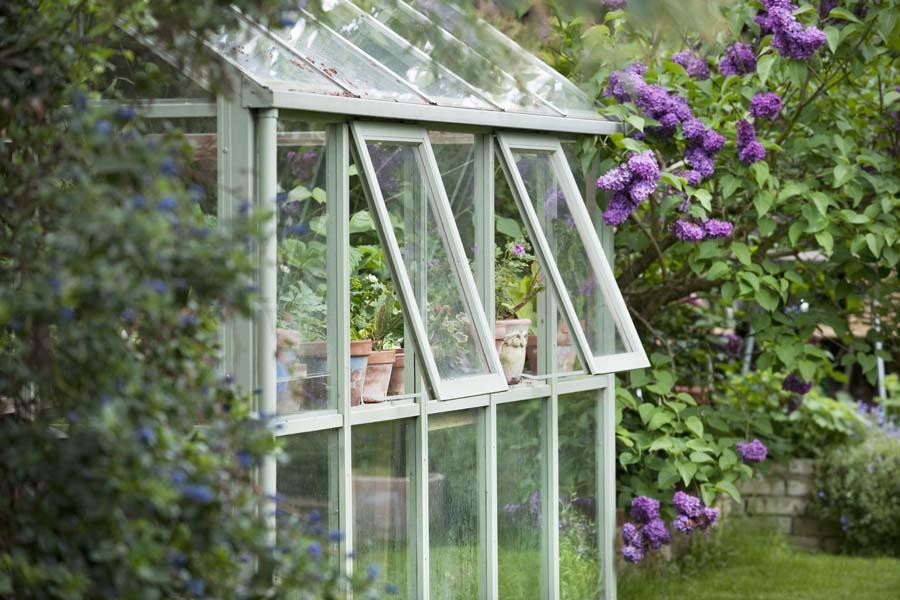 Strength
It's obvious that this greenhouse is created to resist high wind. Its glass is kept secured by glazing beads (instead of the common spring clips), thus it can't get damaged by the annoying wind. Thanks to their storm locks, the vents won't get open in harsh weather. Its frame is extremely tough; every bay comes with a ridge brace as well as two massive eave braces. Plus, the powerful hanging basket rails contribute to its built-in strength.
Safety
Here we need to mention the 4 mm strengthened safety glass that is the norm on this Rhino model and makes it one of the safest greenhouses out there. Hence, it's absolutely perfect for those of you who worry about greenhouse safety. Also, folks with pets, kids, or ball sports taking place in their garden will appreciate this product.
Look and Feel
Distinguished, secure, and robust, this Rhino greenhouse will look amazing in your garden, will be admired by everyone, and you will have a lot of fun using it. It's Silver Sage powder-coated finish is part of the brand's famous color scheme that will display your plants off to excellence.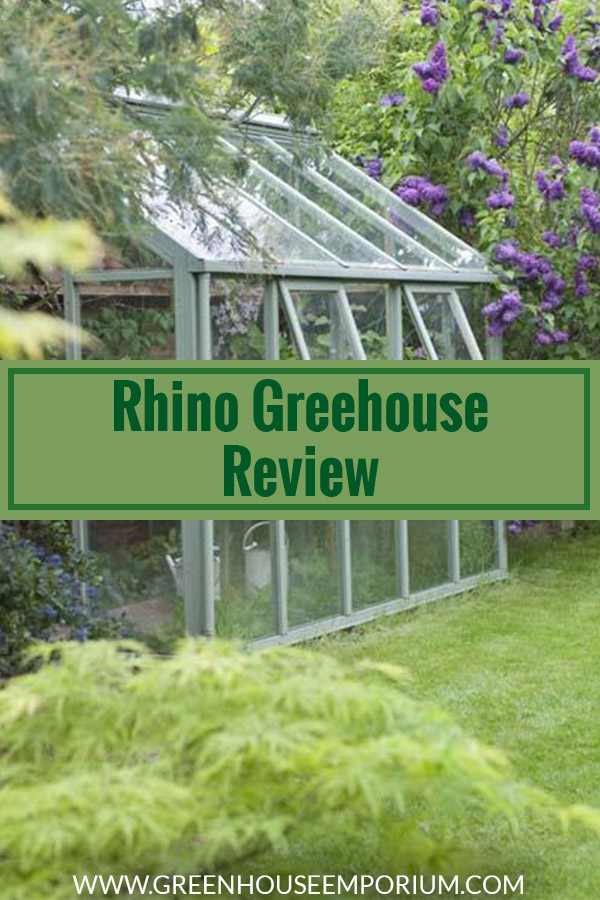 Access
This greenhouse offers great access thanks to its double sliding front doors with a 4 ft opening. Its doorway comes with a low doorstep in order to be fixed using paving slabs on any side, thus keeping any trip danger far away and allowing flawless access to wheelbarrows and wheelchairs.
Base
You can sit your Rhino on firm, level soil. It includes a 4-inch high, sturdy base podium that saves you from needing to put together a brick plinth. It sports ground anchors that you can easily and quickly concrete into position. You can even fix down its integral base with provided expansion bolts if you want to sit the greenhouse on a concrete level hard-standing. If you're all into extra bottom door support, you can opt for the optional ramp made out of stainless steel.
Installation
The brand states that while the installation time will vary from one person to another, it generally takes about two days for two fairly handy people to put it together in nice weather conditions. Hence, these greenhouses are easy to assemble and offer clear instructional brochures and DVDs.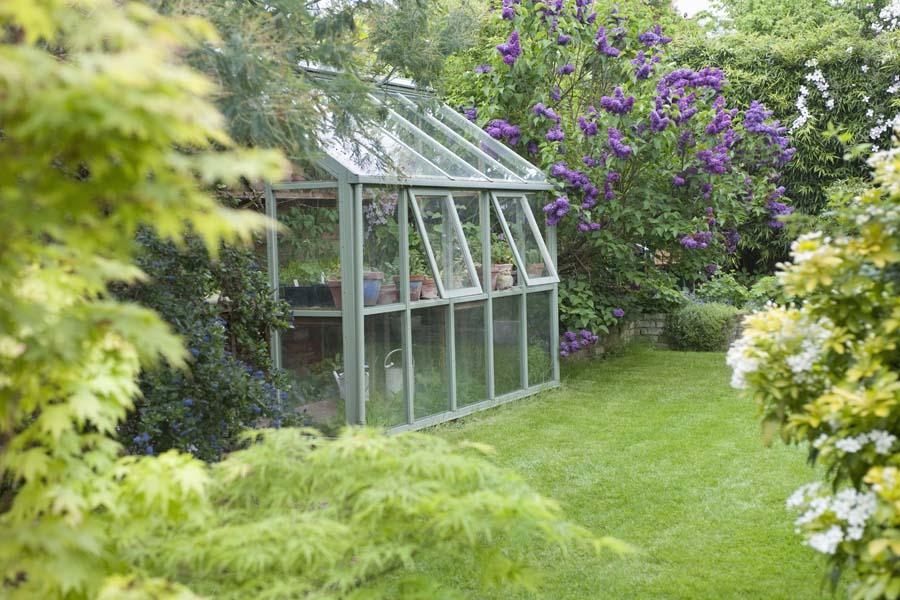 Here are some examples:
Connecting the four sides: Before starting, you should know that the two side sections will pretty much look alike. If you have added extra bolts for accessories (like staging, or shelves) then the right-hand side will differ from the left. So make sure that you have them in the right place prior to bolting the side to the end. The eave section will push through the gap at the corner of the end assembly. Fully push it, slacken off the nuts, and slide them into position before tightening them. Bolt the base sections together as well and repeat the process at each corner. Do exactly the same for the ridge.
Roof glazing: you need to apply a silicone bead to each side of the H-section joining strip. Next, lay the bottom glass pane in order to sit a bit lower than it's supposed to be resting it in the gutter. Go ahead and push the H-section into place. Slide the top glass pane into position at the ridge. Lift the bottom edge out of the gutter and slide it up into its final position. The bottom pane must sit squarely against the eaves, while both panes must sit centrally within the roof bay and be pushed completely into the H-section strip. You can now fit the glazing beads.
Fitting the roof blinds: You won't need any drilling here. Click the brackets in place and tap them, making sure that they are securely fixed. You can then place the blinds into position along the ridge.
Now that you know it's actually pretty easy to assemble it, go ahead and order a high-quality, affordable greenhouse kit. Have fun!
Any further questions? Leave us a comment!