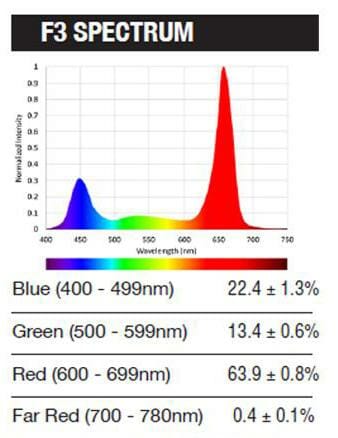 Get your plants more hours of light for maximum growth. The Illumitex Eclipse GEN2 LED Grow Light delivers flexibility in a slim design. Perfect for applications that require a single power source and the ability to connect lights together in a daisy-chain, this unit provides uniform light distribution from the 48" long aluminum bar.
This light is especially beneficial during the winter season. It delivers F3 spectrum light, which is the best for germination through flowering. The primarily red and blue wavelength light also has a small amount of green light. The green light is beneficial for plant quality.
This light can be installed at a height of 12-36 inches above the plant canopy and adjusted to deliver light at needed capacity. If you want to adjust the amount of light, you can use the dimmer function.
Features & Benefits of the Illumitex Eclipse GEN2 LED Grow Light
Ideal for vertical farming, cannabis, and hobby growing
Delivers high levels of up to 104 PPF (photosynthetic photon flux) with unsurpassed light uniformity in the F3 spectrum
The F3 spectrum produces the fastest germination and drives the best vegetative and flowering results of all spectra options
Slim 4ft bar with 12 LEDs
Water-proof, damp-rated and dust-resistant (IP66 rating)
Designed to install at 12in to 36in above the canopy
Available with or without 9-foot long power cord – up to 15 units can be "daisy-chained" together

Each unit includes one male end and one female end
Maximum bar to bar spacing is 18 inches on center

Special design with 50° beam angle ensures maximum light distribution
Internal dimmable driver (0-10V)
Material: Anodized aluminum construction
RoHS compliant
50,000 hour life
Coverage: around 3.5 sq. ft. at 12-inch distance; 11 sq. ft. at 26-inch distance
Dimensions: 48in long x 2in wide x 1.6 in high
Weight: 6 lbs – very lightweight
Input voltage (frequency): 120-277VAc (50- 60Hz)
Warranty: 5 years
Note: These units are available at a great discount because they are refurbished. They've been used no longer than 6 months, are fully functional, and still come with the 5-year warranty.