Description
The RIGA is truly a greenhouse by the European definition of a greenhouse – designed to be used to grow fresh vegetables, herbs, and flowers in the middle of winter. While other so-called "greenhouses" using less than 8mm twin-wall Polycarbonate, are considered to be Season Extenders, to be used when only a slight night frost might be expected during the spring or fall season.
At best they can only be used to house established plants during winter. The RIGA Extra Large – 16 mm triple-wall Polycarbonate – is the largest commercial quality hobby-kit type greenhouse now available in the country.
Designed, engineered, and manufactured in Germany by Hoklartherm, a leading manufacturer of commercial and hobby greenhouses, sunrooms, pavilions, pool covers, home additions, and commercial building, with 28 years experience.
Features & Benefits of the Riga XL 7 Greenhouse
Sturdy onion-shaped construction that withstands large amounts of snow and strong winds
Frame Material: Anodized aluminum frame
Glazing on all 4 sides: 16 mm UV-coated TRIPLE-wall Polycarbonate
Insulation between walls and frame: Heavy-duty rubber seals
First-Class insulation value: R-2.0
Roof Vents (Dimensions): 4x roof vents (37.5in x 39.5in), each comes with an automatic opener (works without electricity)
Door Style (Dimensions): 2x wide barn-style doors with locks (38in x 72in), one for the front and one for the back
Rainwater Gutter System:

No

Expandable: No
Included in the Riga XL 7 Greenhouse Kit:

Frame, glazing, rubber seals, and hardware
4x roof vents
2x barn-style doors

Optional Accessories:

6" high Foundation Frame: If you add this, you don't need a concrete or wooden footer. This foundation frame will attach to the bottom of the greenhouse frame and goes into a trench in order to anchor the whole greenhouse.
Pro Accessory Kit: See details below
Door Extension Kit: Set your greenhouse on a 20-inch stem wall. This kit gives you the missing pieces of Polycarbonate (+ profiles) that go above the doors. It includes 2x extensions for both doors.
Assembly Facilitation Kit: 25′ metric tape measure, 10mm socket wrench, 10 mm open wrench, 2 20′ J-hook ratchet straps, window restraint cables, 2 tubes Boss 399 silicone caulk, permanent marker

Frame Color: Silver/Aluminum
Peak Height: 9ft 10in
Dimensions: 14ft wide x 23ft long x 9ft10in high
Floor space: 322 sq. ft.
Average Assembly Time: 2-3 people: 2 days at a minimum, comes with a DVD and written assembly instructions
Warranty: 10 years on Polycarbonate (prorated after 5 years) and 15 years on frame
Made in Germany
With a combination of strong materials and durable hardware, the Riga is by far the strongest greenhouse of its size under $12,000.
The Riga XL comes with 4 "L-shaped" anchor bars (which attach to the inside of the base profiles) to attach the greenhouse to a concrete or wood frame.
The Polycarbonate glazing on the Riga is German made and believed to be of superior quality then the much more common Polygal or GE glazing.
Riga XL Pro Accessory Kit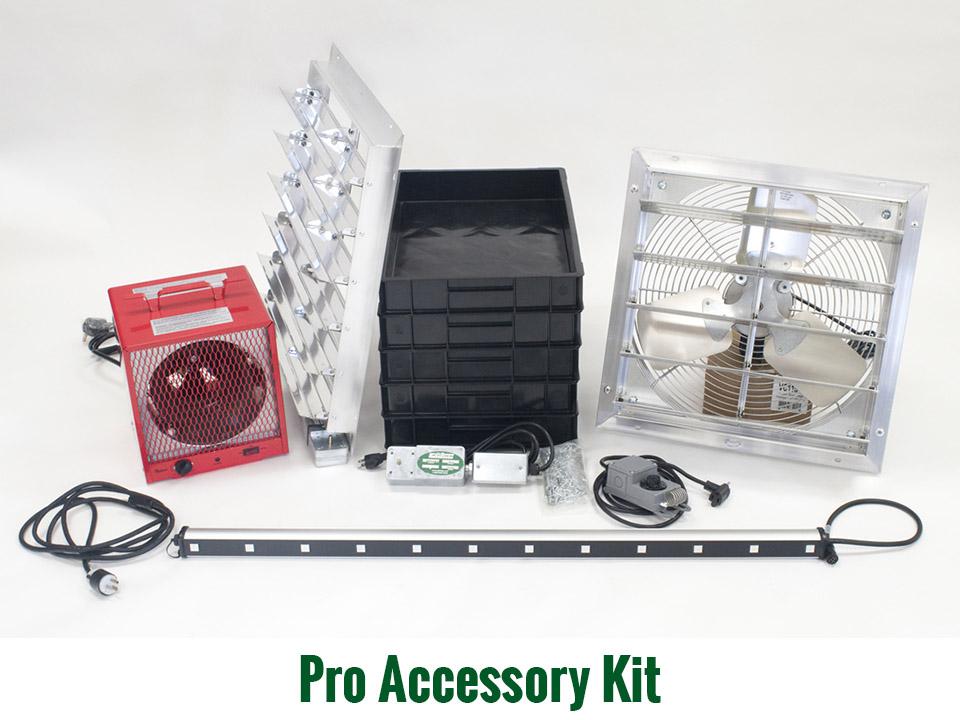 This collection of optional accessories is the perfect way to upgrade any RIGA XL Greenhouse. All of these accessories have been picked to be beneficial to plant growth and health.
Includes the following Accessories:
1x Riga XL 6 Top & 1x Table Shelf (Not Pictured) – 19 ft long
3 sets of professional LED Grow Lights
1 – 24in in-take shutter vent
1 – 20in exhaust fan
Thermostat to control vent & fan
17,500 BTU 220 V heater
5 heavy duty seed trays
10 stainless steel hooks & 10 heavy-duty plastic "hooks"
Assembly Facilitation Kit: 25′ metric tape measure, 10mm socket wrench, 10 mm open wrench, 2 20′ J-hook ratchet straps, window restraint cables, 2 tubes Boss 399 silicone caulk, permanent marker
One major advantage of the Riga's construction method is that the frame profiles are permanently attached to each other, and won't come loose over time due to wind pressures.
German engineering – guaranteed top quality!
The RIGA is attractive and beautiful to look at – fits well into an upscale garden setting.
Buying a greenhouse is like buying a car, they vary in cost from cheap to very expensive, the RIGA is a class similar to a BMW/Mercedes – stronger, more durable and better insulated, and offers many more features than the better selling brands.
The RIGA XL offers the maximum possible insulation currently available in a real greenhouse requiring the least amount of energy for its size: ~20,000 BTU (depends on your climate).
Comes with written assembly Instructions.
Made in Germany