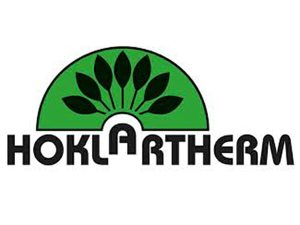 The Riga 3 Greenhouse from Hoklartherm is the perfect size for people who cannot fit a large greenhouse or want a small(-ish) year-round garden. Riga greenhouses are made to withstand serious weather due to the framing quality and shape.
The special "onion" design is both artistic and functional. With sloping sides, snow easily slides to the ground and high winds gently curve around the structure. There are no leaves to remove in fall as there are no sharp edges to catch and collect.
And let's not forget the functional features of this greenhouse. With 8mm UV-coated Polycarbonate on the sides and 10mm in the front and back, the Riga uses a thicker material that insulates better than a glass window in your house. One roof vent with automatic opener and one rear wall window assist in ventilation. The heavy-duty barn style door with a keyed handle lock, wide enough to fit a wheelbarrow, can be opened for additional breeze when desired. All windows and doors have great insulation with silicone caulking and heavy duty seals.
Features & Benefits of Riga 3 Greenhouse
Sturdy "onion"-shaped construction that withstands large amounts of snow and strong winds
Sidewall material/thickness: 8mm UV-coated twin-wall Polycarbonate
Gable material/thickness: 10mm UV-coated twin-wall Polycarbonate glazing in front and back gables
Frame material: Smooth finished anodized aluminum
First class insulation:

Heavy-duty rubber seals and silicon caulking to seal windows
High-quality construction with tightly fitted parts
R-value: 2.0

Door: 1x wide, heavy-duty Dutch barn style door (30in wide x 79in high), handle with key lock
Roof vents: 1x roof window (40in wide x 24in long) with an automatic opener which works without electricity
1x large rear wall window (30in wide x 42in long) that allows for cross ventilation
Wind tolerance: 120 mph with 3-second gusts
Snow capacity: 30 PSF ground-snow load
Included in the Riga 3 Greenhouse Kit:

Profiles, glazing, rubber seals, and hardware
1x roof vent with automatic opener
1x barn-style door
1x rear wall window
Assembly instruction (also available here)

Optional accessories:

6" high foundation frame: If you add this, you don't need a concrete or wooden footer. This foundation frame will attach to the bottom of the greenhouse frame and goes into a trench in order to anchor the whole greenhouse.
Premium kit: See details below
Door extension kit: Set your greenhouse on a 20-inch stem wall. This kit gives you the missing pieces of Polycarbonate (+ profiles) that go above the doors. It includes 2x extensions for both doors.

Rainwater gutter system: No (not possible because of greenhouse shape)
Stem wall: Supported by manufacturer (up to 20in; need to order a Door Extension Kit)
Expandable: No
Frame color: Aluminum/silver
Sidewall height: 6ft 1in high near shelves
Peak height (interior): 7ft 6in
Floor space: 102 sq. ft.
Dimensions: 9ft 8in wide x 10ft 6in long x 7ft 7in high
Assembly time: Min of 3 people – approx. 1-2 days, with 4 people – approx. 6-12 hours (we highly recommend 4 people)
Warranty:

Twin-wall Polycarbonate: 10 years (prorated after 5 years)
Frame: 15 years

Made in Germany

Shipping information: Greenhouse ships in 3 boxes, premium kit ships in 4 boxes. This product is delivered via LTL which is curbside delivery only. The driver will be using a pallet jack and liftgate to slide the crate off and will need help from the customer with the unloading of the framing cartons. We recommend having a couple of people there for the delivery.
The RIGA is attractive and beautiful to look at – fits well into an upscale garden setting.
With a combination of strong materials and durable hardware, the Riga is by far the strongest greenhouse of its size under $5,000.
Made in Germany with 30 years of experience!
The Polycarbonate glazing on the Riga is German made and believed to be of superior quality than the much more common Polygal or GE glazing.
One major advantage of the Riga's construction method is that the frame profiles are permanently attached to each other, and won't come loose over time due to wind pressures. For a better anchoring in the floor, you can add the heavy-duty foundation frame.
Riga 3 Greenhouse Premium Kit
If you want to use shelves and a base frame, the Riga 3 Greenhouse Kit will be the best choice.
Includes the following items:
Riga 3 Greenhouse
Foundation frame
10in deep top shelf (attached to greenhouse side)
25in deep regular shelf
Riga 3 Greenhouse Door Extension Kit
If you want to raise your door because you set your Riga 3 on a stem wall, you can buy a door extension kit. It will raise the height by 20 inches.
If you need more shelves or another combination of accessories, please, don't hesitate and call or send us an email at [email protected].