The Earthmaker 3-Stage Composter is a revolutionary extra eco-friendly three-chamber composter that takes the hard work out of the composting process! This efficient and easy to use system aerates naturally as heat draws air up through the bio-materials which spill deeper into the unit as they loosen. This works as a continuous cycle allowing you to add and remove compost when needed.
The Earthmaker is the world's first continuous cycle compost bin. Organic waste is added at the top anytime, quality compost is taken from the bottom when needed. Therefore, gravity does all the hard work.
The Earthmaker 3-Stage Composter is always working no matter what season you are in. In most cases, it makes twice the amount of usable material as more conventional composers in the same amount of time.
Material aerates as it falls down the chambers decomposing rather than rotting, thus it reduces the production of greenhouse gases. Heat draws air up through the material reducing smells, flies and greenhouse gases.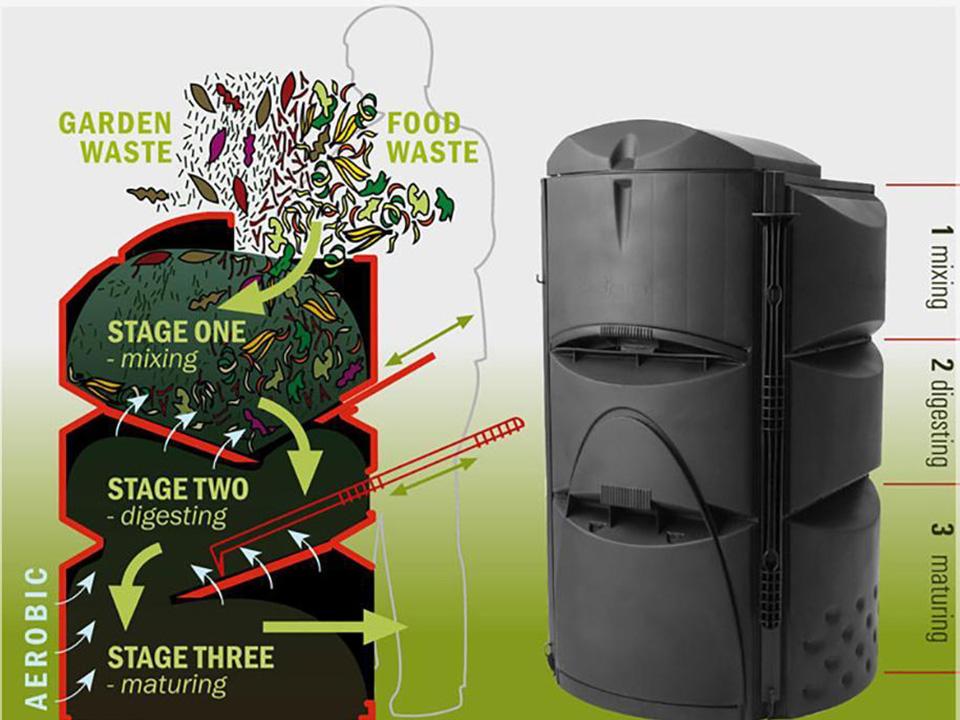 Features & Benefits of Earthmaker 3-Stage Composter
Makes usable compost in an average of 30 days when the weather is ideal
For busy people wanting an easy, green way to deal with organic waste
For gardeners who want an easy, fast way of making compost
Can produce 10 gallons of compost every month
Keeps fresh waste and mature compost separate
Large openings for adding waste and removing compost
No composting experience required to get started
Independent trials have proven the Earthmaker processes kitchen and garden waste at twice the speed of traditional compost bins
Very little effort and just a few minutes each month is required to move the contents from chamber to chamber
Reduces greenhouse gases
The closed design keeps rodents away
Delivered in a flat pack that clicks together easily without tools
Full assembly instructions and user guide in every box
Materials: UV-stabilized Polypropylene, 15% recycled
Capacity: 124 gallons (466 liters)
Dimensions: 30in diameter x 47in high
Made in New Zealand