They say home is where the heart is. Everyone needs a break from the busy world and deserves a place for relaxation and peace of mind. Having a gazebo in your garden or any open space is the best way to enjoy your "Me Time". This ACACIA Gazebo with OutDURA™ canopy will provide you a space in the shade to relax.
A gazebo is a functional garden structure. It can be a place to entertain your visitors, a bonding place for your family, a cozy sofa, or even a playground for kids. It can be basically whatever you have in mind. It can be for a simple day or a special celebration. Whether it is rainy or sunny, you can definitely enjoy your stay under the protection of the ACACIA Gazebo.
Riverstone is creating new ideas and techniques on their gazebos to make them easy to assemble at the same time making them attractive. The contemporary designs stylishly complement your outdoor area. The best part of the ACACIA gazebo is that you can purchase gazebo covers later on in case you would like to change the color. Since it is using existing OutDURA™ colors, color matching other components of your outdoor living space is very easy.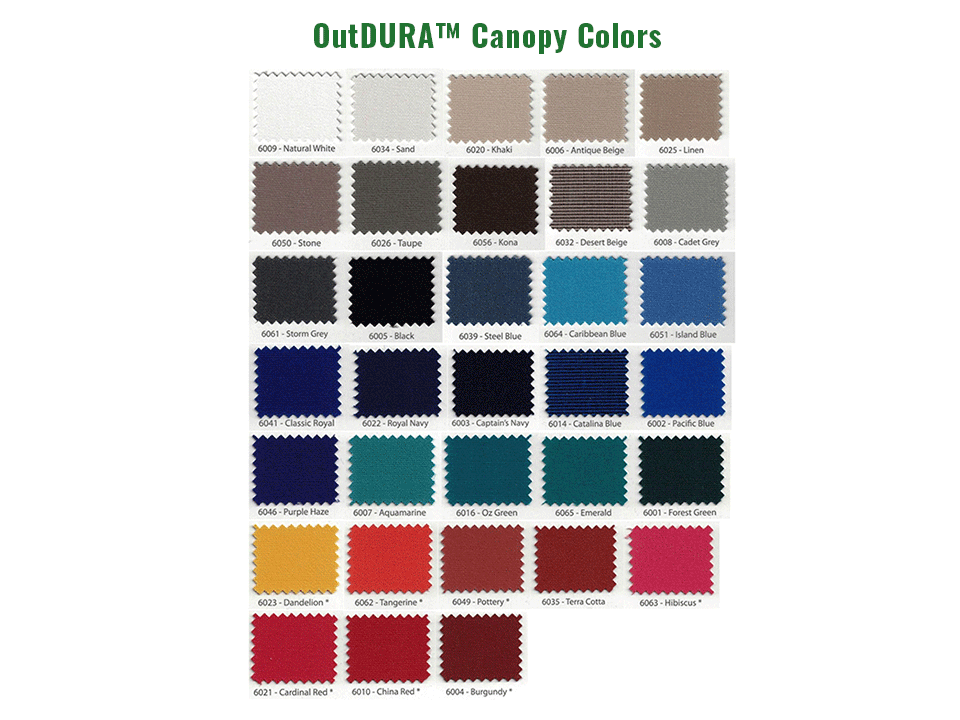 The ACACIA Gazebo takes over 80 years of American know-how into the design and construction. All gazebos have a powder-coated structural aluminum frame with the ability to hold 1,000 lbs on each of their legs. The rust-free structural extruded aluminum frame is warrantied for 10 years. When it comes to durability Riverstone goes to an extreme with its electrostatic finish. The electrostatic finish process sends an electric charge through the paint and the frame to help cause a chemical (ionic) bond. This is much stronger than simple powder-coating, which is commonly found in imported versions.
The hidden ground attachment system makes sure that the ACACIA Gazebo with OutDURA™ canopy will stay where you want it to stay. It also eliminates the need to use pea gravel to add weight to the frame and prevent rattling during wind as most imported versions suggest.
The 2-piece canopy covers are designed to allow for ventilation under the gazebo and to help ensure updrafts from damaging the gazebo canopy. The gazebo tops are made from first-class fabrics. Riverstone only uses OutDURA™ fabrics which are well-known for their durability and water resistance properties. OutDURA™ produces branded Acrylic Marine fabrics, which are proudly made in the USA. Riverstone's factory precision laser cuts each of the canopy tops for the best fit. OutDURA™ canopies are UV-protected and designed to resist fading and staining. With a simple design, the canopy can be easily removed during winter months, extremely windy conditions, or for cleaning.
Features & Benefits of ACACIA Gazebo with OutDURA™ Canopy
Heavy-duty, easy-to-assemble gazebo mounting kit
Customize it by choosing your own wood for the gazebo legs and headers (NOT INCLUDED)
Framing & Mounting Kit material: Durable, rust-resistant, electrostatically coated aluminum and steel
Precision-made canopy covers with OutDURA™ fabric:

33 color choices
Acrylic marine fabrics are UV-protected and designed to resist fading and staining
Gazebo canopy cover in your color choice with black accent threading and binding
Canopies are laser cut and sewn
Reinforced corners for extra durability
Dual canopy design allows for air circulation and prevents updraft damage

Included in the ACACIA Gazebo Roof Framing and Mounting Kit:

Gazebo roof framing kit
Mounting kit made of custom made steel brackets
All hardware
Canopy cover made from OutDURA™ fabric
Ground anchoring system

NOT included – this is what you need to purchase locally:

4x legs: 3.5in x 3.5in (96in long – or customize height to your needs; make sure to add more inches if you mount them in cement or the ground)
4x headers (length has to be exact for the canopy to fit perfectly):

12ft x 12ft: 3.5in x 3.5in x 120in long
14ft x 14ft: 3.5in x 3.5in x 144in long

Dimensions 12ft x 12ft:

Frame outside (leg to leg): 127in wide x 127in long
Inside space (leg to leg): 120in wide x 120in long
Canopy (outside, end to end): 144in x 144in
Height to peak (for 96-inch long legs): 147.5in
Clearance height under header (for 96-inch long legs): 92.5in

Dimensions 14ft x 14ft:

Frame outside (leg to leg): 151in wide x 151in long
Inside space (leg to leg): 144in wide x 144in long
Canopy (outside, end to end): 168in x 168in
Height to peak (for 96-inch long legs): 147.5in
Clearance height under header (for 96-inch long legs): 92.5in

Weight:

12ft x12ft: 54 lbs
14ft x 14ft: 56 lbs

Warranty:

Canopy: 7 years limited
Frame: 10 years limited

Made in the USA