The greenhouse rage is hotter than ever as more and more hobbyists, and serious gardeners see the advantages of having one on their property. While we are familiar with common greenhouse designs, the latest Royal Victorian design from Janssens is something we all want to know about. What is it and why should we choose this greenhouse design from the rest? We hope this Janssens Royal Victorian Greenhouse Review will help you with your decision.
The Royal Victorian design
The ornate and often gothic home designs during England's Victorian era are something that has never gone out of fashion. It has been said that it was during the Victorian era that the best designs of greenhouses were created.
The steep roof, the cast aluminum spandrels, and the narrow glass panels are sought-after designs not only for aesthetic value but practical reasons as well. For instance, growing tall-growing plants such as bananas or peaches become possible with the high roof design. Another advantage of the extra roof height is to enable air to freely move around the greenhouse, thereby creating a better environment for the plants.
The modern version of the Janssens Royal Victorian greenhouse design retains some of the best features. The only change is with the glass panels. The narrow design of yesteryears has been changed to the wide panel size with the standard width starting at 2ft.
With this said, what could be the compelling reason to choose the Royal Victorian greenhouse design from the rest?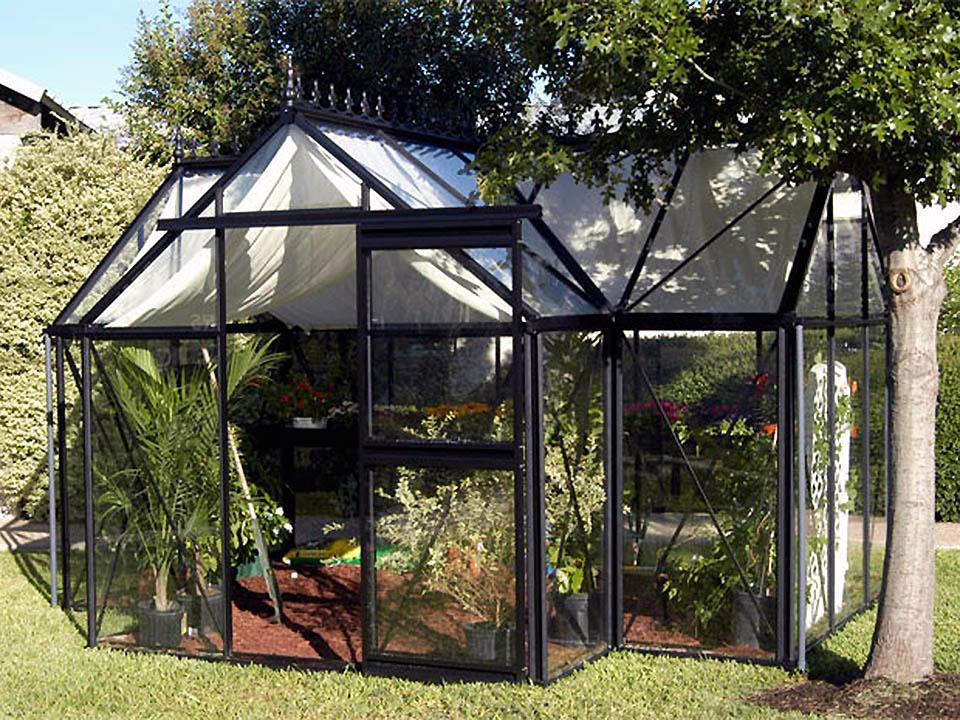 Why the Royal Victorian greenhouse design is a perfect choice?
You might say that the number one reason for opting to have a greenhouse in your property is because you want to have a perennial garden throughout the year, regardless of climate and season. It may be so, but it is a given that lovely gardens provide aesthetic appeal to any home.
The garden is the first thing a visitor sees when he or she comes to your home. A standard greenhouse design can certainly spruce up the look of your property, but having one designed like a proper Victorian home provides a fantastic view like no other.
Other than its classy look, the Royal Victorian greenhouse design provides countless benefits for your plants. By this time you might be thinking that a greenhouse designed like the Royal Victorian might cost a lot.
On the contrary, the Royal Victorian greenhouse design, especially from Janssens' "Helios" greenhouse line, is very affordable. What's more, the different sizes offered by the company are designed to fit every budget and property size.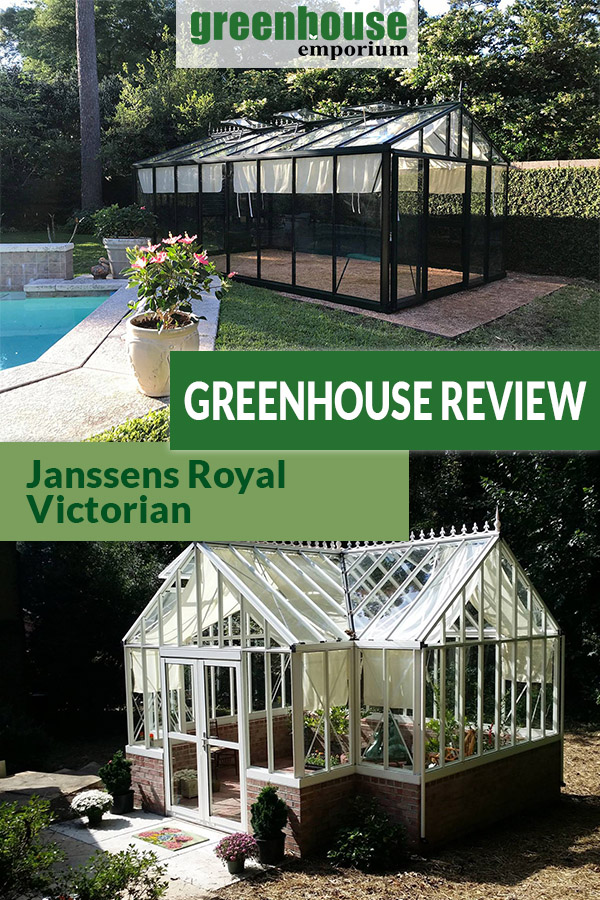 Why Janssens Royal Victorian Greenhouse is the best of the best?
Janssens, a Belgian company, has been creating greenhouse designs to suit gardeners' preferences over the years. Having more than 30 years of experience in the greenhouse design industry is their cutting-edge above their competitors. It was in 1999 when the company introduced the Royal Victorian design as an innovative way of adding more features to the greenhouse along with the aesthetic value. Here are the excellent reasons why the Janssens Royal Victorian Greenhouse Collection is considered the "cream of the crop":
A 6-inch high foundation frame is a feature included at no extra charge
Misting system included (all it needs is to use a hose to connect to the faucet)
Features either a strong tempered glass of 4mm while other brands only offer 3mm glass or 10mm Polycarbonate while others use 6-8mm.
A shoulder that is one foot higher compared to other greenhouse models including a large 6ft 7in high gutter
It includes rubber seals instead of the metal clips compared to other greenhouse models. This means a better-insulated greenhouse as well as providing strong support for windows.
Comes in varied sizes and designs to suit budget and property size
The one-piece vertical glass adds more aesthetic appeal to the design. The use of two glass pieces overlapping each other in other models also gathers dirt that is tough, if not impossible, to clean.
During windy weather, the one or two spindle roof window makes it a great feature to have. The roof windows in other areas can also be automatically opened or closed, adding more ease and convenience.
Includes one sliding door that can be placed alongside the location of the vertical glass. This great feature gives you the option to have your door located at the sides, back or front of the greenhouse (not in the T-shaped designs).
The combination of 4mm glass and rubber seals guarantee a greenhouse with maximum insulation. Planting several varieties of vegetables and other plants during the winter can be almost easy and convenient.
The latest Polycarbonate models now include Polycarbonate windows as well. The "X-Strong" 10mm triple layer Polycarbonate windows are way stronger than thick glass windows. The best thing about this most recent update is that it can be included in your kit at no extra cost.
Stronger, larger, and thicker aluminum profiles that are stronger and more durable than other greenhouse designs
The U-shaped metal end caps and the beveled edges of the Polycarbonate panels guarantee extra durability and longevity.
Affordable price that is almost comparable to other greenhouse models
Better headspace because of its taller design compared to similar greenhouse models on the market
The Royal Victorian has four different sizes as well as a retro version in two sizes and two different T-Shaped Orangeries.
Janssens Royal Victorian Greenhouse Reviews from our customers
Let's actually have a look at the individual Royal Victorian models and see what our customers think about them. So far each of them was really happy and proud of their new greenhouse. Don't take our word for it though. Read what they said.
Royal Victorian VI 23 Greenhouse 8ft x 10ft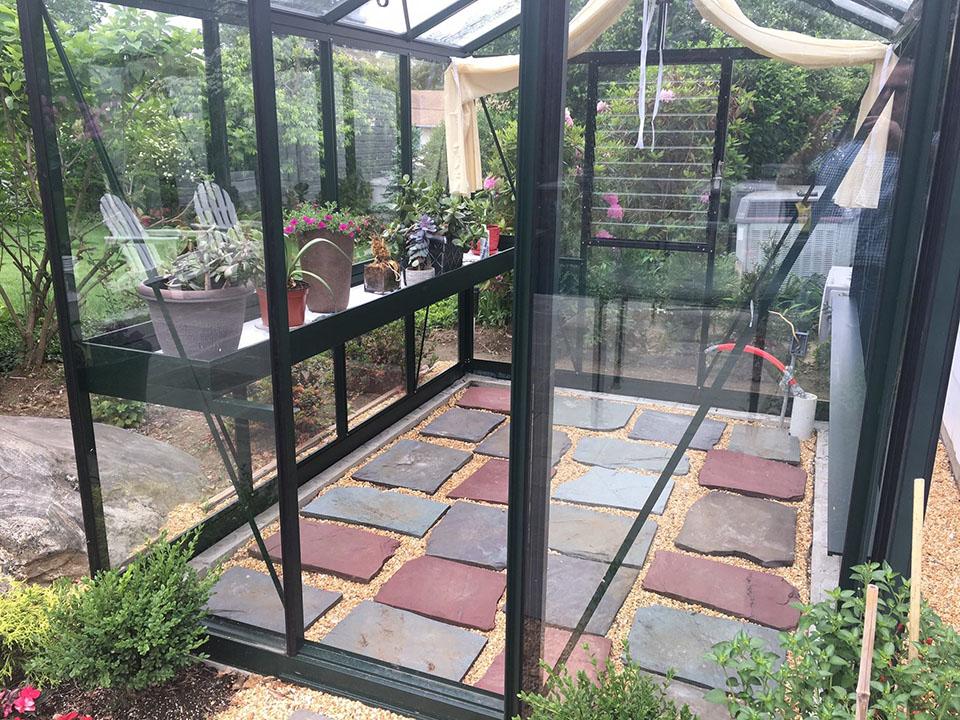 We always dreamed of getting a classic greenhouse for our garden. So we started setting up our Victorian glass greenhouse. Unfortunately, it was our first time building one and took a while. We called the customer service when we couldn't figure out how to anchor it right. They willingly helped us out and even the supplier called us to help. This is by far the best customer service with VIP treatment!
Royal Victorian VI34 Greenhouse 10ft x 15ft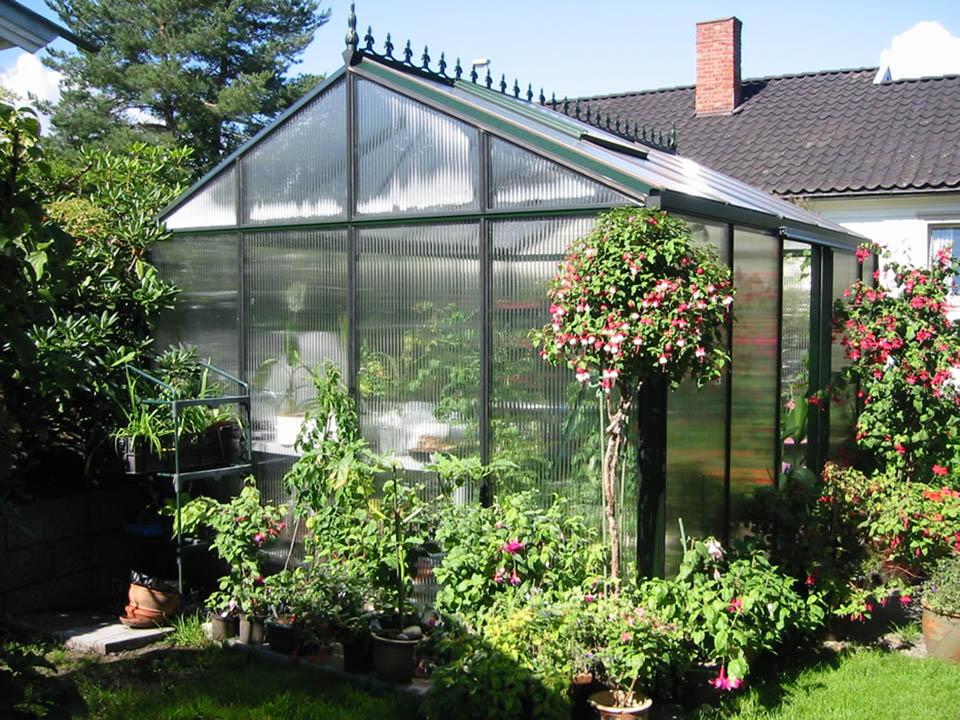 I have thought of homesteading before. But I don't want it to be messy and ugly. Then I found out about this Victorian greenhouse. The elegant look is just what I have in mind. Now I can have a protected place for my veggies and have a luxurious garden all at the same time. The safety of Polycarbonate makes me feel better especially with the kids around and it compensates for not being able to look through.
Royal Victorian VI36 Greenhouse 10ft x 20ft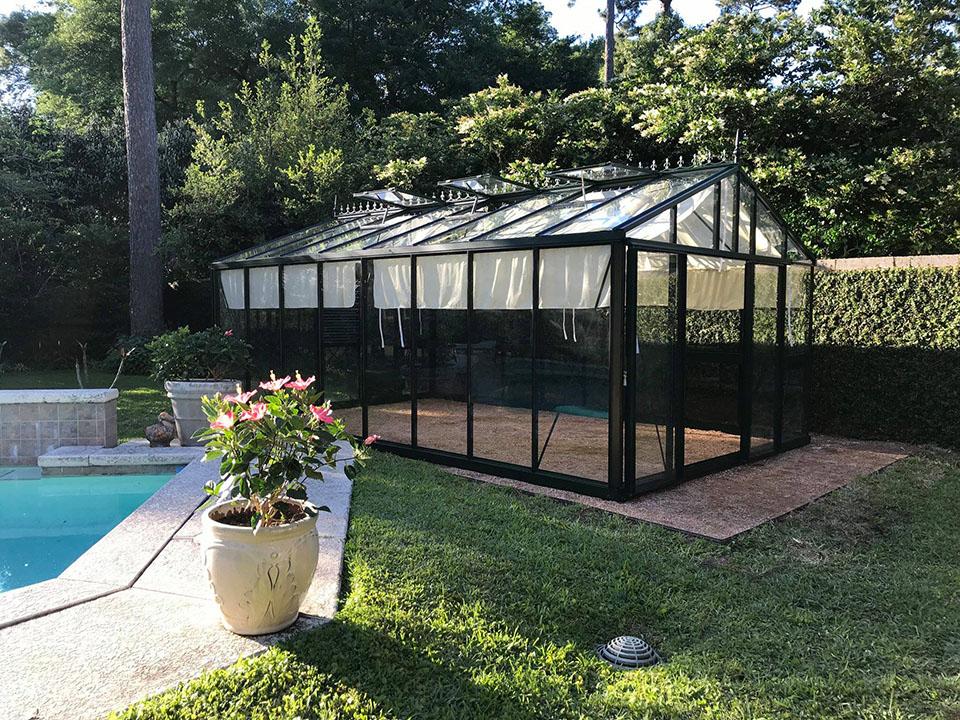 It was challenging to build this greenhouse at first. It took us days. But after this year's heavy winter, I felt really satisfied. All our efforts have paid off. We all thought that it will go down. I was surprised that it feels like nothing happened. Thanks to the reinforcement kit. We didn't realize its importance until after the snow rage. Thanks, Greenhouse Emporium for the sound advice!
Royal Victorian VI46 Greenhouse 13ft x 20ft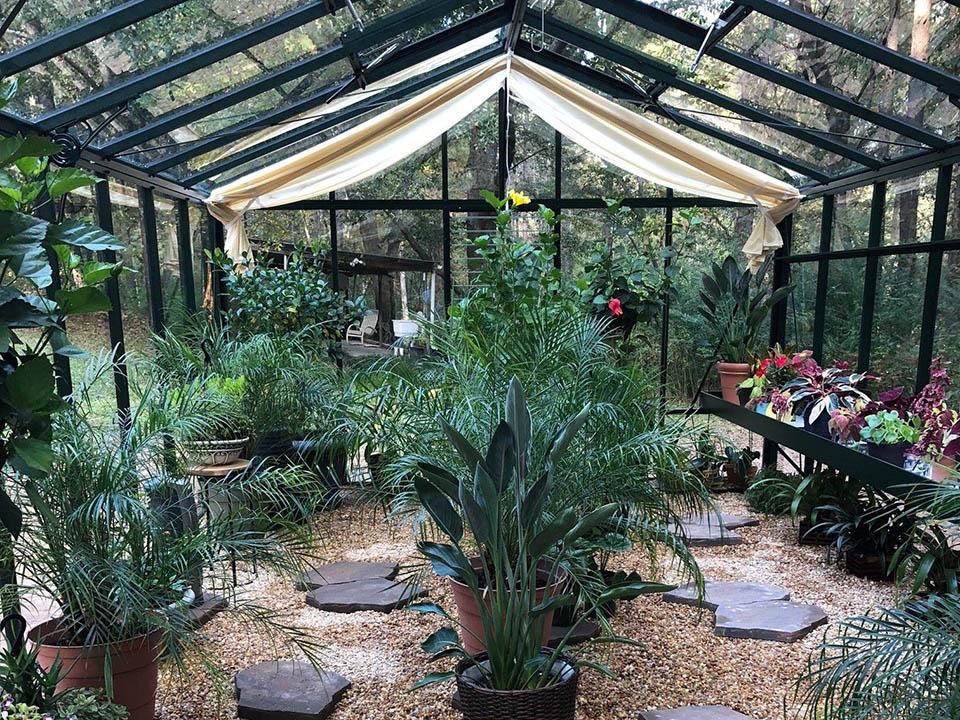 I was so excited to get my first greenhouse so I got the premium kit. My husband did most of the work with the help of a few friends and wow! Everything went smoothly. He didn't even complain about the assembly part. Winter came in and we just had fun gardening and simply staying warm inside. I wish I had purchased it years ago. So love it!
T-Shaped Royal Victorian Orangerie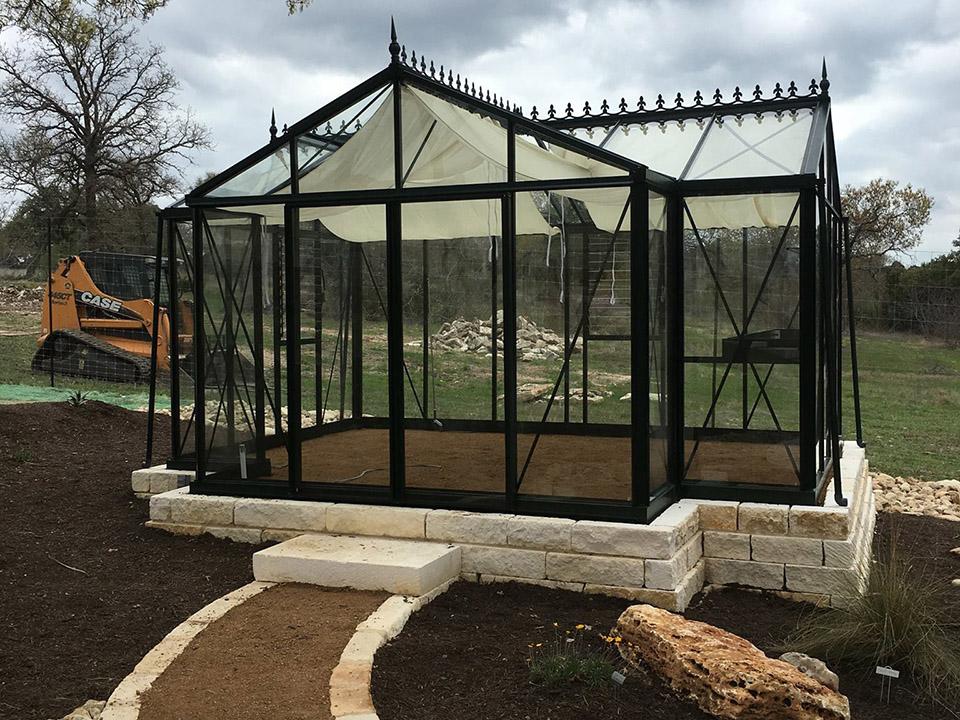 Oh, I cannot put it into words how much I love this greenhouse. I cannot take my eyes off it and it serves several purposes. We grow our orchids, lilies, and a few veggies in here, I set up a little lounge area and I have my easel in there so that I can paint my thriving flowers. We had some glass breakage when it got delivered but the issue got solved in no time. We just got glass panels here and they reimbursed us. The bumpy beginning was all forgotten once we had it all set up and enjoyed our first tea time midst the flowers.
T-Shaped Royal Victorian Antique Orangerie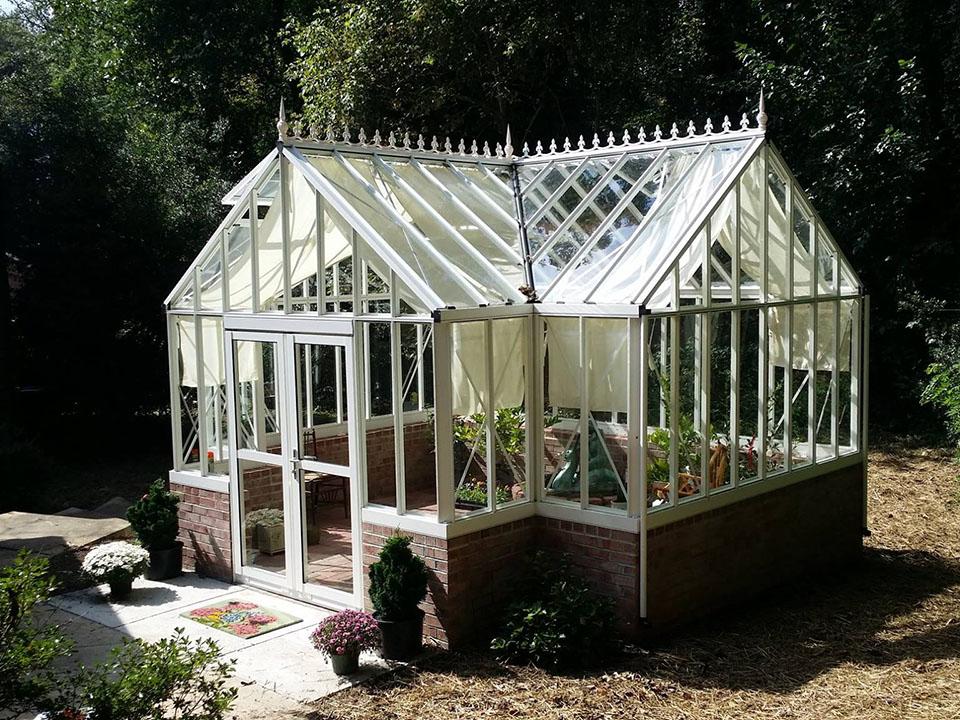 My time to brag! This has been the envy of my friends. I got a professional installer to build this. Now my family is in charge of all the plants and I have a little cozy space for our tea time. This little paradise gave us the reason to stay at home while enjoying the outdoors. The kids don't stay locked in their room anymore. Gardening is now our way of bonding and I don't even get to force them to eat veggies anymore. I am getting more than I expected. I am so fortunate with this greenhouse!
Retro Royal Victorian Greenhouse
I am a nature lover and this is my best birthday gift ever. I just transformed our ordinary garden into an extraordinary paradise. The design of this Retro Victorian is just adorable. It makes our backyard looking like a romantic scenery from a movie. I love the natural daylight and fresh air as I grow my flowers inside. It is fully equipped with all the things that I need from my day to day routine. Plus I don't have to worry about the harsh weather. There's nothing more satisfying than a well-spent investment.
Why Janssens Royal Victorian Greenhouse purchased at Greenhouse Emporium is my personal choice?
"The research I did for Janssens convinced me beyond a reasonable doubt that I was in for a good investment. Buying my Janssens Royal Victorian Greenhouse from Greenhouse Emporium is the best decision I've ever made. The customer service was awesome and all my questions about the Victorian greenhouse were all satisfactorily answered. The fantastic deal I got from them was the deal clincher."
Tell us more about your experience. Leave us your feedback below. If you are ready to buy and still have questions, give us a call. We love to help you!
Liked it? Pin it for later!