Greenhouses are four-walled structures that are built mainly for farming or gardening purposes. Greenhouses are highly sought after because they have more controlled conditions (such as moisture, aeration, and soil drainage) when compared to healthy outdoor growing. Other elements include light, temperature, and humidity. This is the main component that makes greenhouse gardening a suitable alternative to conventional gardening.
Greenhouses make it possible to produce crops year in, year out, without worrying about seasonal inconveniences. Cold frame plans give you other possible mechanisms that make planting year-round possible. Greenhouse kits can be bought, but they can also be built from scratch.
How to Build a Small Greenhouse
Building your own greenhouse can be the most exciting, cheap, and easy activity to carry out. However, it is paramount that you plan all you need from the very start. This involves the size and the orientation of the greenhouse you want. Lucky for you, this article is a great point of reference for any questions you might have regarding how you should go about planning this exciting project.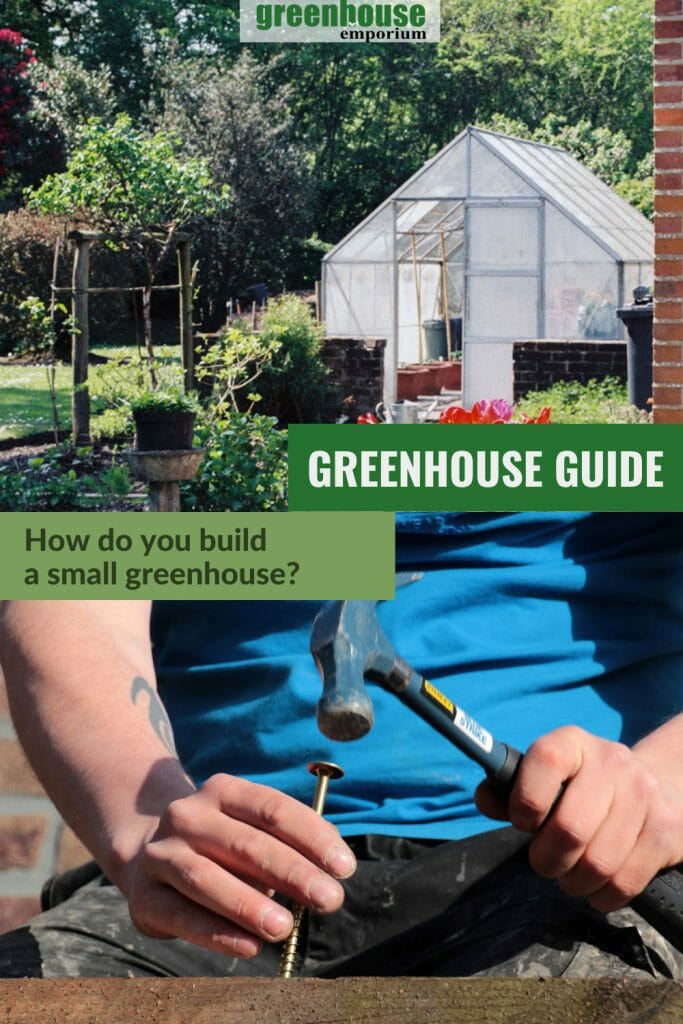 Do you have enough time to build the structure you desire? If your answer is yes, then you are ready to start assembling plans and materials for building your small greenhouse.
Location, Location Location… Locating Your Greenhouse
The proposed location of your greenhouse is crucial if your plants are to flourish. Six hours of sunlight is generally a sufficient amount of exposure for most plants. Locate your greenhouse in such a way that it receives at least 6 hours or you may find yourself needing to buy some grow lights systems in order to compensate.
It is wise to avoid places with shadowy features, such as trees.
Lean-to or freestanding greenhouse?
When building your greenhouse, you can choose between a lean-to or freestanding style.
With the lean-to option, all you have to worry about is three walls that will be attached to an already established wall. The wall can be your house, your garage, or any other fenced area of your property. The attached option also allows you to save money because it requires fewer materials.
The freestanding greenhouse stands on its own. This option gives you the chance to allocate as much surface and grow as much as you would like to without worrying about sun exposure because you can place it anywhere on your property.
Greenhouse Building Materials
Some material you'll need in order to make your greenhouse include:
Glazing or covering around the frame of the greenhouse is one of the most important materials to consider when building your own greenhouse. The option you choose should be able to provide accessibility to sunlight, insulation, and provide sufficient protection from the elements.
When it comes to the material for the greenhouse covering, glass, plastic sheets, and polycarbonate are your best options. Compared to glass, plastic sheeting is more affordable, but they do not last as long as glass or polycarbonate.
Polycarbonate, however, is the best of both worlds. It's cheaper than glass and retains heat more efficiently when compared to the other two options. Polycarbonate can also go with any style you choose, whether pyramid, dome, hoop or a traditional greenhouse.
Other materials include lumber, nails, screws, and an array of many others. We recommend you go to this website for exact material requirements for each greenhouse style.
For those that wish to start gardening right away in their greenhouse do not worry because we also have readily available greenhouse kits available. Some greenhouse kit options include the Solexx Gardeners Oasis Greenhouse and the MONT Premium Edition Greenhouse.
Wouldn't it be amazing to have your gardening hobby turned into a full-time enriching endeavor? Then greenhouse gardening is the way for you. We at Greenhouse Emporium do hope that you'll garner enough confidence to take the first step toward building your own small greenhouse.