Show Filters
Benefits of a conventional hobby greenhouse kit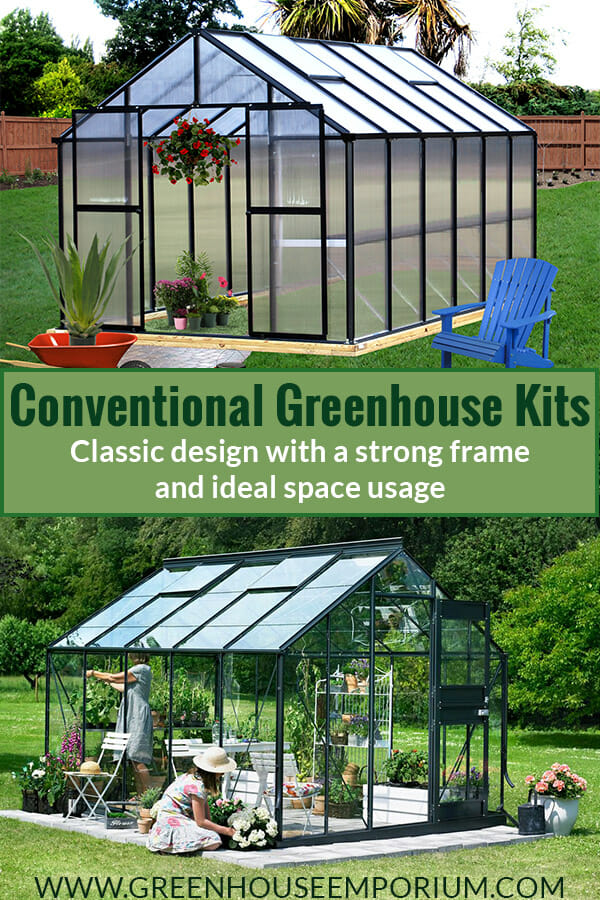 The shape allows for more headroom
Moving around the greenhouse is easier
Grow on the sides and enjoy the center to walk through (best headroom)
Gables allow large doors to enter the greenhouse with a wheelbarrow or other equipment
Similar in shape to a house (looks nice in the backyard)
One of the strongest constructions: Framework (post and rafters) supports the roof to withstand snow, rain, and wind
Collecting rainwater by using gutters and downspouts on the side walls
Good air circulation with roof windows and/or gable vents
Maximize growing space by using the channels in the frame for shelving and hooks (vertical space) – still easy to reach from the center

One of the main benefits of growing in a greenhouse is that it extends your growing season

You can plant at any time of the year because you are in control of the environment inside the greenhouse

You can choose from a wide variety of plants even those that are not found in your local area

Unlike open fields, greenhouses are more efficient in keeping out common insects and animals which damage crops

Beneficial insects can easily be controlled

By regulating the best environment helps you to improve the growth of plants

Protect your plants from the harsh outdoor weather
Disadvantages of a conventional greenhouse
Uses more materials than other greenhouse structures
This structure is top-heavy so frame must be footed properly
Light diffusion is not as good as in other structures (i.e. geodesic domes)
Air flow may not be optimal if the conventional greenhouse kit doesn't have enough vents (you may have to add ventilation)
Potentially more costs because you may need additional accessories to ensure perfect growing conditions (ventilation, additional vents, etc.)
Covering materials
This structure can be covered with glass or polycarbonate. Both materials have their pros and cons. Please read our article to make the right decision.
Monticello greenhouse kits from this collection also offer options for different types of polycarbonate. The Regular and Premium edition has a rather see-through glazing, whereas the Growers Edition provides more privacy and the Mojave Edition gives you more sun protection.
Here are the top quality suppliers for conventional greenhouse kits
Riverstone Industries
They are producing the best US-made greenhouse kits with a conventional shape. Wheather you are looking for a smaller hobby greenhouse (Monticello) or a commercial one, Riverstone Industries got you covered.
Janssens
With the precision of European engineering, Janssens offers the perfect conventional greenhouses in a Victorian style. You can pick between glass and polycarbonate for their products.
Juliana
Juliana has manufactured greenhouses for more than 50 years, and high quality has continuously been a trademark. This Danish brand also offers glass or polycarbonate as glazings for their greenhouse kits.