Roses are undoubtedly the queen of all flowers. Their importance to flora is as synonymous as that of dolphins to the animal world. As a symbol of love, they are one of the most popular plants in the world.
Despite the high demand, the disparity in climate and soil type makes it difficult for roses to grow in every region. This is where greenhouses come in. Growing roses in these buildings can help you assure that they stay happy and healthy.
This article explains in detail how to grow roses in a greenhouse. It also covers specific species that are best suited for this environment. If you've always wanted roses and your environment doesn't always allow it, you've found the right place!
10 rose varieties best suited for greenhouses
Here are a few species of roses that thrive in greenhouses.
Queen Elizabeth (Grandiflora Group)
An erect shrub up to 4-6 ft (120-180 cm) high. Each flower has 38-40 thick, pink petals, with a slight tea aroma. They have a diameter of about 4 in (10 cm) and bloom from spring to fall. The shrub itself is almost completely thorn-free and has beautiful large green leaves.
Advantages
Shade tolerant
Cold-resistant
Can be stored for a long time when cut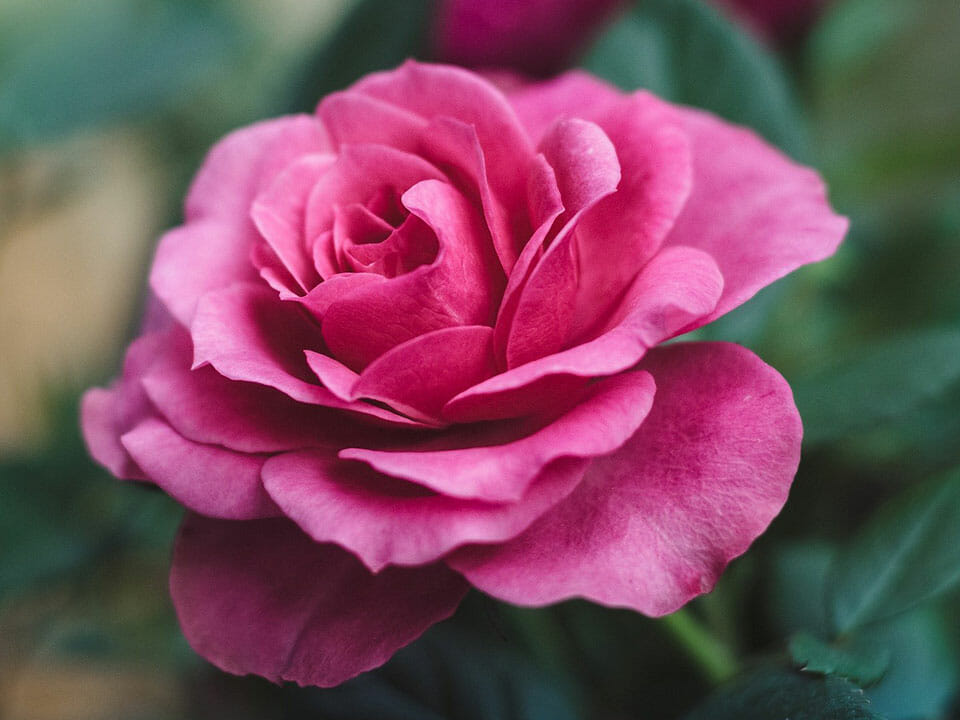 Komsomolskiy light (Grandiflora Group)
A uniform erect shrub up to 4 ft (1.2 m) tall. The flowers are red with a golden center, diameter up to 5 in (13 cm), and are velvety to the touch. They usually only have one flower for each long stem. These roses bloom multiple times throughout summer and need plenty of sunlight.
Advantages
Resistant
Abundant
Long-flowering
Niccolo Paganini (Floribunda Band)
The beautiful foliage and the abundance of dark red buds make this variety very charming. They have a mild to strong scent and can grow to be as tall as 28-35 in (70-90 cm.) Each flower has 17-25 petals and grows in clusters.
Advantages
Keeps well when cut
Blooms for a long time
Resistant to lack of light
Carte Blanche (Floribund Group)
These roses grow as a shrub that is about 3 ft (1 m) tall, and compact. They are completely covered with large and very fragrant white buds that smell like honey. New sprouting plants will need to be protected during hard freezes. They bloom throughout the season.
Advantages
Resistant to most fungal diseases
Very long flowering even in open ground (until the first frosts)
Rose Gozhar (Hybrid tea)
Joseph Pernet-Duchet in Lyon, Jean Gojard discovered this species in 1957. It has tall shrubs with large crowns and densely colored carmine-red flowers. The inside of the petals is almost white, so the flowers look very unusual.
Advantages
Very high resistance to pests
Diseases affect it only in adverse conditions (low temperature with high humidity and air stagnation)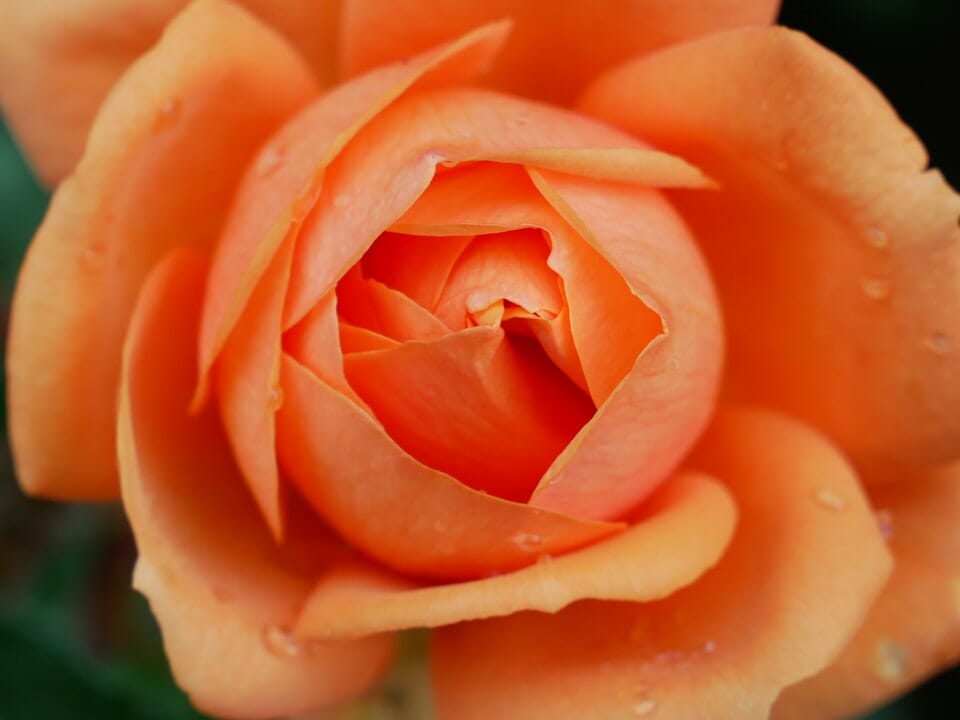 Little Flirt (Hybrid variety)
This species has miniature roses with red and yellow buds and a very light scent. They can be as wide and tall as 1 ft (30 cm.) The shrubs are bushy and grow vigorously and the flowers grow to be ½ – 6 in (1 – 15 cm.) They flower throughout the season. You can get these in a variety of colors though.
Advantages
High resistance to lack of light and heat.
This variety is specifically bred for the greenhouse.
Skarlet Gem (Hybrid variety)
A compact shrub dotted with 55-60 orange-red miniature cup petals each. It blooms multiple times throughout the season with flowers that are only about 1 in (2.5 cm) in diameter.
Advantages
Greenhouse variety resistant to lack of light and heat
Beauty Secret (Hybrid variety)
A miniature cultivar with magnificent thick double-headed cup petals that are no more than 2 in (5 cm) in diameter. This species is an excessive bloomer that boasts roses throughout the growing season. It is as close as you can get to having roses year-round.
Advantages
Variety is intended to grow in a greenhouse
Resistance to diseases and pests is excellent
Baccara (Hybrid tea)
Baccara has a compact shrub up to 2.6 ft (80 cm) tall. The flowers are cup-shaped, double, with a diameter of up to 3 in (8 cm.) The color of the petals is dark red, almost black and they have a very light scent. They bloom in waves from spring to fall.
Advantages
High resistance to frost
Very abundant flowering
Casanova (Hybrid tea)
This species of roses has densely leafy shrubs that can be up to 4.5 ft (1.4 m.) The flowers are pointed with a high center that is about 6 in (15 cm.) The petals are thin, straw-colored with orange traces at the base.
Advantages
Repeated flowering after cutting
High capacity to form new shoots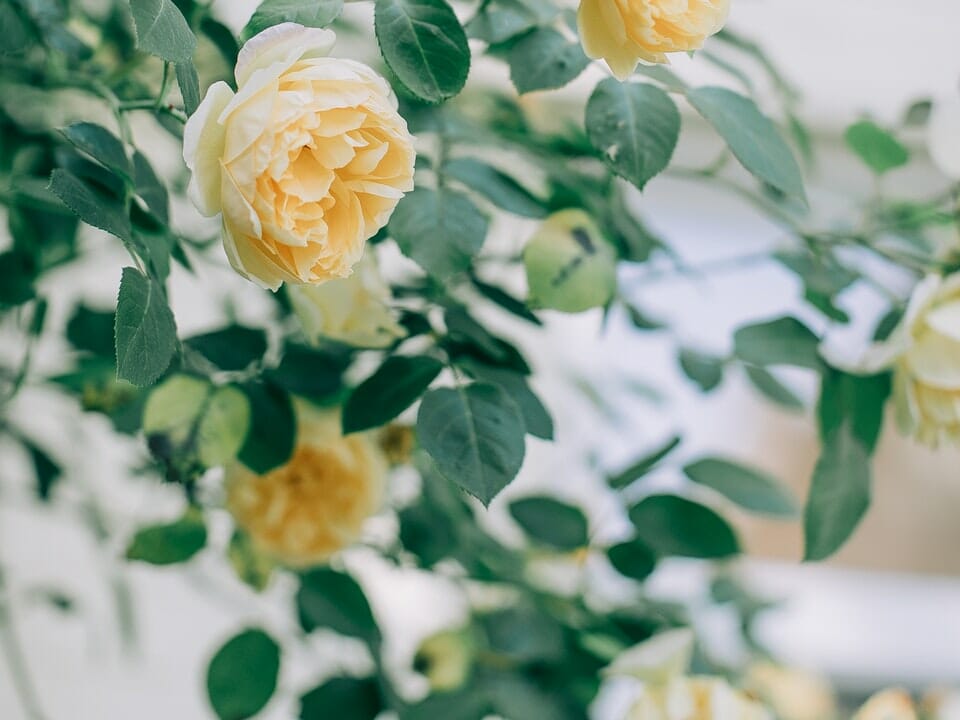 What kind of greenhouses are best for roses
An ideal greenhouse for roses should be:
Sufficiently spacious height and width: You should have 6.5 ft (2 m) spacing from the upper shoots to the ceiling.
Durable and resistant to temperature fluctuations so it can keep the needed temperature inside. It should also withstand several seasons in a row and not collapse under the influence of atmospheric phenomena.
Glazing should allow for plenty of sunlight in winter if you want to continue the flowering.
Comfortable for the plants and the people who tend them.
To ensure normal conditions for plants, even a small greenhouse for growing roses throughout the year must be additionally equipped with:
Forced ventilation system
If you don't have time to water your plants yourself, an irrigation system that delivers moisture and nutrients to the roots and aerial parts of plants. Learn more about greenhouse irrigation systems here!
Artificial lighting to create conditions as natural as possible, especially in winter.
Heating and/or cooling to ensure the best temperatures in your climate.
In addition to these complex mechanized or fully automatic devices and systems, growing roses in greenhouse conditions will require classic gardening tools. Meaning hoes and cultivators, shovels, water containers, sprinklers, and watering cans. They are useful for daily care.
How to grow roses in greenhouses
It's ideal for roses to be planted in covered soil so that even when the greenhouse conditions aren't optimal you can still have healthy plants.
The only time you won't want them covered is in January and February when the seedlings will need maximum natural light, as the sun in the middle of winter is not bright enough.
Before planting, the seedlings should be soaked in clean water.
Cut off last year's growth.
It is also important to prepare the soil, the temperature that sowing should be at is at least 53°F (12°C.)
Rotten humus and manure, peat, and superphosphate should be introduced into the garden soil. This will be enough for the active form of shoots.
It is also important to constantly moisten the prepared rose seedlings before planting so that even the tips of the shoots remain alive.
They can be buried in the ground, leaving a graft site on its surface.
When planting, it is important to carefully monitor the depth of the landing hole. Deeply planted roses begin to rot, and insufficiently deepened roses weaken and may not take root.
It is important to shed the soil well before planting so that the roots of young plants take root more quickly.
The density of planting roses in a greenhouse is slightly higher than in the open ground, and it is about 10 plants per 10 sq. ft. (1 sq. m.)
Note: It is important to take into account the variety of characteristics of the roses planted in the greenhouse. If the bushes are expected to be large, it is better to plant fewer of them. As a general rule, after the first year of cultivation, overgrown shrubs can be cut back.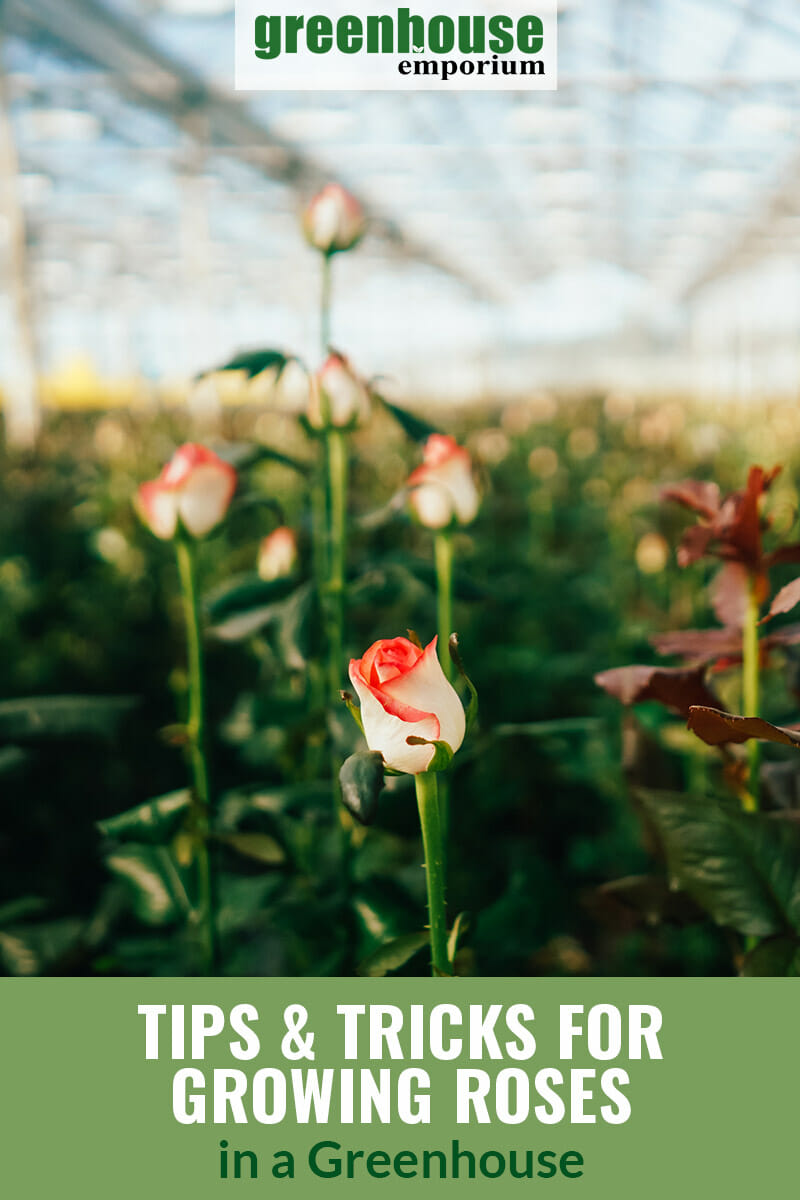 Humidity
In the initial stage, the roses must be provided with high levels of humidity. This is not about watering at all, but about moistening the air. This is because the young plant's roots cannot absorb enough water immediately after planting.
The relative humidity should be between 60-70%.
Keeping the humidity around that area even with mature plants will result in better flowers. Mulching will help, as well as a misting system for very dry surrounding climates.
Lighting
In line with their bright colors, roses do not tolerate prolonged darkness. For normal growth, the lighting must be sufficiently uniform and bright.
They must have at least 6 hours a day. Ensure that the greenhouse is open to sunlight as much as possible.
During summer, the greenhouse should be shaded with shade cloths. This will avoid burning the leaves. Roses, in general, have extremely poor resistance to leaf damage. This must be taken into account when caring for plants. Learn more about shade cloths here!
If you cannot get 6 hours of sunlight in the fall and winter periods, the greenhouse should include artificial lighting. Grow lights can provide the perfect conditions. Learn more about grow lights here!
Best temperatures for growing roses
Try to maintain a suitable microclimate for roses. Maintaining a daytime soil temperature of 53°F – 59°F (12°C – 15°C) with the air temperature of about 60-72°F (15.5 – 22°C). Nighttime air temperatures can fall as low as 40°F (4°C).
If you aim for temperatures above 70°F (21°C), it'll promote faster growth. Be careful, though! Roses don't like it too hot either. It leads to shorter flower life.
Water
You need to water the plants as soon as the first 2 inches of soil are dry. It is better to sprinkle so that the drops of moisture fall on the leaves as needed.
Once a month, watering should be combined with a chemical mix. The following compounds are best suited for this:
Fermented infusion of weeds with the addition of potassium and phosphorus fertilizers
Complex fertilizers for roses
Fermented infusion of chicken manure
Infusion of ash and manure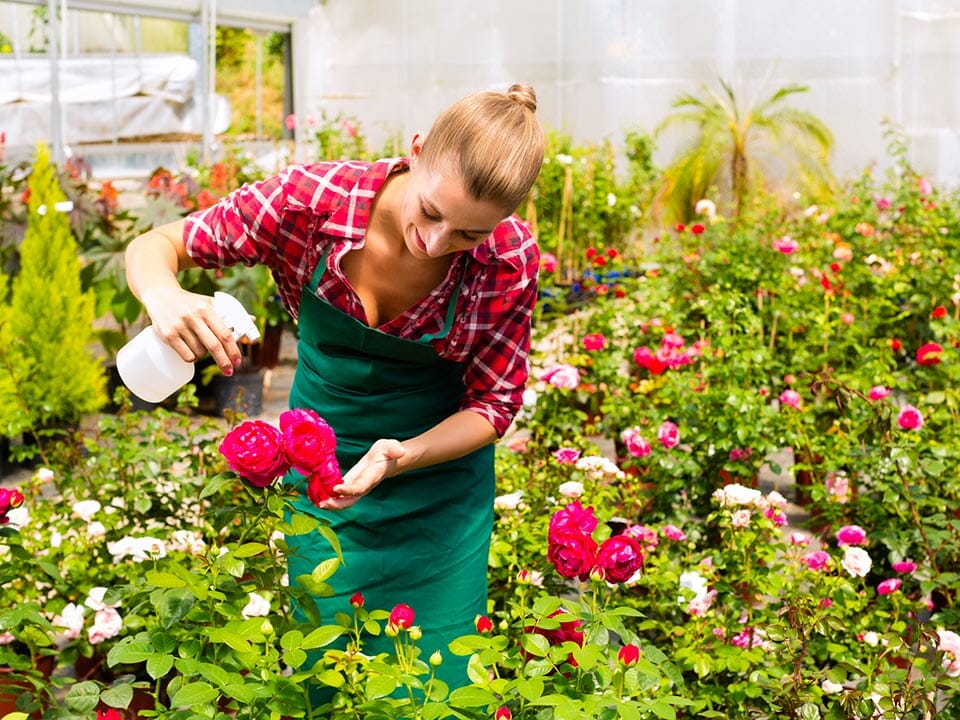 Soil
Periodically, it is also recommended to loosen the soil so that its surface is constantly fine-grained and allows air to pass through. Otherwise, the caked soil will contribute to the grinding of the leaves, which will negatively affect the quantity and quality of the flowers.
Pruning
Cutting shoots is considered an equally important process, as doing this performs several functions:
Lengthen the flowering period
Improvement of the bush and its rejuvenation
Proper shrub formation
When growing roses in greenhouses, the risk of shrub depletion increases significantly. Therefore, it is recommended to trim the weaker branches, leaving only the central ones. This makes the shoots form larger, stronger flowers.
Additionally, immediately after cutting them, the bush will be ready for repeated flowering.
There are several pruning rules:
The buds are cut to full bloom when the petals are still sufficiently closed.
During cutting, it is important to maintain maximum foliage, as this will not allow the bush to weaken.
Immediately after cutting, the buds can be placed in the refrigerator at a temperature of about 43°F – 50°F (6°C – 10°C) for up to 12 hours, after which they can withstand long-term transportation.
A container of cold water, in which the roses are immersed at about a third of their height, can serve as a replacement for the refrigerator.
Diseases and pests of greenhouse roses
When growing roses in greenhouses, the set of diseases and pests on flowers does not differ much from those growing in the open garden. Most often, they suffer from the following diseases and insects:
Powdery mildew
Rust
Gray rot
Black stained
Tracheomycosis
Pink aphids
Pink cicadas
Leaf worms and other caterpillars
Taking care of pests early on is key to saving your rose plants. Make sure to check for any pest signs regularly.
Roses can be an amazing addition to any greenhouse garden. Are there any species you love to feature in yours? Let us know in the comments below!