Show Filters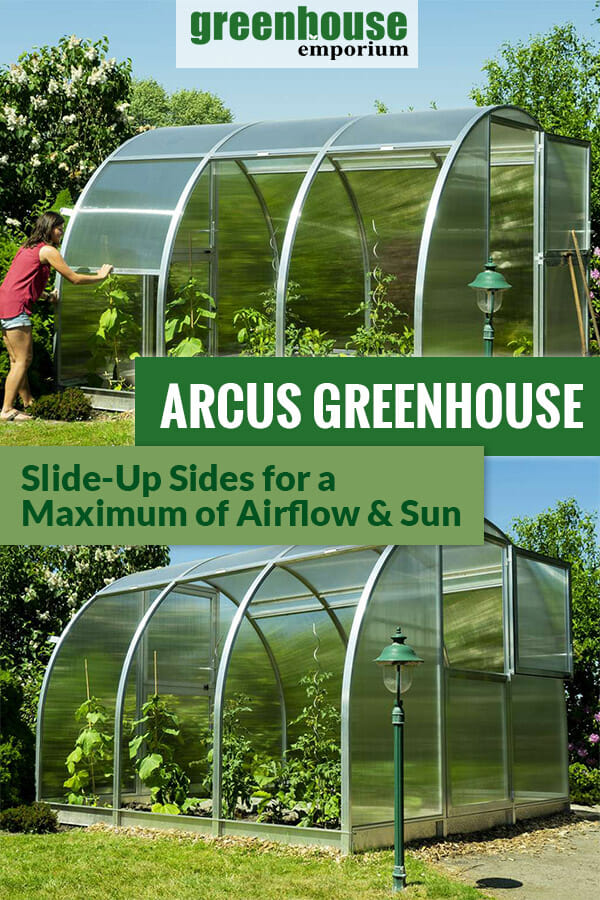 What's so special about the Arcus Greenhouse?
The slide-up sidewalls are not the only feature this greenhouse has to offer.
The  "I-beam" style foundation anchoring system is designed to sit in a trench and be backfilled or on top of a deck or concrete slab. It has built-up plate parts that are fused together to be the framework of the greenhouse.
The wide 37in barn style door has a separate top and bottom parts. These front and back doors add more breeze indoors. You will love the four assembly bolts which act as hooks especially if you have hanging baskets full of flowers.
Here's what you have been waiting for. Grab the latest greenhouse by Hoklartherm. Save money on ventilation equipment. Let nature handle that for you. You can open the top section of the barn style door and close the lower one to prevent your pets from barging in while still having a good airflow and sunlight. Maximize all the space inside your greenhouse.
Are you looking for a durable greenhouse that you can depend on all year round? Worry no more. The solid central roof is perfect for lights and other greenhouse accessories. There's no need to worry about snow pile up on your roof. It will simply slide down. This is so strong that it can even withstand hail. The Polycarbonate walls provide endurance, security, ventilation, and insulation.
Arcus Greenhouses are available in 10ft x 10ft and 10ft x 13ft. These sizes and the unique feature of this structure are just perfect for your tomatoes without transplanting or moving them outside. They will get the sunlight they need to develop juicy fruits. Just slide it open on sunny days and close at night, so they will be protected from cooler temperatures. The side supports have assembly bolts which act as hooks for hanging pots or attaching plant spirals. Trellises can be a perfect fit as well. You can definitely provide all the sunlight and perfect breeze it will need to make your crops thrive.