Garlic doesn't only scare off Dracula! It is a healthy and healing superfood that you should always have available in your kitchen. The best part is that you can grow 10-12 crops from one garlic bulb. It is a very efficient and simple vegetable that thrives perfectly in a greenhouse. Learn here how to grow garlic in your greenhouse!
Benefits of garlic
Garlic has been historically used as a natural antibiotic and labeled as a superfood. It has been utilized as a universal antibiotic since ancient times. Allicin is a mixture produced when garlic is mashed or minced. Consuming allicin supplements is known to improve with a number of wellness dilemmas, as well as combat major disorders like cancer and heart disease.
Research has revealed garlic to be powerful in eliminating several strains of bacteria including E. coli, Staphylococcus, and salmonella. There is further analysis following its power to stimulate the immune system and defend against some diseases including flu and this is not shocking by recognizing its essential nutrients like calcium, Vitamin B6, Vitamin C, copper, selenium, and manganese.
Why buy artificial pesticides? Pests rarely cause problems for garlic because it is a native pest repellent! It can keep ants, mosquitoes, ticks, flies, and some other insects away.
Organic and alternative medicine is finally making a big comeback in history. Be more healthy and prevent immunity to man-made medicines. Let's learn these easy to follow steps in growing garlic.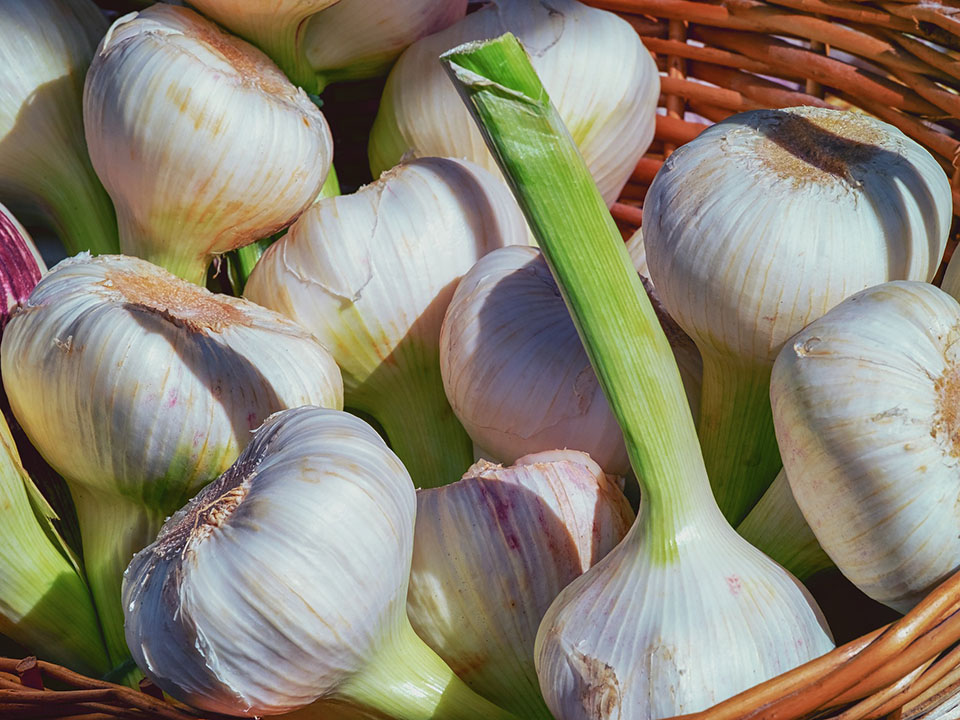 Planting garlic in your greenhouse
Planting garlic is surprisingly easy because it is one of the most stress-free crops anyone can produce in a greenhouse or garden. Traditionally it is cultivated on the shortest day and harvested on the longest day of the season. With a greenhouse, however, you don't have to wait for seasons anymore.
Just follow these 4 simple steps:
Divide the garlic cloves from a fresh bulb: Be mindful not to break the cloves at their center, where they join at the base. If the base is destroyed, it will not develop. You also want to use a healthy bulb. Make sure each clove keeps its papery husk.
Push every garlic clove 2 inches into the soil: Direct the pointed tip upward and the root side downward. Keep about 8 inches between the cloves in every direction.
Cover the planted garlic cloves with mulch: Lay an organic mulch such as dry leaves or hay. This helps to nourish plants while maintaining the soil cool and moistened.
Top-dress the garlic cloves or fertilize with compost: Fertilize repeatedly just before the bulbs start to swell or if you detect yellowing leaves.
Like it? Pin it!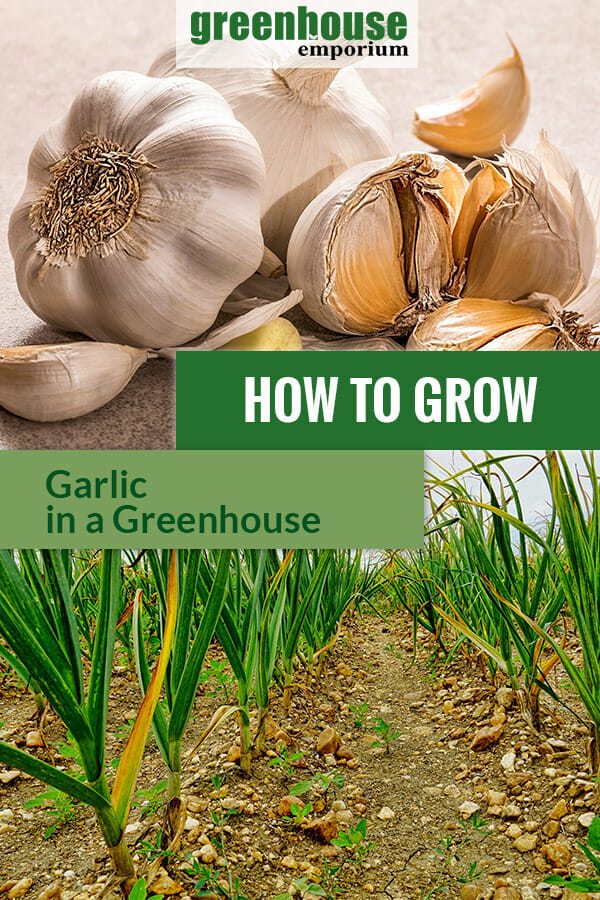 Tips and tricks for growing garlic
Plant the bigger garlic cloves. The smaller cloves take up just as much space as the bigger pieces in the seedling bed, but they harvest much smaller bulbs.
If you intend on planting garlic once more after harvesting, collect some of your biggest, best-formed heads.
The answer to producing excellent returns is to make certain to plant your garlic in a spot where it will get lots of sunlight regularly.
Garlic generally grows well on clear grounds without weeds so tilling the ground just before planting is essential unless you choose seed trays in your greenhouse. Check out these ones here!
Separate the garlic cloves just before planting, preferably within 24 hours so the root nodules do not dry. This helps the cloves to set root quickly.
Do not use grocery store-bought garlic as planting material. They may not be the suitable varieties for your area and, most are treated for extended shelf life meaning they take considerably longer to set root.
When garlic begins to flower, cut off the shoots because leaving them on may lead to smaller sized bulbs.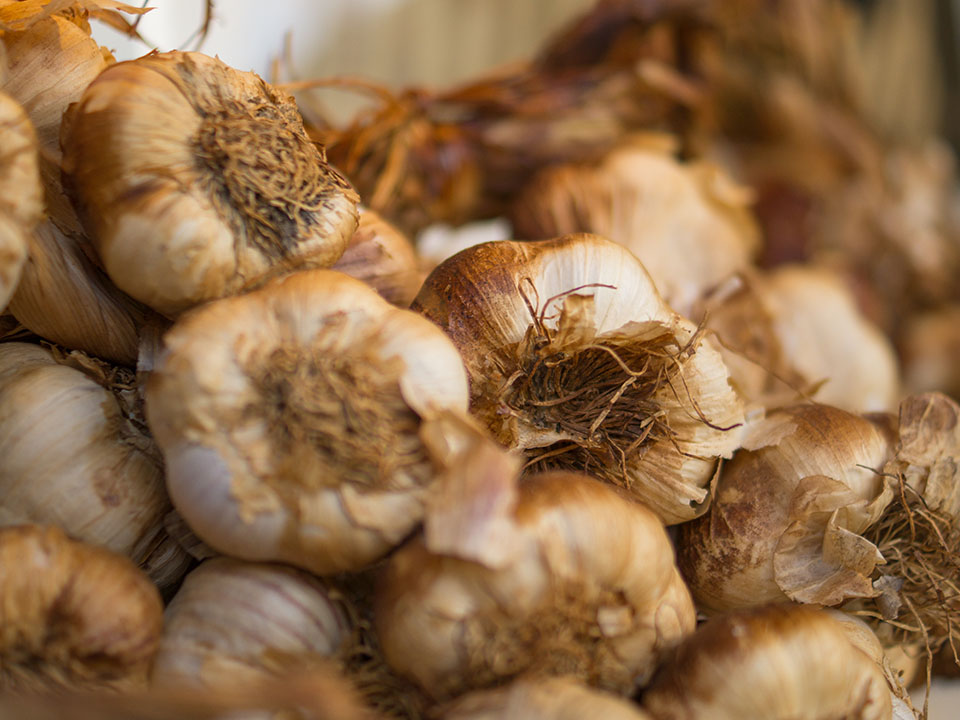 Common garlic problems
Garlic does not grow fully with competition so make sure it is properly weeded.
White Rot is a fungus that can strike garlic in a cold climate. It upsets the bottom of the roots and leaves. It can be solved by rotating crops.
Bulb mites seldom hurt garlic. It is feeding on stalk bases and bulbs. You may also want to proceed with crop rotation to kill these mites.
Birds can sometimes be a problem. They can destroy the seedlings, garlic shoots, and leaves. However, this shouldn't be a problem in your greenhouse.
Watering requirements
Simply water the soil if it is dry (around 2-4 inches every four days). Never pour water over the crowns. Decrease irrigating when it stops producing fresh leaves and starts to develop bulbs.
Soil requirements
The preferred soil temperature is between 40 and 50°F. Therefore, you can grow garlic in your greenhouse year-round if you have a heat source.
Garlic is a root crop that is why it prefers a rich luscious earth soil or silty topsoil with pH level of 6.5 to 7.0. You can also try to prepare a soil test. It will measure which nutrients are present in your soil before you plant.
Lighting requirements
Garlic requires plenty of sunshine. Before planting, ensure the spot will provide adequate light. Don't plant it on the lowest level, in case you use shelves.
Harvesting
The sign is to observe for yellow crowns before they become totally dry. The bulbs are ripe when most of the low-hanging leaves are browned. When the leaves become brown, they start falling off. Harvest before all leaves fall off or when the plant has four or five leaves left. Dig, do not uproot! Remember that reckless reaping can injure a quality crop of garlic. You may need a fork or scoop to lift the bulb from the soil and then dry it out. Enjoy!