Are you dreaming of a nice greenhouse and have had lots of greenhouse plans, but you don't have enough space? Don't worry, we've got some good news for you. We'll show you how to create some beautiful mini-greenhouses from scratch. Using simple, everyday things such as PVC pipe, plastic bottles, plastic sheeting, off-cut pieces of lumber, and so on, you can make DIY mini-greenhouses that not only work, but are extremely affordable and, in most cases, free! Here is our list of the top 12 DIY greenhouse ideas…
1. Pallet mini greenhouse
We're starting our list with this awesome mini greenhouse. As we all know, pallets are an extremely useful recycling material, so if you are looking for having your own small greenhouse on your patio or rooftop garden, you should try this. It's very simple to install and everything you need are pallets and some plastic. Make a triangle door using the pallets and fix it with two hinges. Cover it with a piece of plastic and then staple the plastic sheet to the wooden frame. That's it!
2. Mason jar mini greenhouse
A great idea, right? And it's perfect for plant germination. Fill a tray with soil, add the seedlings, grab one or more large mason jars and put it over the plants of your choice (lettuce, for example). For enhanced airflow, add a bendy straw under the soil to act as a little plant snorkel.
Like it? Pin it!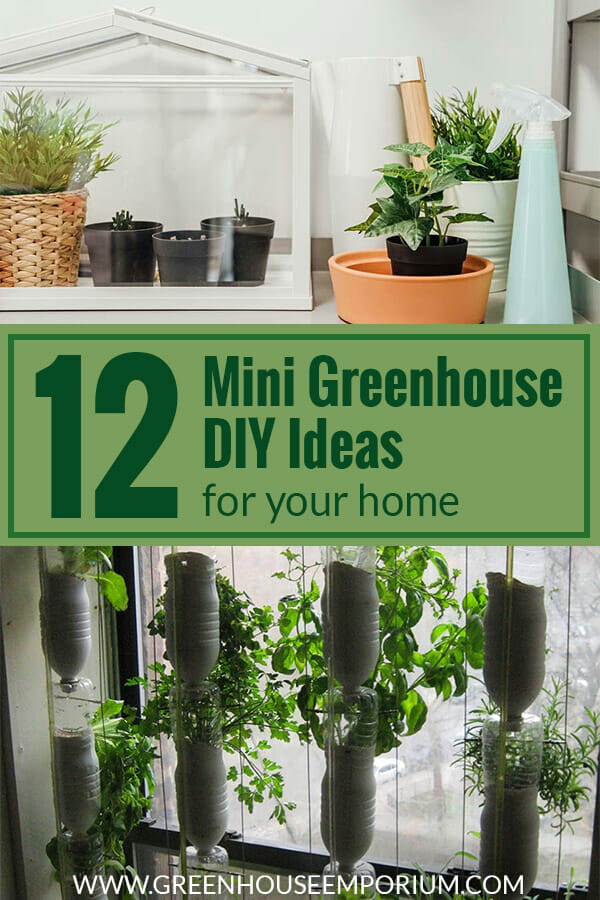 3. CD case mini greenhouse
Another awesome recycling mission! You'll need some CD cases, some plastic clear glue, tweezers, painter's tape, safety glasses, a ruler, a cutting board, and a craft knife. Start by gluing several CD cases in order to have four walls for the greenhouse's main part. Add the center CD case to the peak of the wall (use the ruler to measure). Glue into place. Next, cut some other cases (using your craft knife) for the wall peak. Don't forget to use your safety glasses here and focus on getting the angles accurate. Glue everything into place. After that, glue those four walls together. Hold the walls in place with tape until the adhesive dries. Make the roof peak and finish the roof with folding panels. Take out the tape when the glue has dried.
4. Recycled container mini greenhouse
Reuse little containers and make a cute, tiny greenhouse. You'll need a container with a cover, potting soil, and seeds. Wash your container, let it dry, add the soil, and plant the seeds. You can keep it inside or, if the weather is mild, outside. Make sure that it receives plenty of sunlight and that the soil stays moist. If you notice that it's drying out, add a little bit of water. Easy peasy!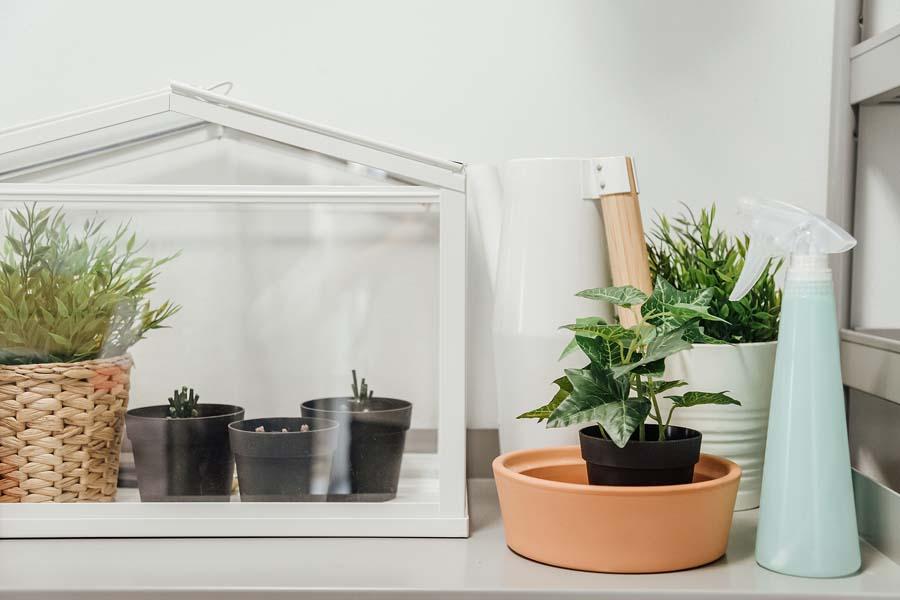 5. Umbrella mini greenhouse
For this fun project, you'll need a bubble umbrella, a pot, potting soil, duct tape, and herbs. Fill the pot with potting soil and add the plants or seeds. Don't plant anything in the center of the pot, as that's the place where the umbrella's pole will go. Cut the handle off your umbrella and cover the end with some duct tape. Open the umbrella and fit it over the pot using its pole as a post to anchor the umbrella in place. Remove the umbrella once a week to water your plants.
6. Mini greenhouse made out of old windows
Grab four window frames with clear transparent glass—make sure they have similar sizes. You'll also need a slightly smaller window (but of the same width), some wooden pallets, two hinges, drill, screws, and a handle. Drill holes in each window frame in order to be able to screw and join them. Using screws, fix and join the similar-sized windows, leaving the top and bottom part of the structure. Place the smaller window on top of the joined structure and measure the amount of space that's left open. Cut a pallet to the measured size and fix it on the top of the structure's remaining open space. Finally, screw the two hinges on the wooden board and screw the small window on a hinge. Add the handle to the smaller window's frame.
7. Plastic bottle mini greenhouse
And we're back to recycling plastic. There are plenty of smart gardening ideas involving plastic bottles. Well, this is one of the simplest greenhouses you can ever make. Simply cut off the bottom of a plastic bottle, and unscrew the cap. Yes, that's all you need to do! It's economical and ridiculously simple. If you want your plants to grow bigger and for a longer time, use larger bottles, such as water jugs.
8. CD spindle case mini greenhouse
Find an empty CD spindle case and cut off its center column. If it leaves a hole, just patch it with some tape. Drill a few ventilating holes in the top. Find a pot that fits and add some compost, seeds, and water. Admire your plants growing.
9. PVC mini greenhouse
Take the measurements for your PVC greenhouse and start joining the pipes together by means of couplings L- and T-joints in order to adjust the greenhouse's length and width. After you've created this basic structure, cover it with a plastic sheet and secure it wherever it needs with plastic glue or tape. You'll have a functional, versatile, greenhouse that's compatible with several needs!
10. Fishbowl mini greenhouse
It can't get any simpler than this: cover a small plant in a bed with an upside-down, wide opening fishbowl. Ta-dah!
11. Wooden Greenhouse
Measure the space where you're planning to keep your greenhouse and cut the wooden board according to the measured length. Using nails, make the frame by attaching the wooden boards. Add a fitting plastic sheet and arrange it all over your frame. Fix the top area with some hinges in order to make sure that it's functional and to easily take the plants in and out.
12. Your window as a mini greenhouse
Choose a large window that receives plenty of sunlight and turns it into a tiny greenhouse. Measure the window's frame depth and width, subtract 1/2 inch from the width, and cut some glass shelves. Make pencil marks where each shelf support should go on the window frame. Make the supports using molding. Drill evenly spaced holes in each support. Hold one of the supports against the appropriate mark on the window frame, push the electric drill bit through the hole, and drill a starter spot into the frame. Repeat for each hole. After you're done with the supports, add the glass shelves. Now it's time for the flower/herb/plant pots to go on the shelves and to complete your project.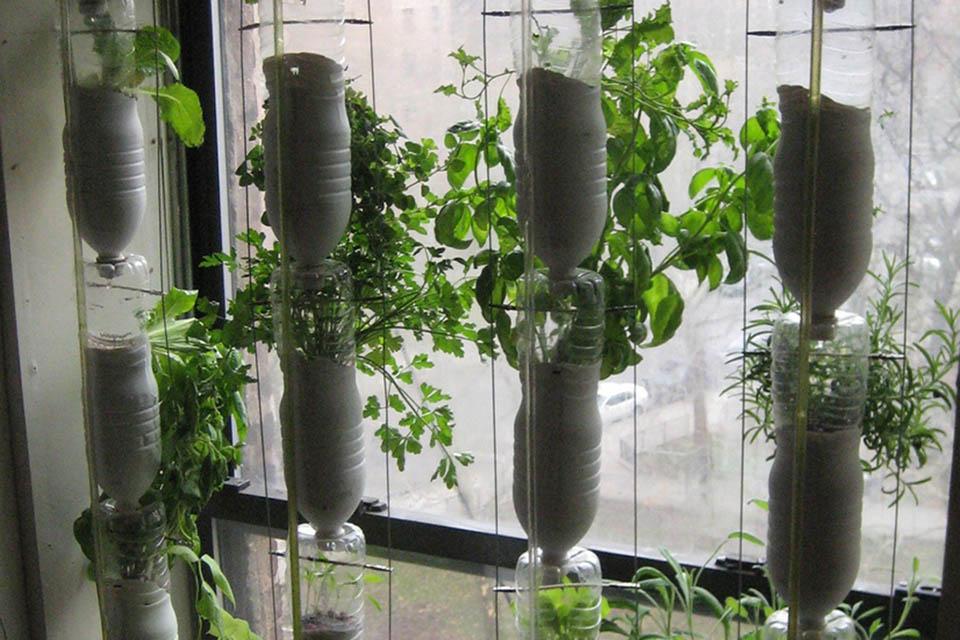 If you feel like going one step further, you can actually build a real greenhouse. This wonderful mini greenhouse kit is perfect for small spaces. Easy to make, efficient, pocket-friendly, minimal tools required, and you'll have lots of fun.